How My Travel Vision Board Works In 4 Easy Steps
Travel vision board is one of the most powerful mind exercises that can help you to reach your travel goals.
Just in case you like to plan ahead like me, you'll learn how to create your dream board to keep you inspired and focused on your dream destinations you wish to visit one day. 
Vision boards are a constant reminder of what is important to you and what you hope to accomplish traveling the world.
In this post you'll learn:
What is a Travel Vision Board
A travel vision board is a collection of all the places that you'd dream to visit. Your vision board is a perfect way to organize the places, city names, airport names, food to try, adventures, and anything that is inspirational to your travel list.
It sounds simple but there is POWER in visualizing your travel dreams especially when you back them up with proper planning.
The vision board was a random collage of magazine cutouts, stickers, inspirational quotes (nothing fancy really). Whether you want a physical collection or a digital collage it's up to you. There are no rules for this.
The World is yours…Make it happen!
I am sure that you have tons of places to visit, ideas of things to do, local dishes to try, and images spinning around your head.
Yes, a travel vision board works!
Vision board works to help you organize through the tangled thoughts, goals, and create a smooth process and the outcome you want. I've always been a strong believer in the power of visualization and goal settings in organizing my entire life whether when it comes to my traveling dreams, career, and money matters.
Create your vision board that contains everything from broad to vivid details, like traveling in business class with a glass of champagne or caviar.
And know exactly the places that you dream to visit someday, the local dishes you wish to try, and the adventures you want to do either as a solo traveler or with your loved ones.
I love my vision board because it gives me a daily visual reminder to work hard towards my goals. Even when it comes to my dream house, I constantly update my vision board.
Underneath is my dream house that I created on my vision board in June 2018. Despite of the uncertainties caused by the COVID-19 pandemic where millions of people lost their job, I am so blessed to manifest my dream house this year (2021).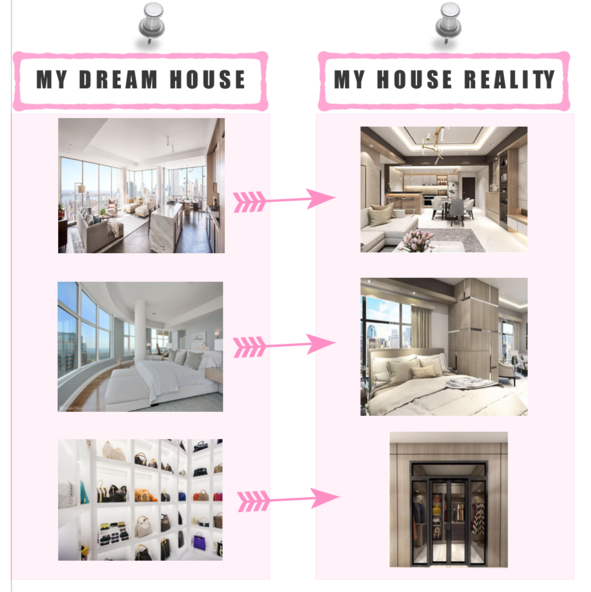 Vision boards don't work alone but instead, you need to take proper planning and steps towards making that goal to fruition.
Creating a travel vision board relates to your life direction and mindset. The more I do them, the more I believe in them, and the more I got so obsessed with them – a sort of dream manifestation for me. 
4 Steps How To Make a Travel Vision Board That Works
This initial step is my big brain dump that includes all my travel goals.  Sit down with paper and pen and think about your dream destinations for the coming year.  So in this initial step, set your own goal that is SMART.
SMART goals stand for specific, measurable, attainable, relevant, and time-bound. See if these goals can be realistically achieved with your resources like time, money, and other factors.
If you want to learn about how to set smart goals, check my article about the ultimate goal setting guide with my own personal examples. 
I am sure you will gonna love this step.  Look out for images, words, elements for your vision board. Go through online to look for images or look at a stack of magazines you have. Put everything you like that relates to the travel vision board you are making. 
Then, you will need something to build your travel vision board on.  Begin with your vision board base. You can use the back of your room door, fridge, whiteboard, or simply use electronics like your computer screen or smartphone as your board base. 
Allocate a time to construct your ideal travel vision board.  There are really no rules when it comes to the best time to do it. The most important is you should be feeling good, motivated, and energized in doing your vision board.
Now, it's time to add all those images, your own words, stickers, or other elements over your vision board. 
Once your collage is complete, have it frame it or put it somewhere where you will see it regularly!
Make sure that you set your intention, review your progress, and do proper execution on how to attain your goals.
Your travel vision board is your best tool to get clarity about those dream destinations and adventures you want to do. And make it easy for you to move in the right direction because when you want to make your travel dream a reality you have to create a clear vision of what it should look like.
How To Get My Vision Board Template
We know what it's like to have big dreams and ambitious goals, like traveling the world. Many celebrities like Oprah Winfrey, Beyonce, and the Canadian American actor Jim Carey make use of a vision board to remind them regularly of their goals or their own bucket list.
When you create a vision board you make sure you keep your travel dreams alive!
While I've been making vision boards for decades (?!), this will be the first time I offer my travel vision board template. So you too can go through the process of creating it, activating it, and living into your own travel vision board.
With this template, you'll learn how to create your own travel vision board to keep you inspired and focused on your dream destinations you wish to visit one day. The boards are a constant reminder of what is important to you and what you hope to accomplish.
The travel vision board template is a 23-printable page in PDF format that you can instantly download.
Size: US letter, A4, 8.5 in x 11 inches.
Section Includes:
– How to create your travel vision board
– Step-by-step guide
– Board example
– Templates/Planner
– Vision board prompts and tips
– Vision board checklist
– Affirmation cards
– Vision board elements
Even if you have your big dreams to travel right now, if you don't back them up with a strong desire and actions that you can travel, then manifesting any goals can be hard without visualizing the end outcome.
Start visualizing your life as a traveler and take actions that will make the travel on the vision board your reality!
To recap, here's what we have covered in this post:
Enjoy this article? Pin It!