5 Essential Smart Goals That Every Mom Should Learn
Smart goals that you should know to cope up with uncertainties in life.
We have the highest rate of stress, especially during this time. You may lose your job, face eviction, anxiety, or found yourself struggling to put food on the table for your family.
There are unpredictable things that may happen to us at work, our health, and our surroundings, and the most common words during this pandemic are 'struggle', 'desperate,' and 'exhausted'.
As the coronavirus pandemic has shown, life can change dramatically in a snap. 
Rather than falling victim to the unpredictable trap, it is far better to create and focus on your smart goals - controlling those things that you can control.
5 essential smart goals that every mom should learn during this tough time
This post may contain affiliate links.
Each of these smart goals has brought me one step closer to the version of life I aspire to…
Despite the complex and confusing life can be, we are here to live and grow to put enough food on the table and continue to turn our life goals to life because nothing is impossible for us to handle a lot more of the "unknown".
Identify your uncertainty trigger
What caused you to worry during this difficult moment?  This could be losing your job, eviction, sickness, keeping your family safe, or putting food on the table?
Worrying won't help you improve the situation and this will add up, drain your energy, and keep you up at night. So it's better to know the root cause of it and work on something that will help you improve your situation to envisioned what life you want to have and work towards it. 
"Setting goals is the first step in turning the invisible into the visible." – Tony Robbins
Despite chaos and uncertainties, it has been those smart goals that have allowed me to keep going even though I feel like not being good enough in my life and business.
I'm so grateful that even though I didn't do as much as I did the past years, the things that help me ease the pain was because I have made a solid plan and stuck to it.
2. Get motivated and get inspired each day
What's the first thought that comes to your mind when you open your eyes in the morning? or what's the first thing that excites you to get out of bed?
I'm sure you know individuals who set goals and are constantly pushing themselves to greater heights. This could be something about building a family, a promotion at work, healthy living, creating a happy life, traveling, or going to school again. These individuals seem to constantly progress developing their life skills that improve or enhances their life and business. 
Why inspiration matter? 
"Inspiration propels a person from apathy to possibility and transforms the way we perceive our own capabilities. Inspiration may sometimes be overlooked because of its elusive nature. Its history of being treated as supernatural or divine hasn't helped the situation. But as recent research shows, inspiration can be activated, captured, and manipulated, and it has a major effect on important life outcomes." – Source: Harvard Business Review 
3. Set a simple smart goal that is realistic to attain
When setting personal and smart goals, specificity is the KEY.
What do you want to accomplish daily, weekly, or monthly?
For example, if you just challenging yourself to "be productive at work" or "start an online business" this year is way too vague. You need to be tracking your progress and its end results. 
To make this totally a SMART GOAL, you'd need to give yourself a timeframe, be specific in achieving your smart goals.
Ikigai is a Japanese concept that means "a reason for being."
This is the reason why most successful people jump out of bed each morning doing what matters to them.
Discovering your own Ikigai helps you bring happiness, fulfilling life, and make you live longer.
Bring curiosity to your life…
Ikigai is seen as the convergence of four primary elements:
What you love (your passion)
Know what the world needs (your mission)
Identify what you are good at (your vocation)
What you can get paid for (your profession)
Find it and pursue it. Ikigai is the Japanese secret to long a happy life!
Everyone, according to Japanese culture, has an Ikigai, and staying true to it in everything we do is the secret to a long, happy life. During my trip to Japan, I was surprised to see people of retirement age travel alone, strong and they continue to pursue their Ikigai, which leads to a long and happy life.

5. Form a habit of gratitude
It's been a bit crazy this year. The COVID-19 pandemic has sent millions of people to lose their jobs, lost their loved ones, and suffer from mental health instability.   But in the midst of sickness, poverty, and desperation we need to be thankful for each day that we have.
This will help us ease the pain to bring joy to everyday life.
"Be thankful for what you have; you'll end up having more. If you concentrate on what you don't have, you will never, ever have enough." -Oprah Winfrey
For only in gratitude, we can allow ourselves to be blessed and be opened to wonderful things God has in store for us. 
When we are in pain or a serious illness, we send loud prayers to God to help and heal us.  And we often take for granted what God has given to us each day.
To make things easier for you, head on to my smart goals planner that you can download instantly to help you get started.
So use this smart goal planner and start jotting down the smart goals that you want to achieve this year and you will soon realize how blessed you are to begin organizing your life!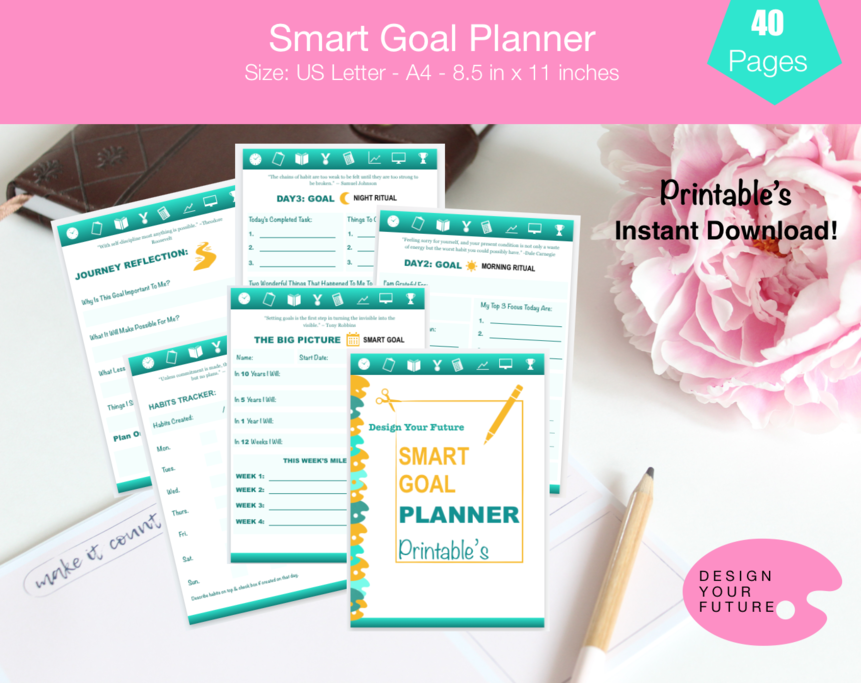 What is Included in Smart Goal Planner?
The Smart Goal Planner Includes:
+ The BIG picture smart goals
+ Weekly milestones
+ Goal morning ritual
+ Night ritual
+ Habit tracker
+ Journey reflection
+ Goal tracker
If you're an organized mom like me who just loves having everything neat and kept all your smart goals in one place…
Here are some fantastic & suitable binders from Amazon.
One of the things I'd like to do every New Year is to see what specific area in my life and my business that I need to improve. I always look for something for me to grow and improve my life skills to continue to live a FREE-stressful, happy, and fulfilling life.
To recap, here are the 5 essential smart goals that every mom should learn during the COVID-19 pandemic:
1. Identify your uncertainty trigger
2. Get motivated & get inspired each day
3. Set a simple smart goal that is realistic to attain
4. Find your "Ikigai"
5. Form a habit of gratitude