3 Reasons Why Visit The Benxi Water Cave: Great Place To See in China
Are you looking for a unique cave experience in China? The Benxi Water Cave is one of the astonishing caverns you will find in Liaoning Province. 
Caving is one of the many thrilling outdoor experiences you can do with friends and families.
In this post you'll learn about:
Here are the Top Reasons To Visit The Benxi Water Cave in China
We had the opportunity to visit the Cave in mid-April with good friends. It was a nice sunny day when we hop on one of the little carts heading to the Benxi water cave with our local tour guide.
1. Benxi Water Cave: A giant 5-million-year-old cavern
The stalactites and stalagmites are rarely around the corner from modern cities filled with shops and stunning buildings.
Nature travel offers the thrill of discovering something new…something only a fraction of people has seen in their whole life. 
There is nothing quite as beautiful as nature. Capturing the beauty of the Benxi water cave is spectacular because you'll see the different rock formations grow down from the cave ceiling (stalactites) and grow up from the cave floor (stalagmites).
2. Benxi Water Cave: Dry & Water Cave
From the cave main entrance on the right-hand side, there is a 300 m-long dry cave that you can explore (300 meters are open to the public).
The tour of the cave begins by walking through several caverns, and then you can start exploring the water cave using an electric boat down the river. A 20-minute boat ride.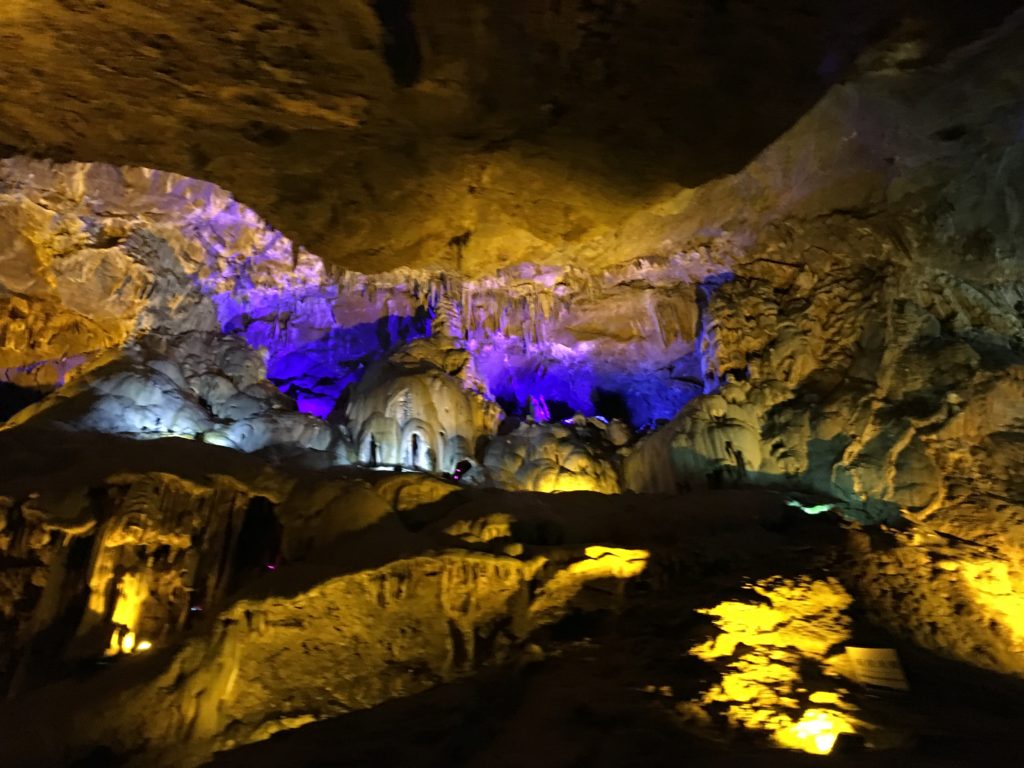 The boat experience is exciting for you to get an amazing glance at those impressive stalagmites and stalactites that were lit up by colored artificial lighting inside the cavern.
Here, you will experience both dry and water cavern exploration.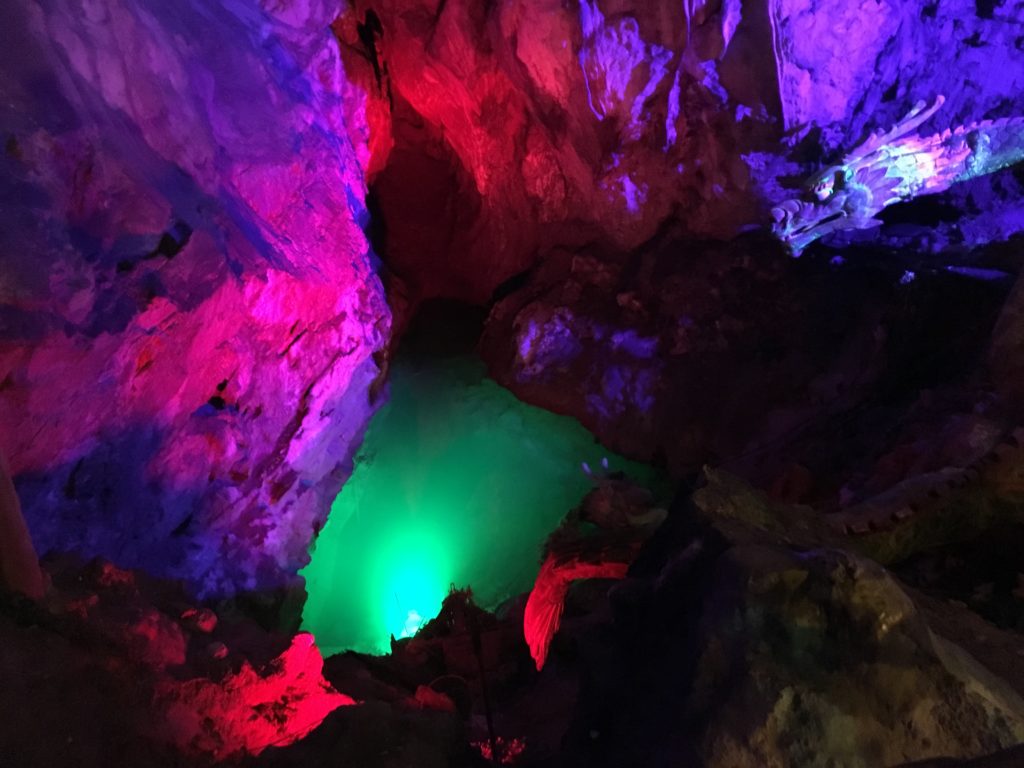 3. Benxi Water Cave is Like You're in a Fantasy Land
This spectacular cave was designated an "AAAAA"-class tourist attraction by CNTA (China National Tourism Administration) in 2015. It has some diverse and colorful scenery that will certainly impress visitors from all over the globe.  
Here you will also get to see lava flake formations as well as stalactites and stalagmites in an area of 36,000 m2 (8.9 acres).

The Temperature Inside The Benxi Cave
The temperature inside the cave remains constant at 12℃ throughout the year.
They provide free jackets at the main hall that you can simply grab before riding the boat but due to some water drippings inside the cave, the jackets are somehow wet.
Clothing: You should wear or bring a jacket or sweatshirt because the temperature inside the cave during summer or winter is often the same.
The clothing you choose for your caving experience should keep you warm, dry, and comfortable. And have a thick rubber sole (rubber shoes) for footwear. Mind your step because it's slippery inside.
When is the Best Time to Visit The Cave?
Spring to summer is the best time to visit the cave (May to October) when the climate is quite comfortable. The time of spring in different provinces in China differs.
The spring season comes early in the South and a little later in the North of China.
Click here to learn more about China in the Spring months.
And when you visit the Benxi water cave during the hot scorching summer from June to August, you'll still feel comfortable inside the cave because the cave has its natural cooling.
November to March is very cold in this area.

How to get to Benxi Water Cave? 
Exploring China is a whole-faster now because of their fast-paced speed bullet train. Both locals and tourists can take advantage of China's fascinating rail network to visit some of the best sights to see in China.
You can take the high-speed bullet train to Benxi water cave from Beijing, Shenyang, or Shanghai.
You can buy your train ticket online and they can be picked up from a station or go directly to the train station to book a ticket prior to your date of departure.
The high-speed trains have first-class seats on the very front of the train and second-class seats or economy seats that are cheaper but very comfortable and spacious.
Click here on how to book China high-speed train ticket.
In our case, we departed from Dalian (about 2 and half hours). Then take a bus at Benxi Bus Station to Benxi Water Cave Scenic Area.  It will take about 45 minutes from Benxi Bus Station to the cave. 
There's also a bus ride from Dalian about a 4-hour bus ride.
And from Shenyang is it about 1.5 hours bus ride.
April 1 to October 31: 08:30 am to 17:00 pm
November 1 to March 31: 09:30 am to 16:00pm
Admission Fee for Water Cave and Geological Museum

April 1 to October 31: CNY 120 (around $18)
November 1 to March 31: CNY 80 (around $12)
Children below 4.3 feet (1.3 meters) free entrance
(Note: Price and opening schedules may change due to COVID-19 Pandemic).
A day trip to Benxi is sufficient enough if you are just planning to visit the cave and the nearest museum and park near the cave.
If you are planning to visit China, Benxi Water Cave is really worth seeing to have a long-lasting great cave experience. The Benxi Water Cave has formed millions of years ago. You will find the beauty of nature in different forms – a different array of stalagmites and stalactites.
We enjoyed the geological structures and their beauty walking through the cave and the boat ride.  The cave is a great adventure and we were lucky that during our visit, there was no queue at all. Normally, there are a lot of people visiting the Benxi water cave, especially during spring and summertime. 
Benxi water cave is definitely worth seeing if you visit China.
To recap, here's what we have covered in this post:
Enjoy this article? Pin It!