My Ultimate Royal Caribbean Cruise Planner (travel guide, photos, & video)
Royal Caribbean Cruise Planner will help you removes any guesswork when planning a cruise vacation.
No more disorganization & overwhelmed!
My Royal Caribbean Cruise Planner is the perfect planner printable to organize your next cruise vacation with ease! Not only is it a great fun-filled vacation at sea, but it is also relaxing to just get on the ship and have everything taken care of ahead of time —– so travel like a VIP!
Planning a cruise vacation takes a good amount of time to research –  this cruise planner is your RESCUE!
In this post, we'll talk about:
Reasons Why a Royal Caribbean Cruise Will Always be my Favorite Vacation
Before my first-time experience cruising, I'd like to say I was a complete cruise novice. The Royal Caribbean Grandeur of the Seas was the first cruise line to captivate my aspiration for cruising because when it comes to onboard activities the Royal Caribbean Line offers a wide range of activities, especially for my daughter. 
Royal Caribbean was the first cruise line to offer a 30-foot rock climbing wall, ice skating rink, flow rider surf simulator, and a lot more.
I normally do a lot of research before a trip, and this is our third time to go cruising. Our second time was with Norwegian Cruise Line, and our third time was again with the Royal Caribbean Rhapsody of the Seas.
Also, one of the things that I love about the Royal Caribbean Cruise is the majority of the cruise ship staff are Filipinos. They are so warm,  friendly, hard-working, and so nice to even accommodate to cook us our Filipino traditional breakfast "tap-si-log" (beef tapa and egg) with garlic rice.
So What Royal Caribbean Cruise differs from other cruise lines?
If you are looking for onboard activity, Royal Caribbean Cruise offers is perfect for you.  The FlowRider surf simulator, bumper cars, rock climbing, broadway shows,  and the promenade onboard shopping are all Royal Caribbean signature offerings.
Royal Caribbean's cruise ships are among the largest in the world.  The Royal Caribbean's Symphony of the Seas holds the title as the world's largest cruise ship and it is about five times the size of the Titanic. SOURCE: Royal Caribbean 
They built their ships bigger and bigger to offer a fascinating cruise experience to their guests. And what I love most about Royal Caribbean cruises,  they are designed to be family-oriented experiences where your kids, parents, and friends can share great unforgettable cruising experiences that are competitive and affordable. 
This is why Royal Caribbean Cruise will always be my favorite cruising vacation.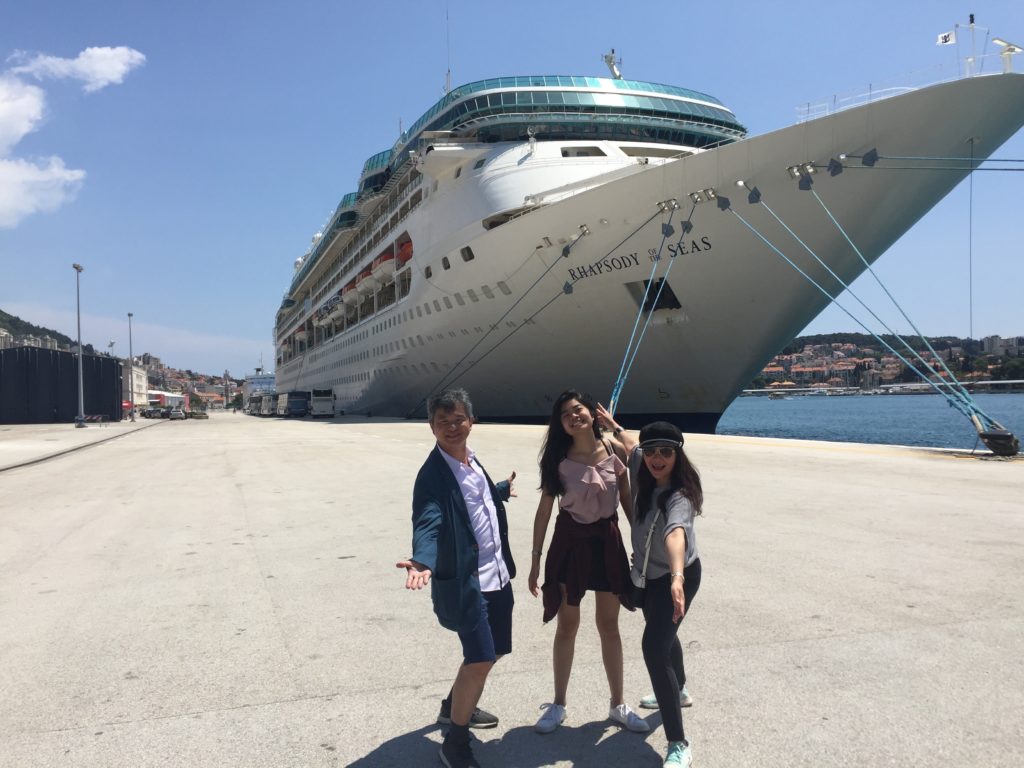 My Best 10 Tips How to Plan a Perfect Cruise
1. Choose the right destination
Not all ships are created equal! And it's important that you choose the destination you want. If your purpose is to explore new places, then select your destination first followed by the cruise ship of your choice.
Go to the cruise website. You can sort by destination, departure ports, special interests, travel dates, and more. 
But if your purpose is to relax and enjoy onboard activities, each ship in the Royal Caribbean fleet offers different adventures so check the onboard activities that suit you and your kid's adrenaline. 
Once you decide on the destination and ship that's right for you, look into room options that best accommodate your family and your guest(s) to make yourself at home on the sea.
Cabin options are either inside cabin (no windows), outside cabin (with windows) to the outside, cabin with balcony, and suite (a larger cabin).
To get the best deal on cruises you may want to call your cruise line directly, a cruise planner, or go to different travel sites like Priceline, Expedia, or Kayak allows you to compare prices within one particular cruise line or multiple lines.
It is always better to know and have an idea of your travel cost. 
Pack as lightly as possible. On most major cruise lines, the size of a standard inside cabin about 150 to 185 square feet, about half the size of the average hotel room, a standard outside 160 to 200 square feet, and a standard balcony 175 to 220 square feet.
5. Anticipate the extra cost
Cruising is still an excellent value, but most cruises are not all-inclusive, so you need to factor in additional costs —such as the shore excursion, beverages (alcoholic or not), specialty restaurants, spa treatments,  laundry, dry cleaning, Internet use, and tips—can add up. 
6. Amazing deals on last-minute booking
If you are flexible to book a last-minute cruise vacation, then you may want to check some better last-minute deals.  Cruise lines will often try to sell their available space by reducing their cruise rates. If your cruise is already booked, this is also a good time to call your cruise planner to check for cabin upgrades.
7. Consider the ship's dress code
Normally on a big cruise ship, there will be a formal night dinner and formal photo shoots.  The dress code was not strict nor strictly enforced, as long as men are wearing a smart polo shirt and women are wearing a decent dress or trousers then you will be fine. 
I saw some people who had really made an effort which was nice to see. 
Enjoy and make the most of it! You are on VACATION! There are tons of onboard amenities you can take advantage of when you are out at sea.  Walk around and familiarize yourself with the ship and its amenities. You will receive in your room the daily activities newsletter so join and participate. 
9. Choose excursion wisely
Normally excursions from the cruise liners are more costly than if you booked off the ship. Use due diligence to compare prices and see the pros and cons. Make sure when you decide to do an independent excursion know the time required and when you will be back on the ship. 
This is important because you will be responsible for arranging transportation and paying all related expenses to catch up with the ship at its next port if you miss a sailing. 
10. Research ports of call ahead of time
Take the time to find out a little about the port of call you will be visiting to find out what you might like to do or see while you are there. 
When my family joined the 7 Night Eastern Mediterranean Cruise from Royal Caribbean, we flew to Venice (our departing port) 3 days earlier and we visited the neighboring towns such as Florence, Pisa, and the colorful and charming villages of Cinque Terre. 
The ports of call are those countries that your cruise ship halts to embark or disembark passengers. 

The Benefits of the Royal Caribbean Cruise Planner
Vacation should be stress-free. The Royal Caribbean Cruise planner will make the task of planning your cruising vacation so much easier!
This will help you plan ahead and keep all of your vacation details together in one place.
I know that every mom wants to have the best vacation experience for their families.
So sail with comfort using the Royal Caribbean Cruise planner and plan the vacation of your dreams that covers you from A-Z!
A cruise planner can save you money in many ways! If you have a specific destination in mind for your next vacation, then it may be in your best interest to use our cruise planner printable's to compare prices, pack, and capture all your vacation memories all together in your easy-to-use beautiful design printable cruise planner.
Finding a Royal Caribbean Cruise Planner is totally dependent on your travel criteria and needs.
You can skip the headache with our Royal Caribbean Cruise Planner Printable.
What is Included in Royal Caribbean Cruise Planner?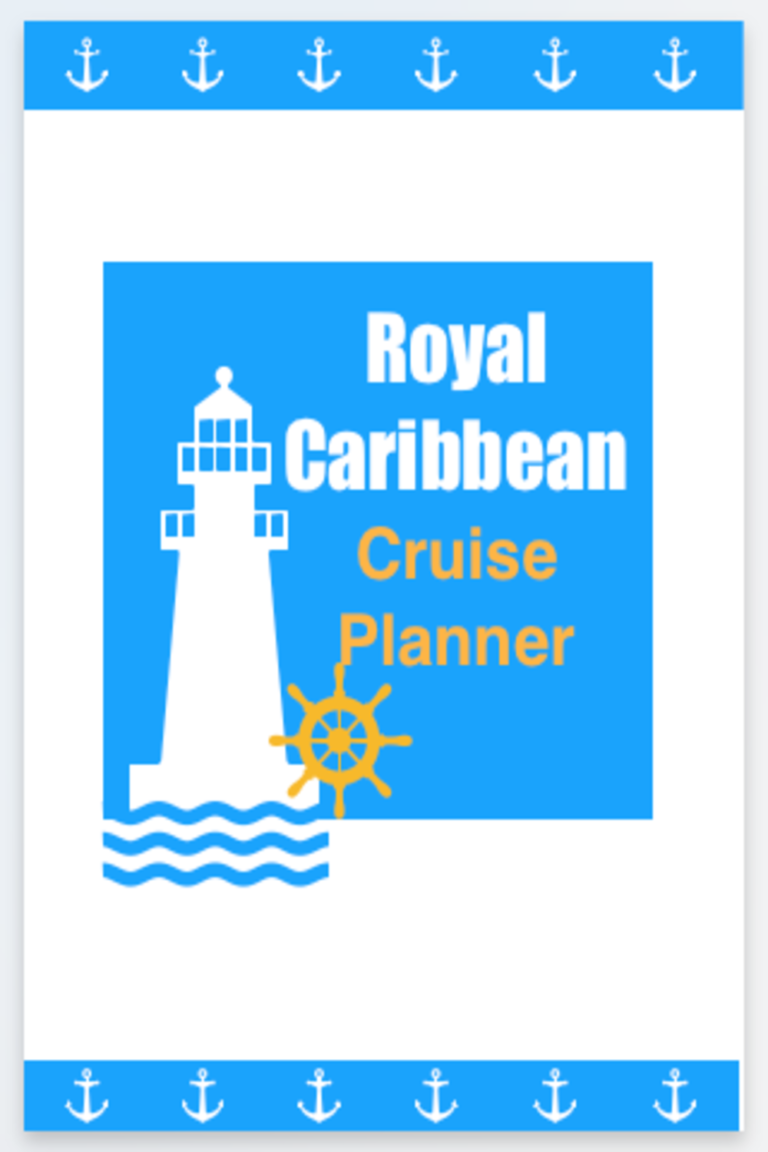 I am sure you'll definitely love simplifying things jotting down & crossing things off your Cruise Vacation Planner whenever something is DONE!
Roughly 4-5 weeks before your cruise, you will get an email from your cruise agent. 
You will receive your onboard credit from Royal Caribbean immediately.
This is what my daughter loves about cruising when she can use her onboard credits on the Royal Caribbean video arcade center.
If you're an organized mom like me who just loves having everything neat and kept all your vacation planning in one place…

You can spend less time planning. Easy to follow organizers and goodbye feeling frustrated, frazzled, and weary.

Here are some fantastic & suitable ones from Amazon.
Get Your Royal Caribbean Planner Printable's Today!
Royal Caribbean Cruise Planner, Cruising Planner, Caribbean Cruise Planner, Royal Caribbean Planner, My Cruise Planner, Cruise Ship Planner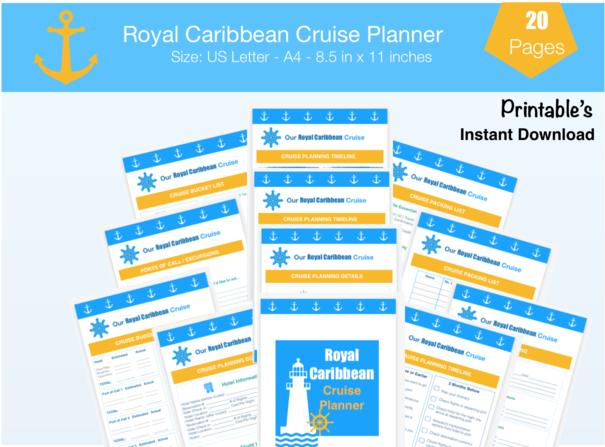 You'll probably get just as much peace of mind using a Royal Caribbean Cruise Planner for great cruise vacation experiences!
It's very exciting to start planning your cruise!
The more I traveled, I learned that my time spent with my loved ones is the most precious jewels on earth!
So having a well-planned & fun vacation with families is the B-E-S-T thing ever! — so treasure it!
To recap, here's what we have covered in this post:
Enjoy this article? Pin It!