The 4 Japanese Living Good Secrets That Work
Living good secrets to living your BEST LIFE!
Do you ever wish you could create a version of the life you ever dream of and live a more fulfilling life?
One weird long exhausting summer in Thailand, I was thinking how bad it is if I quit my 8-5 job.
It was clear that I don't have enough savings and NO financial power.
But, I forced myself to stay as close to reality on how to graduate from the job hunting fatigue when I reach my 50's.
In this post, you'll learn:
+ How to create a better life & start living good
+ The "4 Japanese Secrets" to living good that you should know
+ Baby steps to find your IKIGAI 
+ How to download your IKIGAI template
If you too are trying to create a happy and more fulfilling life; I'm about to reveal the secret of how I end my job uncertainty – a better way to organize your entire life, be your own boss, and I know you're going to absolutely love it!
Stuck in the mud-spinning wheels going nowhere?
Do you self-sabotage finding your life purpose? 
Misplacing your focus and attention, and feeling useless?
Feeling alone, empty, and not being interested in things?
Working crazy hours, but no wealth?
How To Create A Better Life and Start Living Good
I am sure that you are wondering why some people are more energized, motivated, happy, successful, and enjoying life to the fullest even at their old age.
Several years ago, I was just exactly like many burnout professionals…
Exhausted like working as a cog in a machine that keeps going nowhere.
So I started to check opportunities after opportunities to build my dreams to be my own boss. I spend months and months trying in vain to manifest an "abundant" life.
I tried the law of attraction, read the secret book, followed life coach gurus, and bought countless courses.
And always ended where I started until I discovered these "4 Japanese Secrets".
The 4 "Japanese Secrets" to Living Good
Japan is one of the longest living places in the world and many Japanese continue to work in their later years.
So what is their secret?
Have you heard about the term IKIGAI?
Aside from living with a healthy diet, there are a million things you could do with your life and it could be overwhelming with choices and opportunities.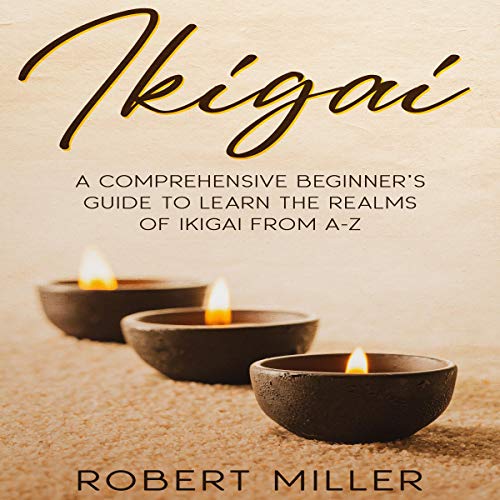 Just you know I am an associate partner of Amazon that means if you purchase this book from Amazon using the link from this page, I will get an advertising fee from Amazon (thank you for your support).
In a 2001 research paper on ikigai, co-author Akihiro Hasegawa, a clinical psychologist and associate professor at Toyo Eiwa University, placed the word ikigai as part of the everyday Japanese language. 
It is composed of two words: iki, which means life and gai, which describes value or worth. Source: BBC
Overwork is not uncommon to Japanese people and IKIGAI may have to do with how they manage their lifestyle that helps them improve their life and work balance and become one of the world's most long-lived countries.
IKIGAI is a Japanese concept that means "Reason for Being".
And our IKIGAI is evolving and changing because we as humans, continue to change and grow.
Observation during my trip to Japan ...
When my family visited some parts of Japan as the city of Beppu, Yufuin, and Fukuoka, we noticed a remarkable high number of older people who are traveling alone, driving a bicycle in their 80's or standing strongly in a moving bus. 
Which I don't see in my own country the Philippines.
The Blue Zones author Dan Buettner believes that aside from a healthy diet Ikigai also plays an important role in Japanese longevity and having a sense of purpose can encourage anyone to build a happy and active meaningful life.
Buettner cites the ikigai of several Okinawans like for a 101-year-old fisherman, it was catching fish for his family three times a week.
And for a 102-year-old karate master, it was teaching martial arts. He says. "In Okinawa, there isn't even a word for retirement. Instead, there's simply 'ikigai,' which essentially means 'the reason for which you wake up in the morning.'"
A sense of purpose, meaning, and motivation in life.
IKIGAI is seen as the convergence of four primary elements:
What you love (your passion)
Discover what the world needs (your mission)
Find what you are good at (your vocation)
And what you can get paid for (your profession)
Being happy attracts everything.

I used to be a full-time burnout employee, a wife, and a mother who has to balance work and life. I was excessively tired and emotionally drained with everything. 
But when I headed to know these secrets on how to live good, I started up my business from home and establish my own career doing what matters to me and to other people. 
Discovering your own IKIGAI will help you bring happiness, life fulfillment, and purpose in life.
Here are the Baby Steps to Find your IKIGAI
Building a wonderful life is something anyone can do. Anyone can create happiness, good health, and more success in life.
Here are my favorite (and much crucial) ways to start creating an organized life of more independence and purpose.
Step One: Find what you love doing
What is your TRUE passion? 
It's quite normal to be SUPER ambitious for success but if you don't have any clue about what you love doing you'll have a tendency to lose sight of your own needs and focus on others.
Even if you are wired with BIG ideas or different things that you love doing, you need to find the one that dominates to get your best shot at fulfilling your potential.
If you don't know what you really love doing, you can feel stuck.
Finding your IKIGAI can help you achieve that!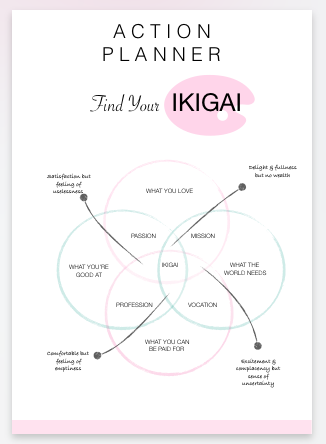 Ikigai Planner Printables
Step Two: Find what the world needs
You can then ask this simple question of what you can give to the world? Or What does your community need more of?
Like in my case, there was a time in my life when I believed if you worked hard and did your job well – your job was safe forever.
But…I was completely wrong.
I began to see where the employees stood.
As an ex-pat executive involved in business startups for sixteen years, I know how to create and implement systems .
And I am so obsessed to help burnout professionals to reinvent the way to make a good living by following their Ikigai, spend quality time with their family traveling, and working at their own pace.
This is how I find the importance of my own IKIGAI – my passion, mission, vocation, and profession.
Sometimes finding what the world needs is rooted in what you have been through, I mean a problem that you have solved yourself because someone out there is also experiencing the same problem. You get the gist!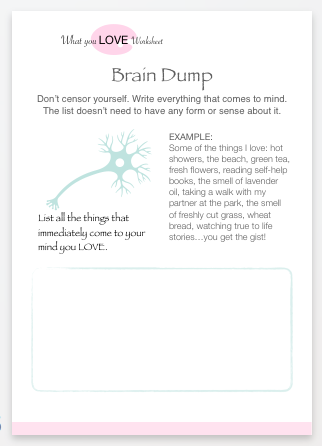 Ikigai Planner Printables
Step Three: Find what you are good at
What parts of your past or present job are you effortless good at?
Figure out your natural gifts: your talents and skills.  Because with your own unique experience, you could be among the best at what you do. 
One of the many mistakes I've made in my life was believing that money led to fulfillment. What I learned, however, is that you must first find what you're most passionate about and money will flow NATURALLY.
Be open to the possibility of living good by finding what you are good at to create a happy and meaningful life!
Step Four: What you can get paid for
This question is about the things how you can earn to put bread on the table to survive.
In my online business journey, I've had a lot of trials and errors. Though I had 16-year of experience in setting up and running a multi-million dollar mainstream business, online business is something new to me. 
I don't have any technical skills but instead, I focused on the simplicity & practicality of finding the problem in my community.
I'm NOT special to anyone.

I knew that I would only get a sense of real income once I tested my business idea out in the marketplace.
Not on paper for me to see if someone will pay me.
I started my own coaching business where I help burnout professionals turn their expertise into income by putting them on a system to get high-paying clients quickly and duplicate them.
My initial approach was based on putting together what I know (my experience) and match it to people's needs.
How To Download Your Ikigai Template
If you are feeling lost and don't know where to start, this is how I can help you to find your IKIGAI. 
I created this action planner to find your IKIGAI in PDF that you can instantly download as long as you have your Adobe reader on your computer. 
You can install ADOBE for free. 
This is my ultimate printable designed worksheet that helps you discover what career or business path that suits you to be excited to get out of bed each morning with a clear purpose each day.
I believe that we are hard-wired as humans to grow and create the version of the life we love is as unique as we are.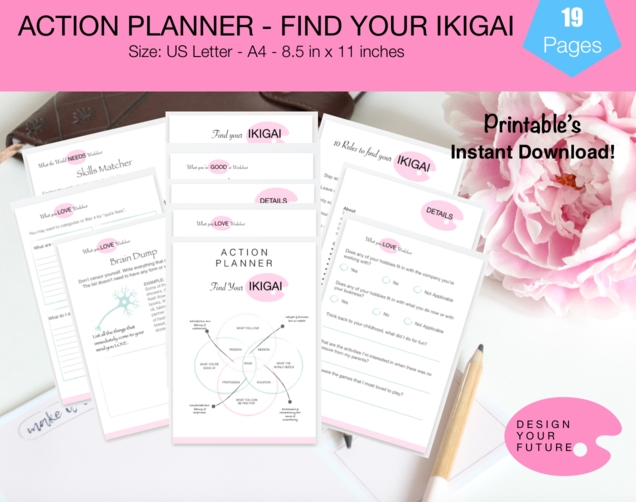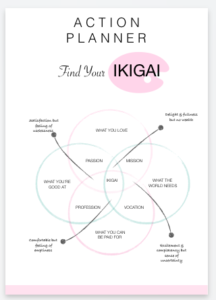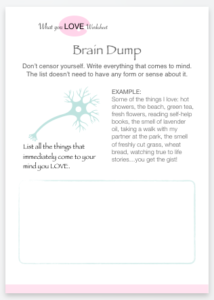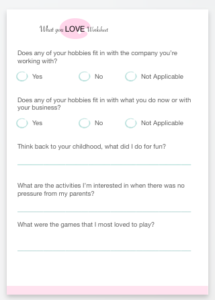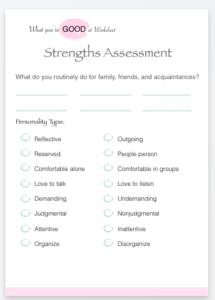 What is included in IKIGAI Action Planner?
The IKIGAI planner printable consists of 19-page templates. Action Planner/Find Your IKIGAI/Life Purpose Planner/IKIGAI Action Planner/Life Driven Purpose/Living With Purpose/PDF Instant Download!
Section Includes:
+ How to use guidelines
+ Brain dump worksheet
+ What you love worksheet
+ What you are good at worksheet
+ Strengths assessment
+ Energy tracker
+ Finding the match
+ What the world needs worksheet
+ Skills matcher
+ Top skills showcase
+ Sweet spot to get paid
+ Action baby steps
+ Monthly reflections
+ 10 rules to find your IKIGAI
No more self-sabotaging!
I created this shop on Etsy to dump my ultimate design planner printables to help you get organized with your entire life! 
From crushing your smart goals, mind decluttering, money management, business productivity, vacation planning, and feel accomplished each day with my easy-to-use planner printables to Design Your Future!
These aren't just printable but they will help you refresh your daily routines & reset your unproductive habits that are more fun, affordable, exciting, and feel more accomplished at the end of each day!
If you're an organized mom like me who just loves having everything neat and kept everything in one place…
Here are some fantastic & suitable binders from Amazon to keep your printable's.
Printable Planners Recommended For You: