The Ultimate Guam Travel Planner Bundle You Must Have On Your Next Trip
Guam travel planner is an amazing travel printable that you can instantly download and add to your travel binder.
And when it comes to travel problems, I've experienced them all!
Some of our family trips went smoothly without facing any troubles, but many don't.
The Guam travel planner will help you plan ahead, get organized with all your travel preparations to make your trip a memorable one!
No more overwhelmed and being disorganized on your trip!
Because…getting lost, spending over your budget, and even forgetting things are really frustrating.
3 Reasons Why Guam Travel Planner Bundle Is Important On Your Next Trip
1. Avoid Running Out of Money
Getting the Guam Travel Planner can help you not to overspending and come back broke after your trip.
Running out of money can be a major problem which you'll definitely want to avoid.
It is ideal that you set a certain budget for hotel, airfare, food, etc. because traveling is addictive.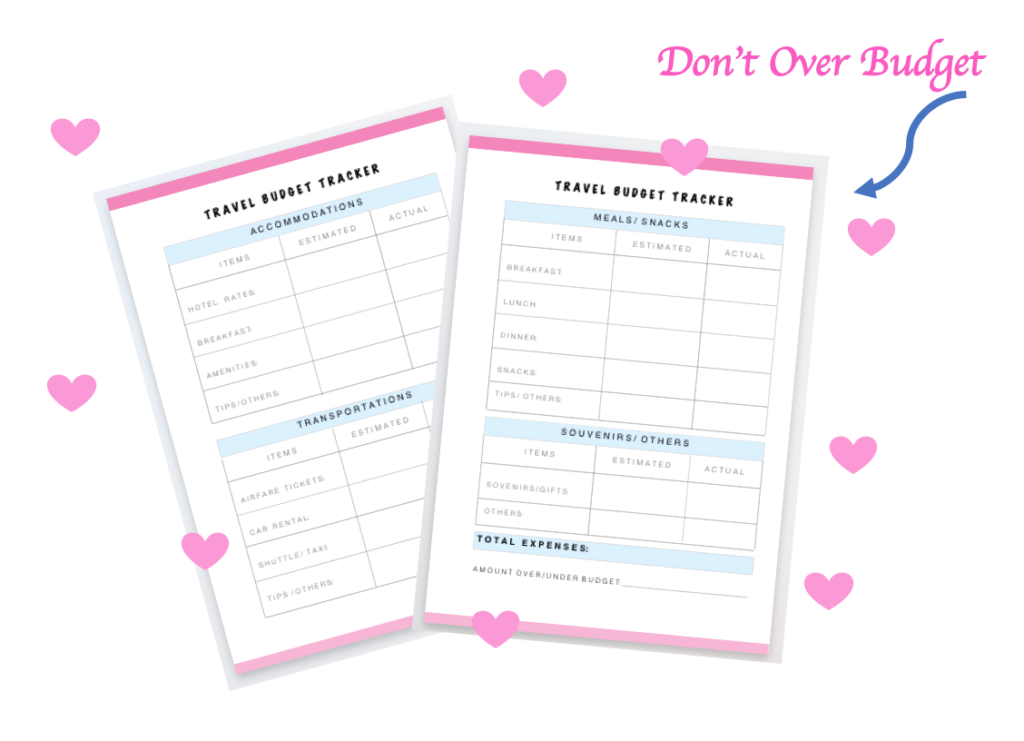 I remember a $10 credit interest payment wasn't a big deal for me before.
And I was ashamed of borrowing my lifestyle and hadn't considered the impact of those little interests to ruin my life and my relationship with money was a complete MESS!
Our debt started to snowball up to $1,000, and then $5,000 and finally reaching $17,000. While the debt grew, I never stopped to take a look at how much interest I was really paying.
I knew it was time to make a change. I started to track everything from my spending, my income, and journaling my travel memories.
Before you travel research the country you're visiting. You want to have an idea of the general cost of living so you can budget properly.
Traveling can be expensive so make sure that you allocate a certain budget for traveling because credit card debt can start to accelerate without noticing it.
2. Feel More Accomplished and Happier
With these travel planner printables, you'll feel happier & feel more accomplished because it's fun jotting down & crossing things off the list whenever something is done!
Keeping a travel journal on your next trip is a great way to keep track of all the places you visited while you create lasting memories with your loved ones.  Jotting down your travel experiences, and what thoughts and feelings they evoked, keeps your memories vivid long after your holiday.
This travel planner will cover you from A-Z!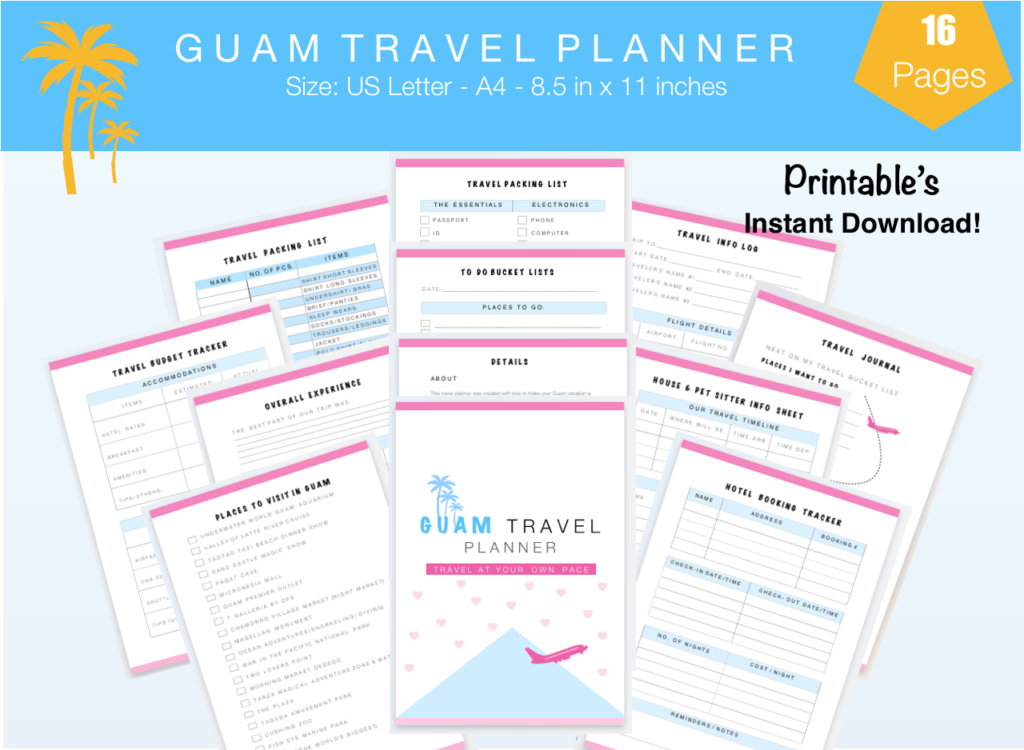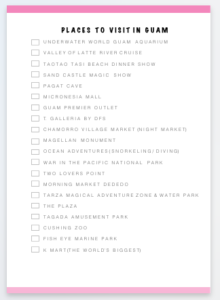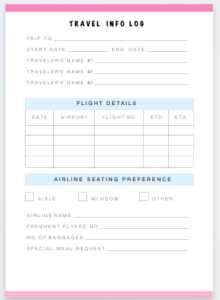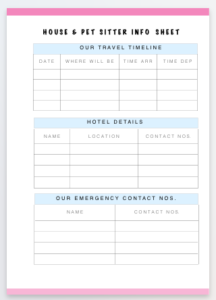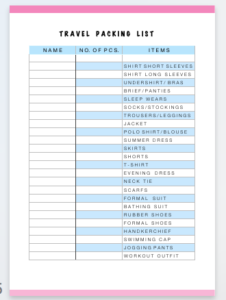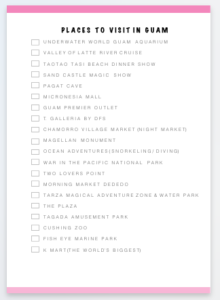 S E C T I O N I N C L U D E S:
+Travel Info Log Sheet
+Travel Packing List (with suggested items)
+Packing List (blank)
+To-Do Bucket List
+Hotel Booking Tracker
+Travel Budget Tracker
+Daily Itinerary
+Places To Visit In Guam
+House & Pet Sitter Info Sheet
+Travel Journal
+Overall Experience
Journaling is a great outlet for children too and they will appreciate their experiences when traveling abroad. Plus, these travel planner printables will be a great tool for recording great recollection and adding educational value to your kids' travel journeys.
3. Great Souvenir To Treasure for a Lifetime
There's nothing that beats great family bonding.
The travel planner bundle provides richer souvenir that you and your kids can treasure for a lifetime than just selfies. 
When they journal their exposure to new places, kids remember a scene longer because they take more time to deposit it into their long-term memory bank. 
This travel planner serves as a great souvenir that you can pass on to future generations. Click Here To Get It Now!
No trip is perfect but this travel planner will help you and your kids to get organized and have fun together in planning your next vacation.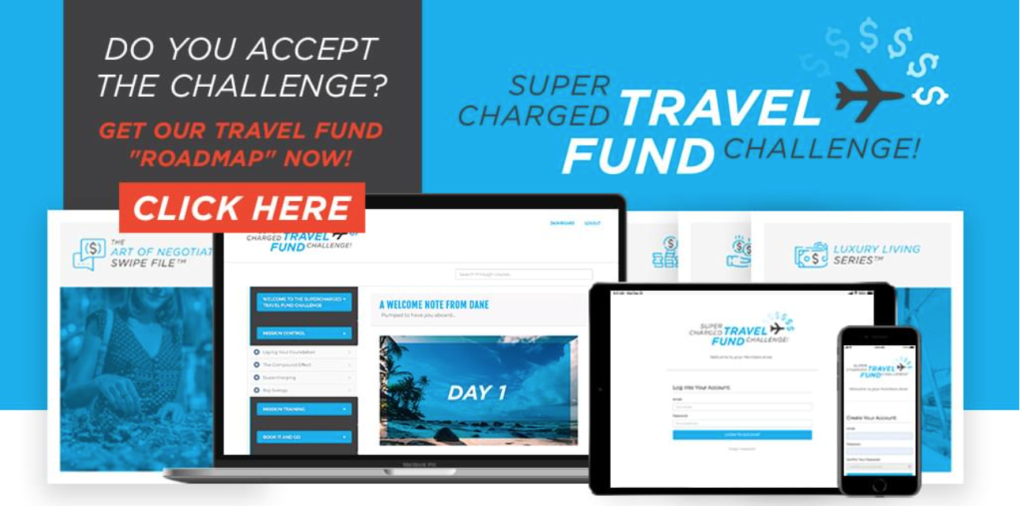 The Guam travel planner is super simple and easy which collects the bits of some of your trip adventures from travel information, foodies, hotel and flight bookings, favorite activities, travel journaling, and so much more.
The snaps from your travels, and puts them in a binder to share with friends and family.
These downloadable digital vacation planner pages can be printed as many times as you'd like. All pages have extra space in the margins so you can punch holes on the side and kept it in your travel at your own pace binder. Click Here!
The Guam travel planner bundle is a 16-printable page in PDF format.
Size: US Letter, A4, 8.5 in x 11 in
Travel Planner Bundle, Guam Vacation Planner, Travel Planning, Plan My Trip Printables, Itinerary Planner, Instant Download Travel Journal (PDF Instant Download)!
Be your own Boss to travel at your own pace!
Spending quality time traveling together with your loved ones provides positive benefits for adults, children, and couples. So why not plan your next family trip with this travel planner?  
It's going to be fun, inspiring, and meaningful to strengthen your lifelong family bonding and increase a sense of well-being in adults and children.
So I created a NEW travel planner with love!
The Guam Travel Planner is packed full of everything you need to manage your trip better! 
Happy trip!