4 Best Things To Do in Yufuin Japan
Yufuin is a small and beautiful town that you can explore on a day trip.  It is located in Oita district, Oita Prefecture, Japan. 
If you are planning to visit Yufuin Japan, in this post, we talk about:
Yufuin is known for its tranquility, classic, and traditional hot spring village. Yufuin is located about 50 minutes by bus from Beppu.  
Beppu is known internationally for its "onsen" (hot springs), while Yufuin is famous for its natural beauty and relaxing surroundings.   
Many travelers come to Yufuin to stroll around the town for the day.
How To Get To Yufuin From Beppu
There are several ways to go to Yufuin from Beppu.
By Local Bus:
You can take the local Buses. Kamenoi bus operates 1-2 buses per hour between Beppu and Yufuin Stations.

By Yufuri Sightseing Bus:
There is also a sightseeing bus called yufurin. From Beppu station, you will passed Kannawa, Beppu Ropeway, Kijima Kogen Park,Yufu Tozanguchi(Mt.Yufu starting point) and arrive at Yufuin station. Yufurin is the bus which conncted Beppu and Yufuin about 70 minutes.
Board the bus from the backside door and take the numbered ticket dispensed near the door.
As you approach your destination, the announcement for your destination will be made or you can look at the bus monitor (as per the screenshot above), and you will see the next destination. To get off, press one of the "exit" buttons found throughout the bus.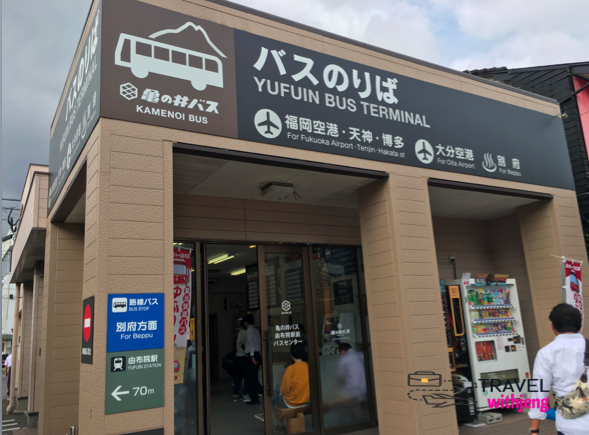 This is the Yufuin Bus Terminal. Just a few steps from JR Yufuin Train Station.
At the station, you can get sightseeing pamphlets, maps, and you can have different options to go around Yufuin.
Either you can rent a bike, rickshaw, take Yufuin red British car, or take a horse carriage.  It's your choice!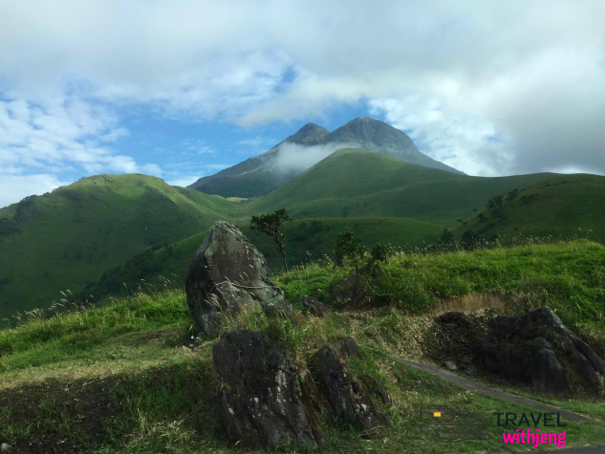 Yufuin can be easily explored on foot, and the majority of the town's attractions are located along the 1.5 kilometers long taking the main walking route between Yufuin Station and Lake Kinrinko.
This horse carriage is a sightseeing carriage in the town of Yufuin. They only accept 9~10 people per ride for safety reasons. The carriage itself was made in Poland and the carriage ride travels through Yufuin city and various shrines nearby that will last about 1 hour.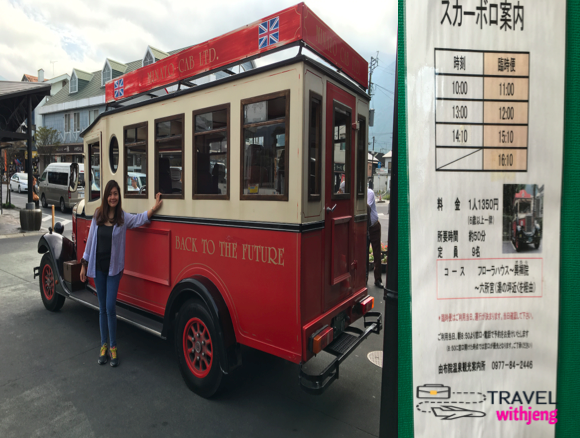 British classic cars called "Scarborough" arrive at and depart from the train station. Scarborough is a sightseeing tour in a 9-seater classic British minibus.
After departing from Yufuin Station, the bus heads to Flora House, Kozen-Ji Temple, Unaguhime Shrine, and Kyushu Yufuin Folk Craft Village before returning to the Station. The tour is 50 minutes in duration, and reservations are accepted only on the day of at the Yufuin Station building.
Best Things To Do in Yufuin Japan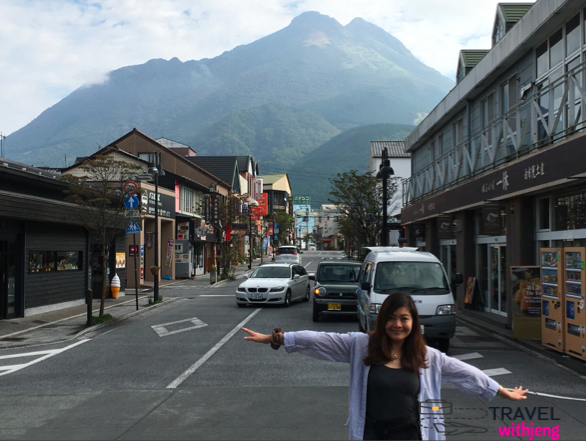 This photo was taken on the main road just across Yufuin Train Station.
Mt. Yufu is the landmark of Yufuin.  Mt. Yufu is a stratovolcano. It has a double peak appearance, called 'Higashi-mine' (East Peak) and 'Nishi-mine' (West Peak).
You can already get a good view of Mt. Yufu just right in front of the Yufuin train station.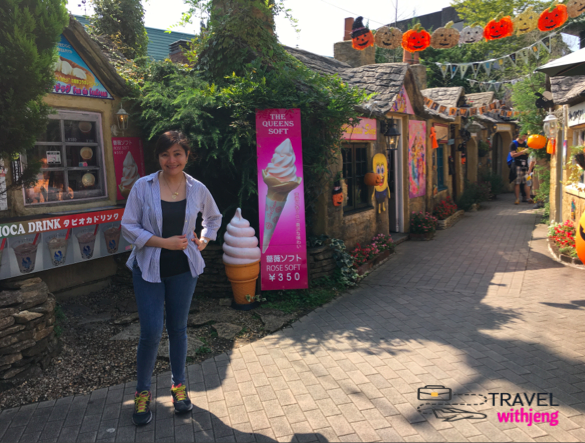 I love the store settings in the Village.  It reminds me of Santorini in Greece. They set the shops like a mini European village with small cottages selling everything from cat and dog accessories, toys, handicrafts, wine, souvenirs, clothes, and local delicacies.
The Yufuin Floral Village, a small and very cute place to visit.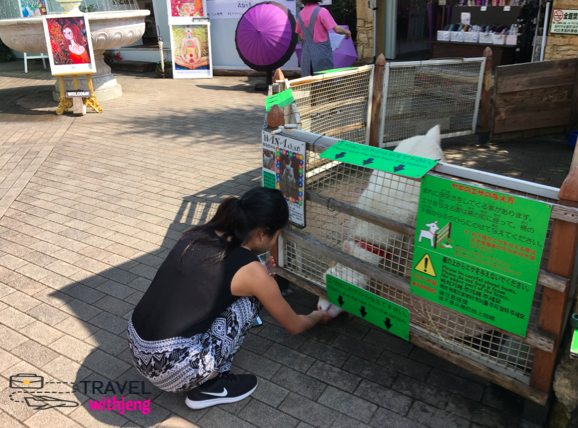 My daughter is having fun feeding the goat!
If you are traveling with your kids, Yufuin floral village is the place. The village has a mini zoo that your kids will surely enjoy.
And if you love to collect those cute little things and souvenirs from Japan, you will not get lost finding the main shopping street in Yufuin.
 You can just follow the walking trail and you will see those beautiful Japanese umbrellas hanging around.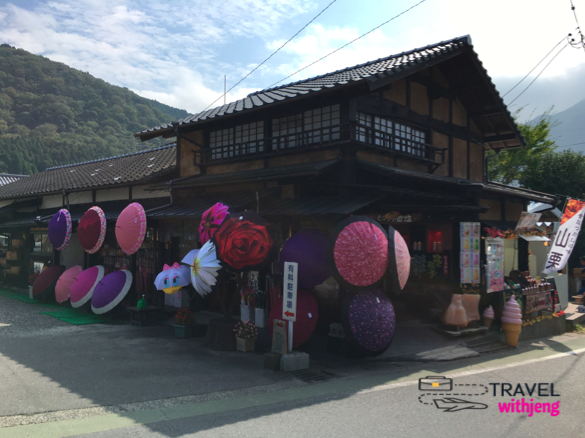 Many interesting shops to fill most of your day while in Yufuin — from those little refrigerator souvenir magnets, themed shops for dogs and cats, wooden and paper crafts, almost any amazing hand-crafted that are symbolic to Japan you can definitely find it here.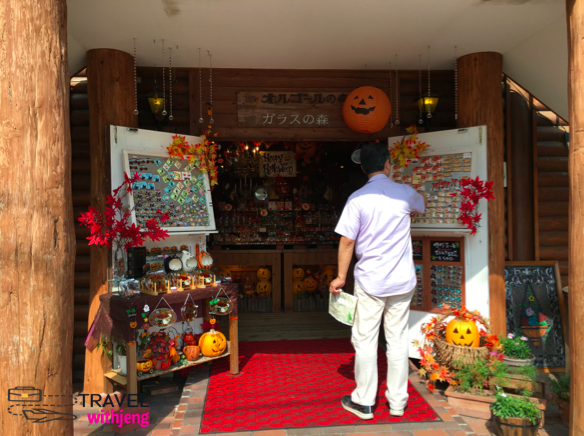 A calm, clean, and natural site village that is full of cute ornaments and accessories.
Different shops, different kinds of stuff they sell. It's just like you are in Disneyland without rides – a perfect place to chill around with your loved ones.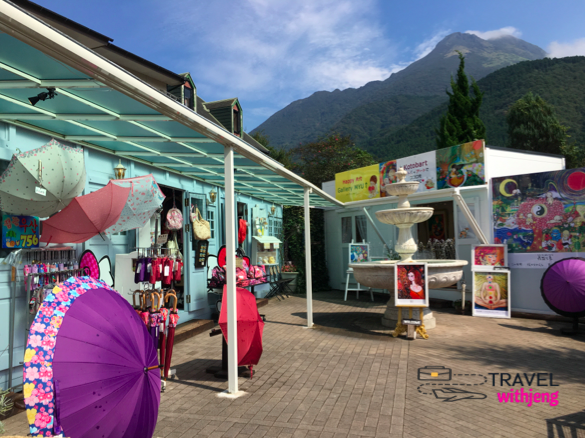 The floral village is full of amazing shops, cafes, and good restaurants. Literally, they almost have everything here to enjoy your day especially if you are looking for a slow-leisurely paced adventure. 
Japan Travel Planner (Instant Download!)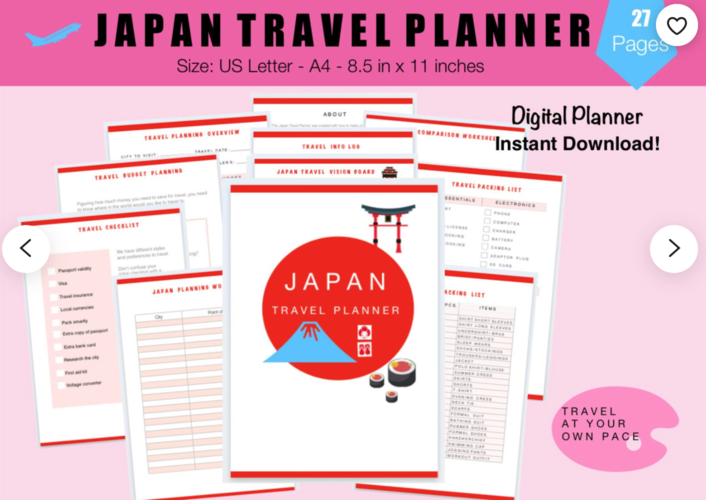 Planning a vacation can be overwhelming. This Japan Travel Planner is a vacation planner organizer in PDF that you can instantly download.
If you're visiting Japan for the first time it's not always easy to list down what attractions to see, the best hotel to stay, and what local food to try.
The Japan Travel Planner is designed to help you removes any guesswork when planning a vacation. Organize every aspect of your vacation from flights, things to do, what to see, daily itineraries, hotel accommodation, create a travel budget, pack, and so much more!
(thank you for your support 🤗)
The minute I stepped into Yufuin, I fall in love with the town's serene beauty. From the mountain view, the small shop along the way, the delicious delicacies, and the relaxing biking bonding experience with my loved ones exploring the charming town of Yufuin Japan.
A great little walking and biking trip for a few hours or a day if you want it to be. We spent around 3 hours here in this little town.
Here's the recap of what we have covered:
Enjoy this article? Pin It!