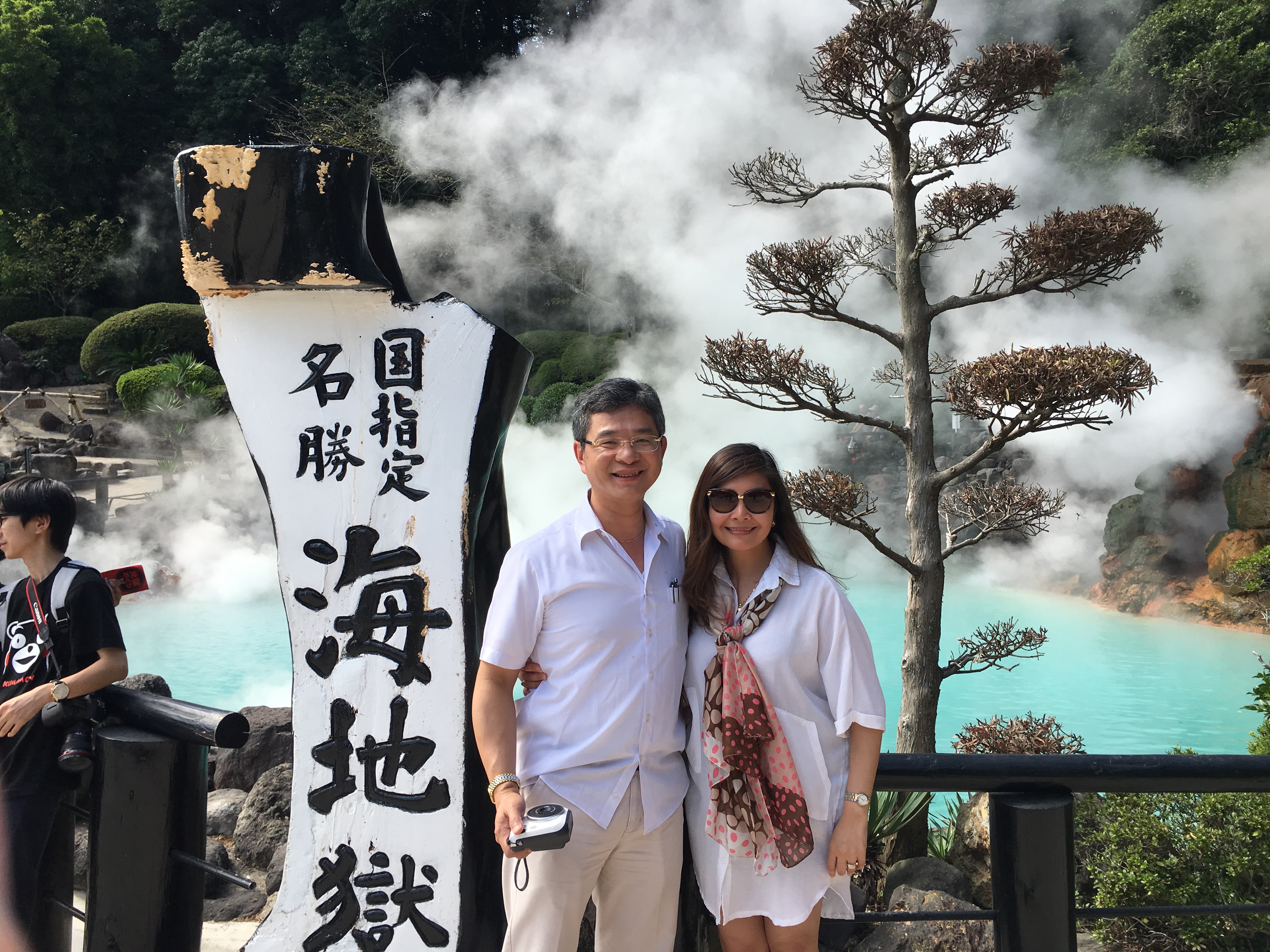 Things To Do In Beppu:  Experience The Thrill Of Sand & Mud Bath
A trip to Beppu will never be completed without the experience of sand and mud bath as well as a visit to the Hells of Beppu.  Beppu is #25 of 191 destination in Japan.   Beppu is a beautiful & quiet seaside town on Kyushu Island.  The town is built from the ground up for tourist enjoyment.  There are several reasons why you should include Beppu to your bucket lists of places to visit.
If you look out of the city on a cool day you'll see steam pouring out of half the buildings in town.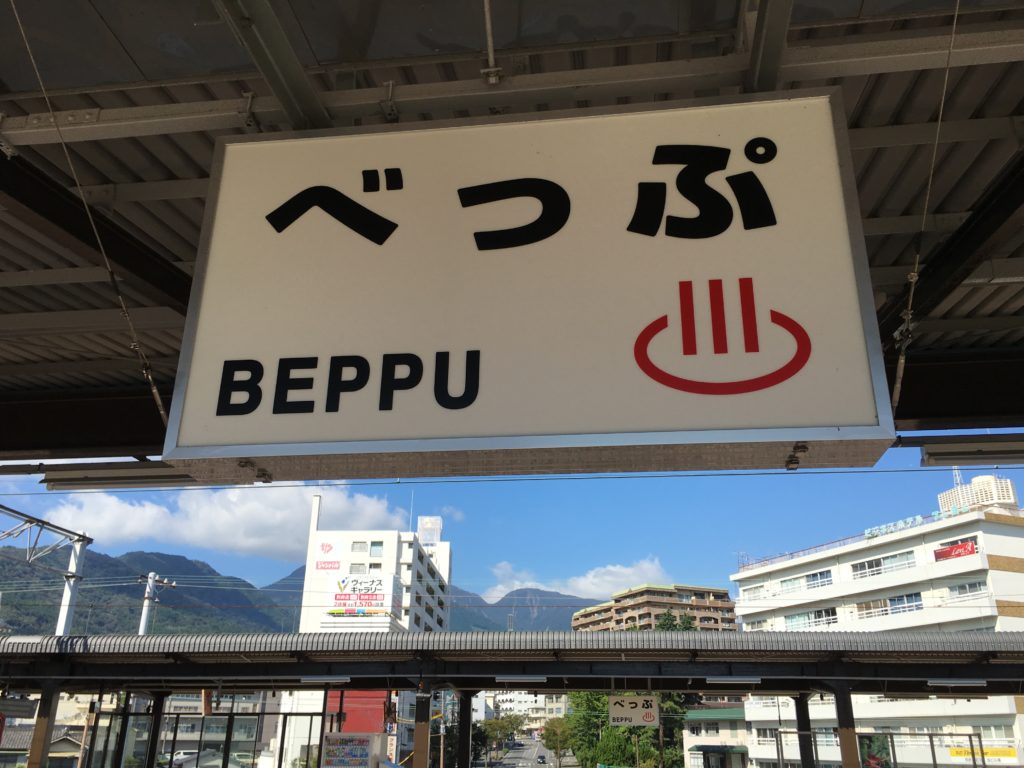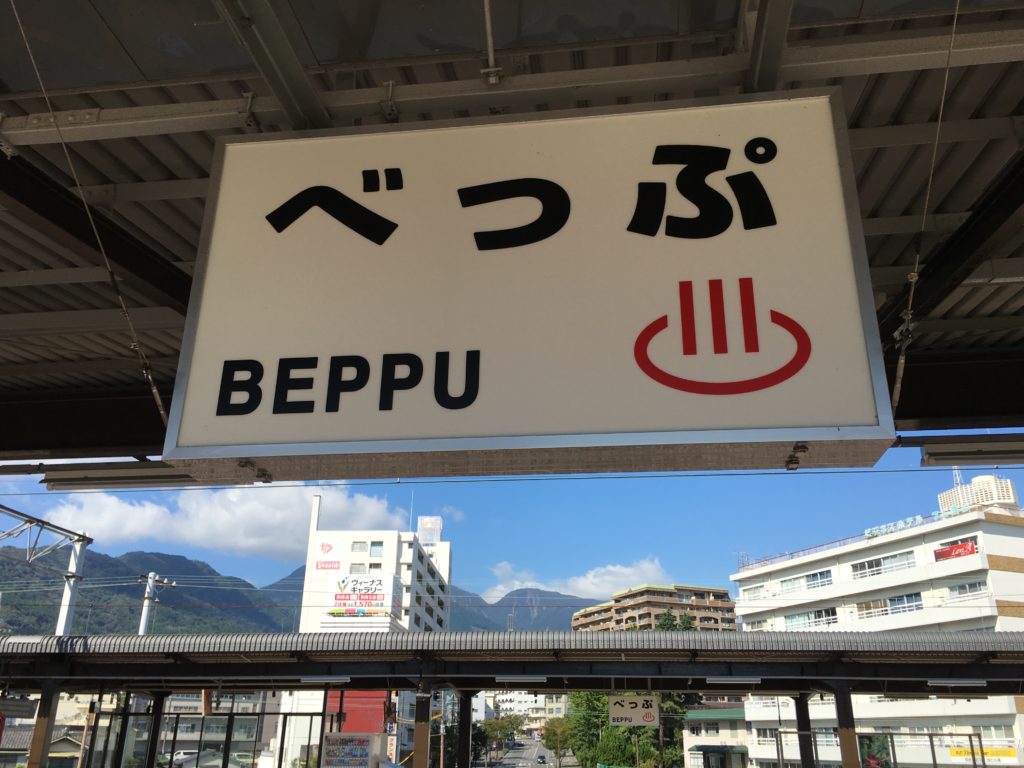 Beppu is famous for hot springs.  Beppu is one of Japan's most famous hot spring resorts, producing more hot spring water than any other resort in the country. The town's main claim to fame is that it has one of the highest volume of hot spring waters in the world.   Beppu offers an unmatched range of baths to be enjoyed, including ordinary hot water baths, mud baths, sand baths and steam baths.  In addition, the Hells of Beppu are several spectacular hot springs for viewing rather than bathing.
The city runs a service that will dress you in Yukata (Japanese Casual Kimono) and bury you in the hot sands of Beppu Beach.
SAND BATH EXPERIENCE AT BEPPU SEASIDE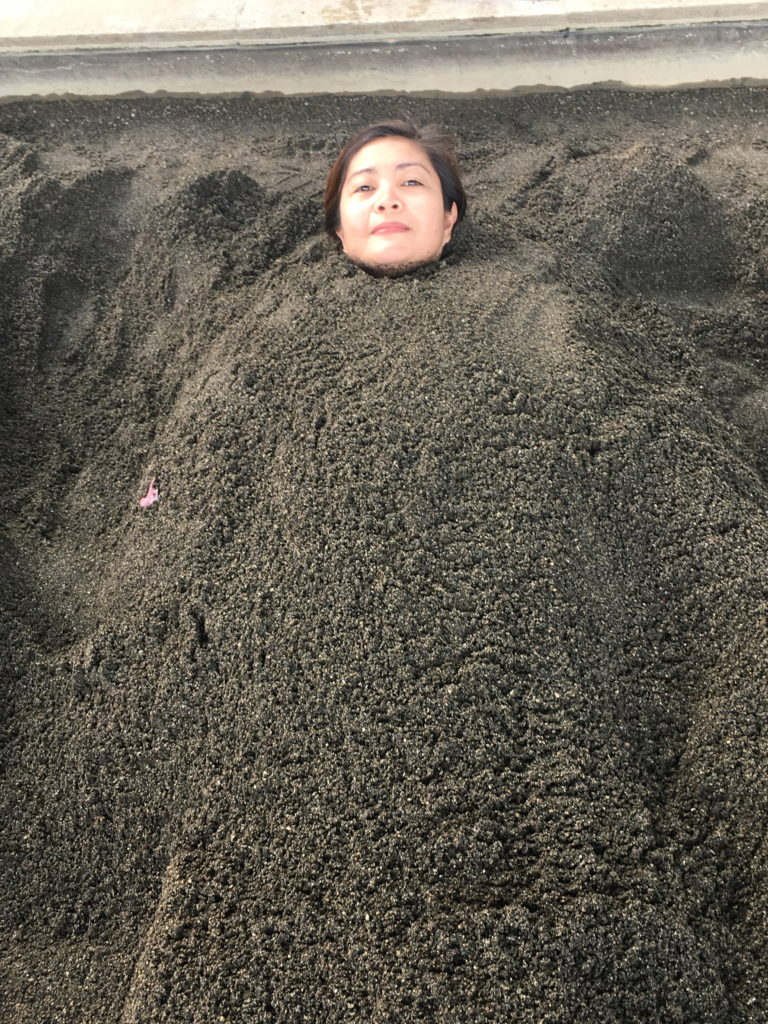 WHERE IS BEPPU LOCATED?

Beppu is a city in Oita Prefecture on the island of Kyushu, Japan.
Oita is a coastal prefecture on Japan's Kyushu Island.
It's best known for its onsen (hot springs), including popular Beppu.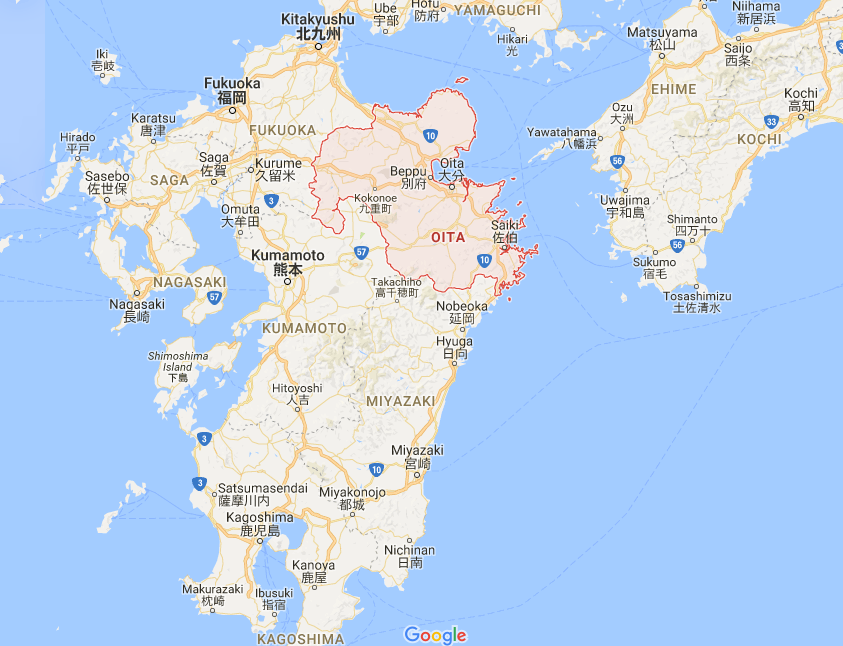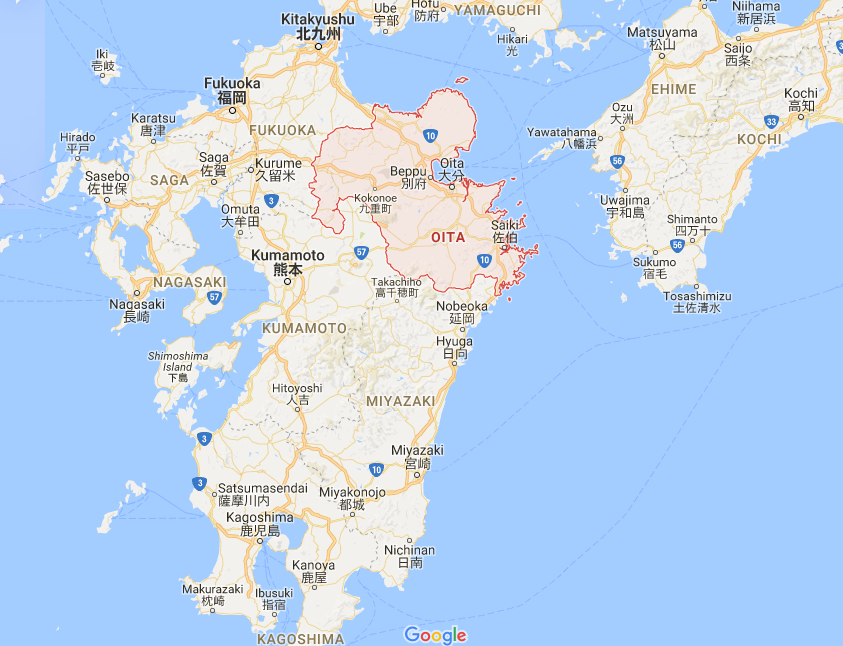 THINGS TO DO IN BEPPU: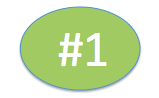 VISIT THE HELLS OF BEPPU
The eight hells (jigoku) of Beppu are the spectacular hot springs for viewing rather than bathing.
Six of the hells are located in the Kannawa district (uni jigoku, Oniishibozu Jigoku, Shiraike Jigoku, Kamado Jigoku,
Oniyama Jigoku, Yama Jigoku) and two located  in Shibaseki district (Chinoike Jigoku, Tatsumaki Jigoku).
If you have limited time in Beppu, I highly recommend to visit these 3 hells such as Umi Jigoku, Oniishibozu Jigoku and the Chinoike Jigoku.
THE UMI JIGOKU
One of the most beautiful hells, the "sea hell" features a pond of boiling, blue water.
In its spacious gardens, there are a few secondary, orange colored hells and a large, clear water pond with lotus flowers whose large leaves are strong enough to carry small children.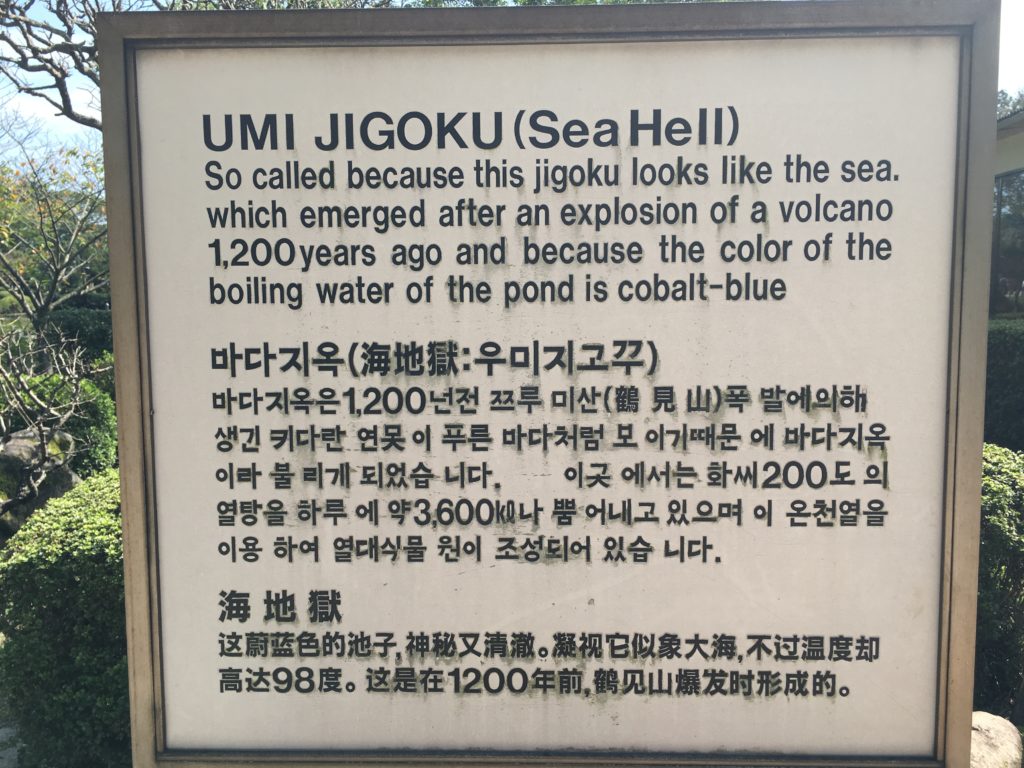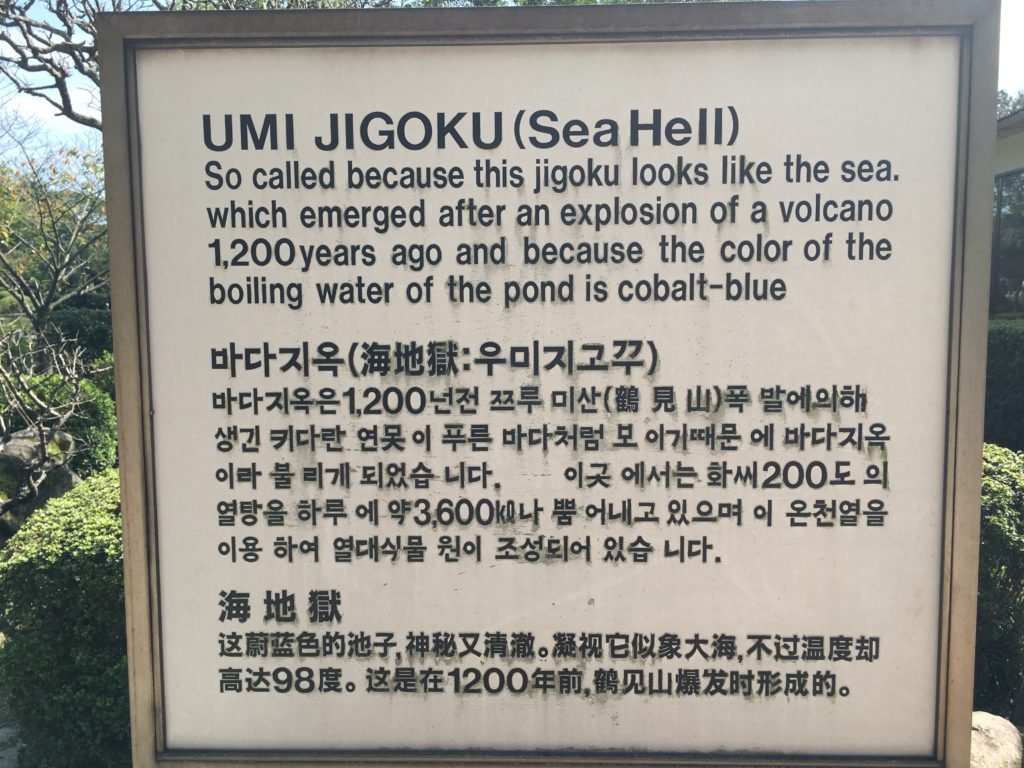 Admission charge for Adults is 400 Japanese Yen. For Children 200 Yen.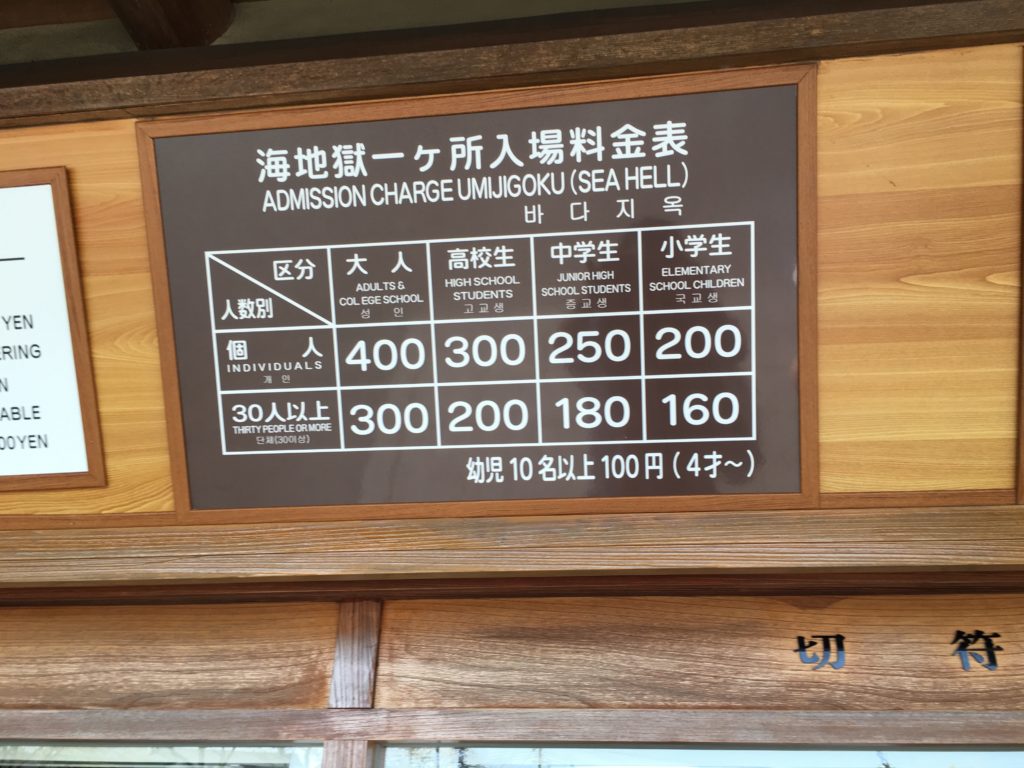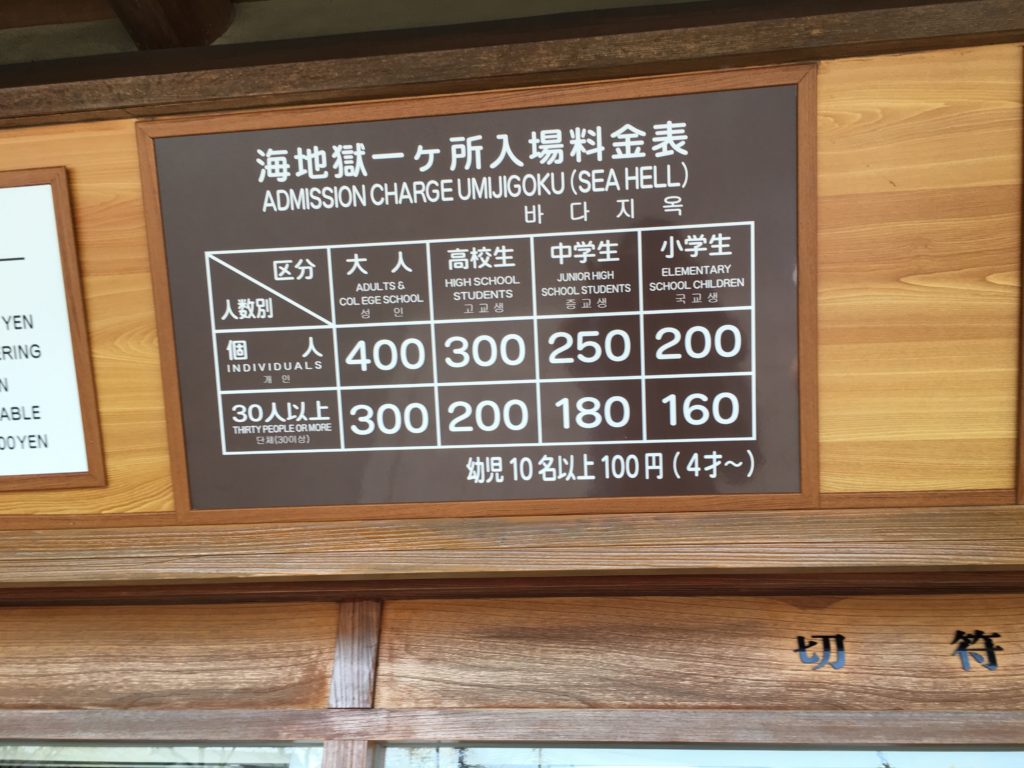 Here's some photos I've taken:
This is so far my favorite hell.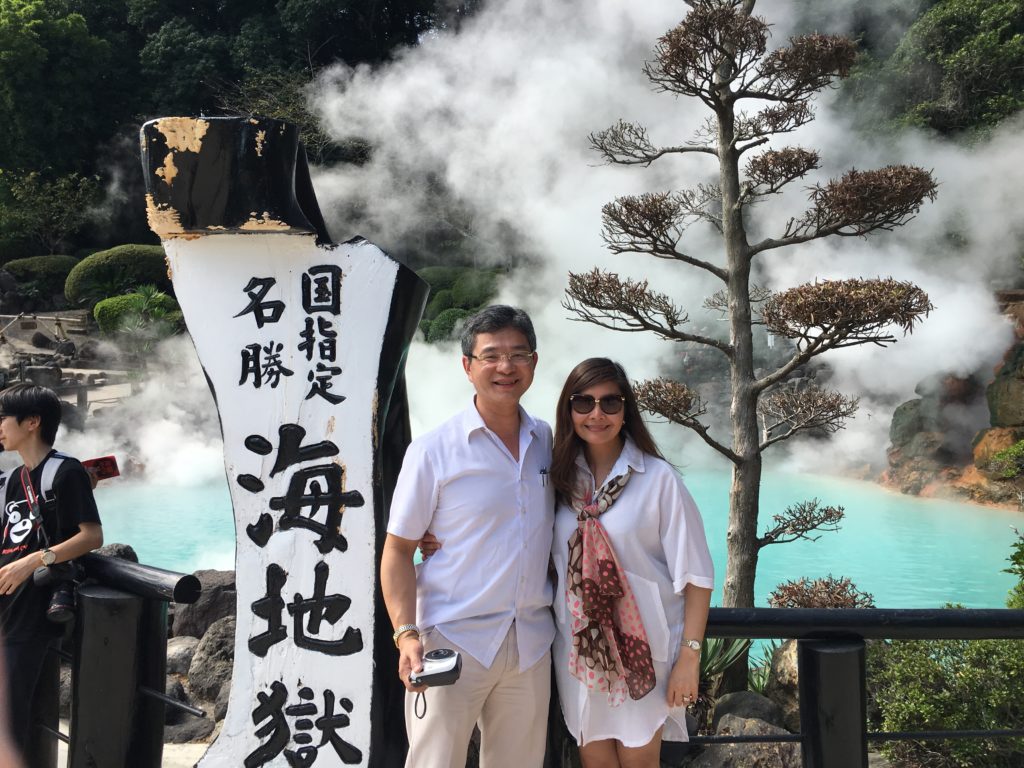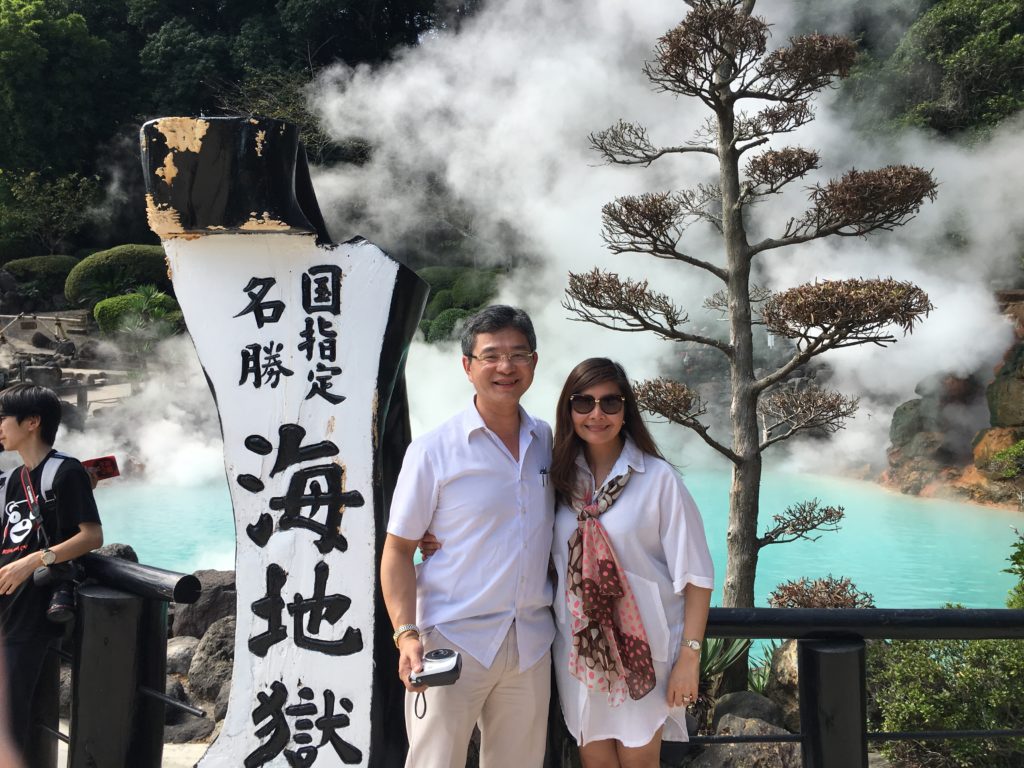 Photo with my husband Brian at Umi Jigoku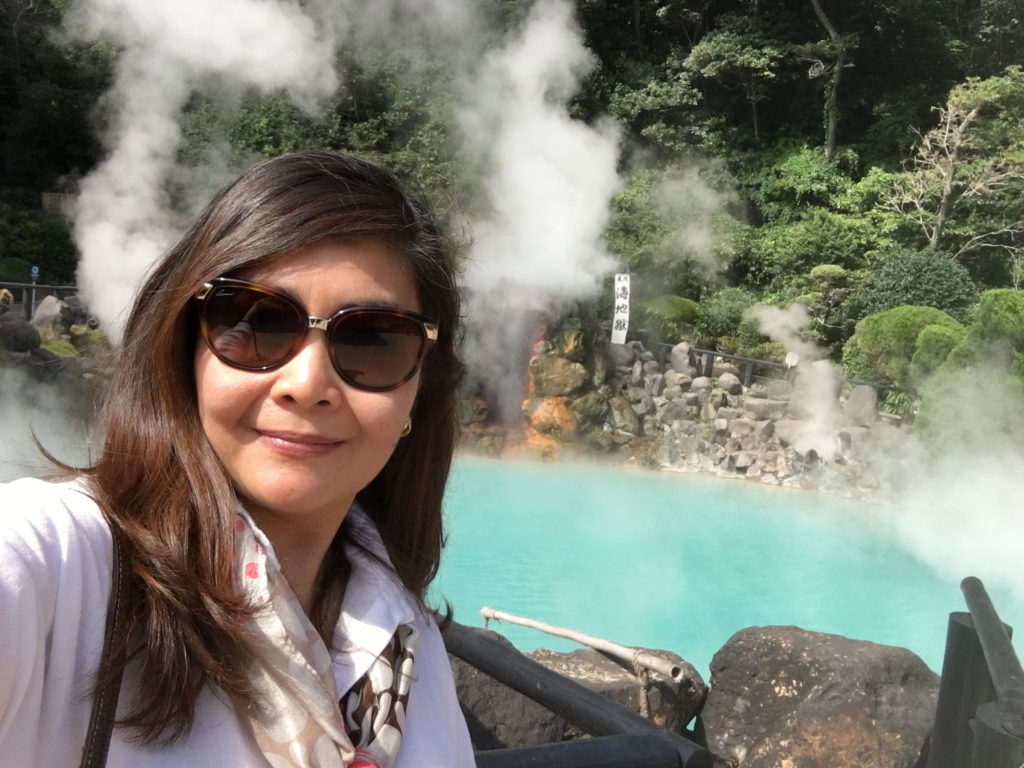 The "hell" is a pretty blue like the ocean. They put eggs over the spring to cook them
naturally and sell them to tourists.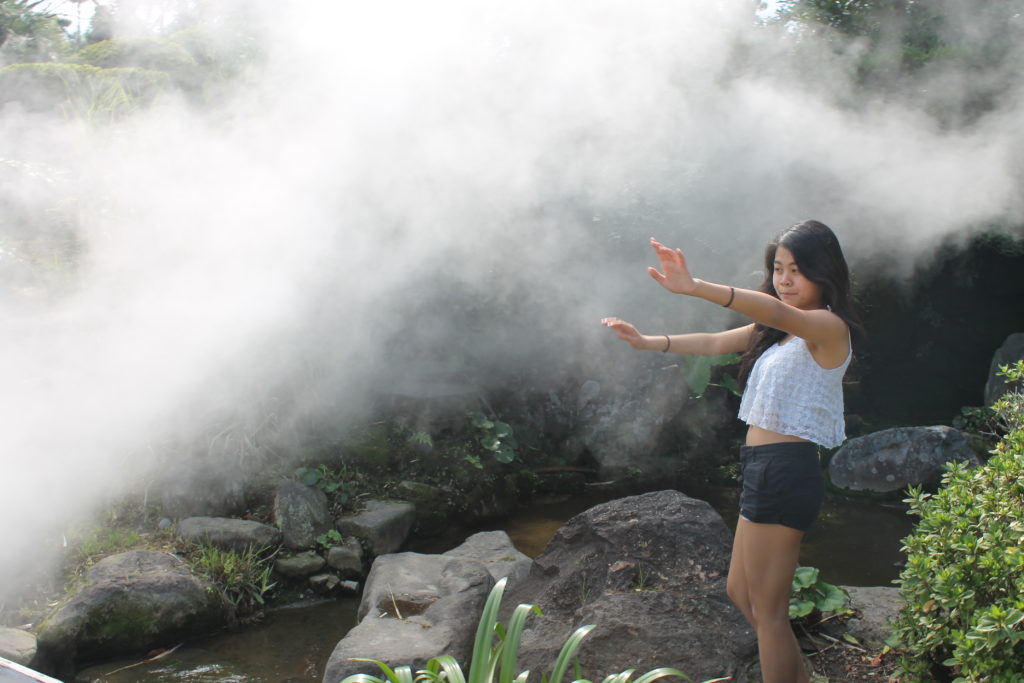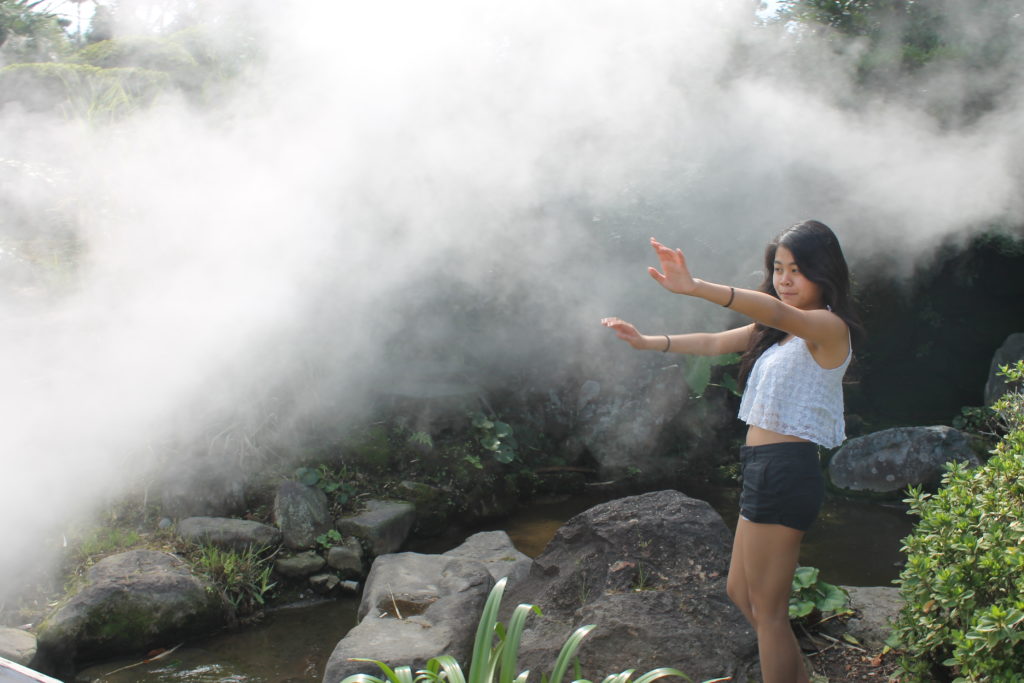 Dancing?  I don't know.   Anyway, this is my daughter Jiordine
THE ONIISHIBOZU JIGOKU
This hell is named after the mud bubbles, which emerge from boiling mud pools and look like the shaven heads of monks. Besides the mud pools, it features a foot bath with clear water.  Adjacent to the hell is a public bath with multiple pools that costs an additional 600 yen.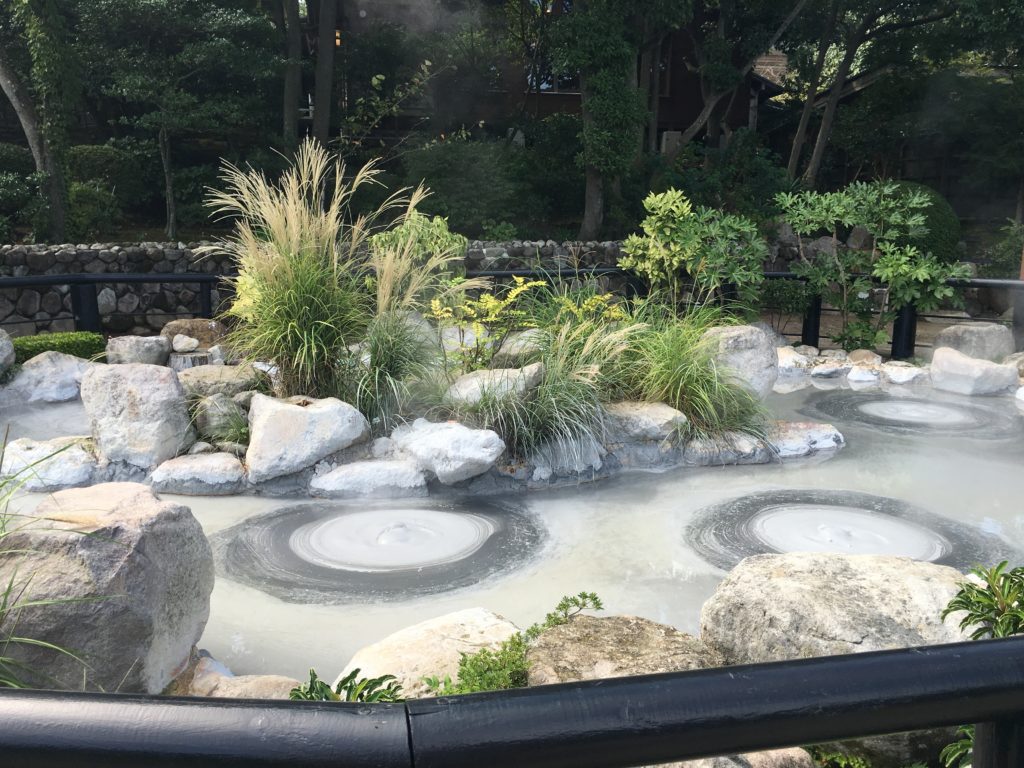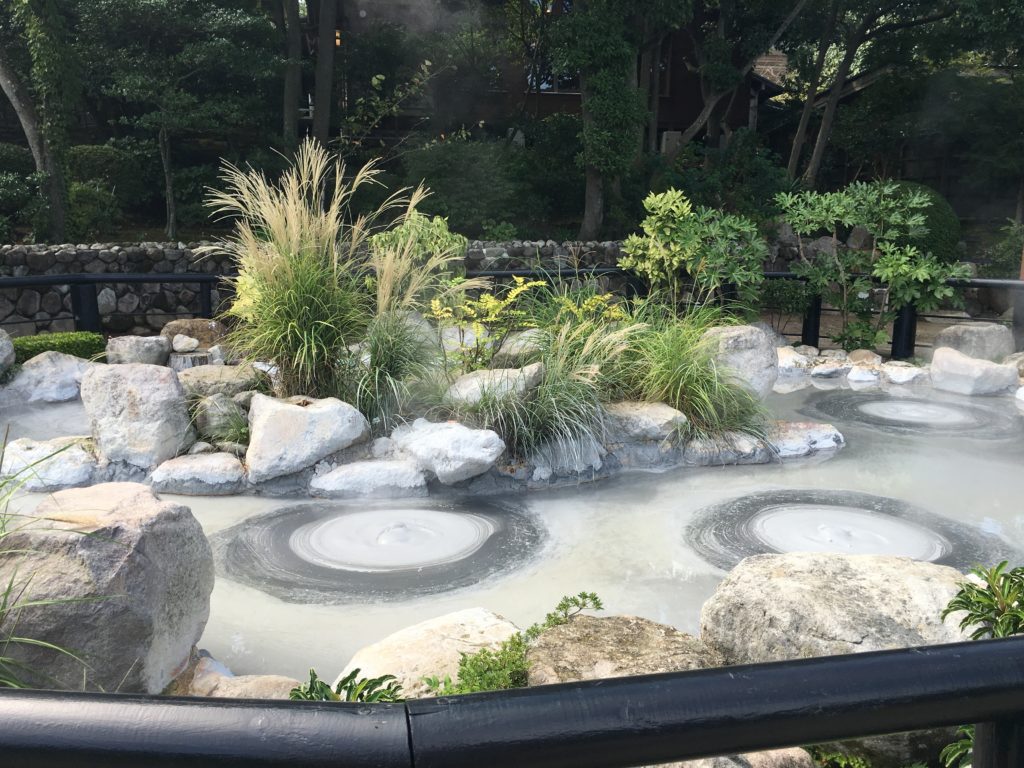 It is actually worth  to see this one of a kind "shaven heads of monks" jigoku.
Not sure why they name this as "shaven head of monks", but this hell has silky looking clay circles with
hot water bubbling out from it.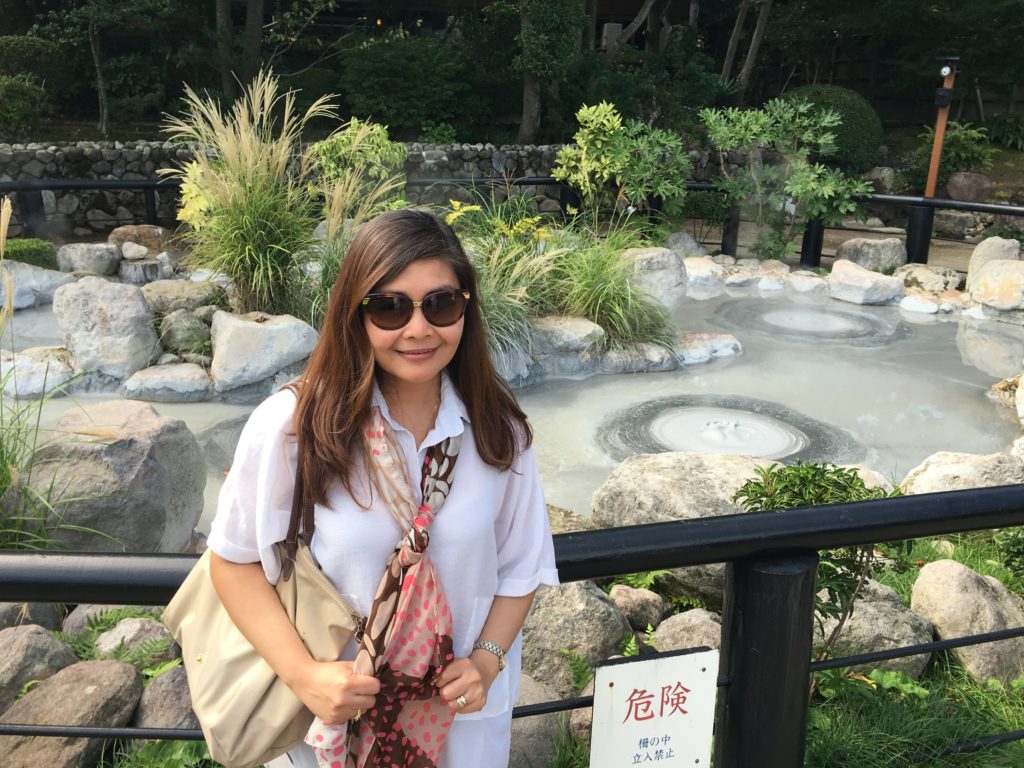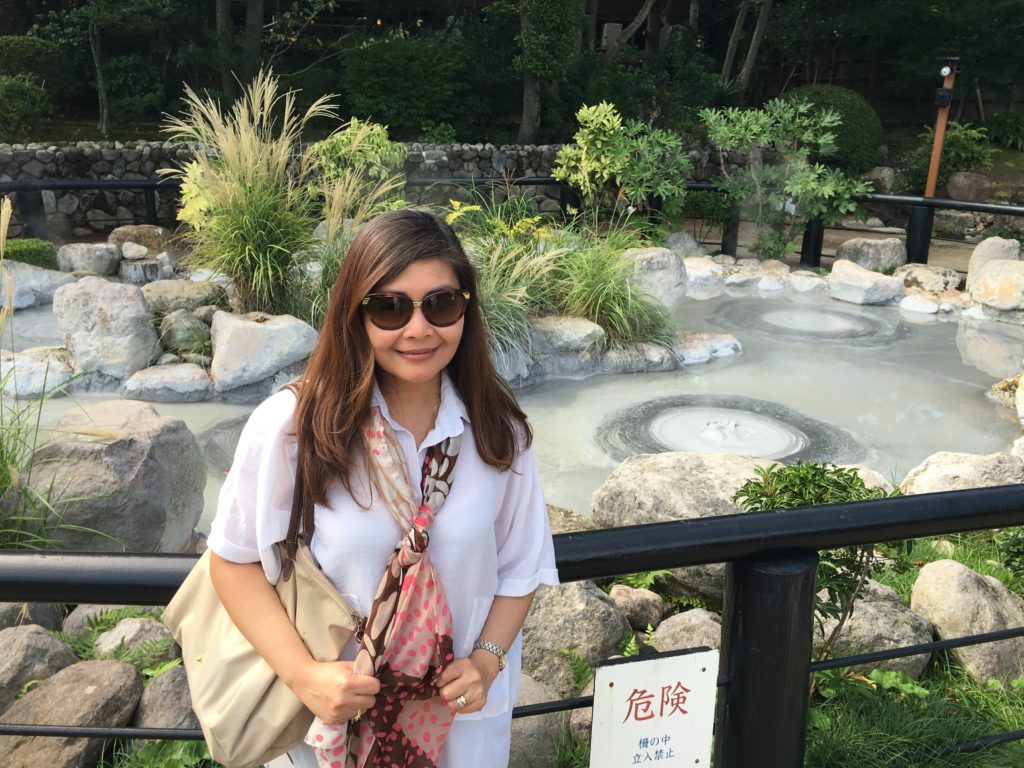 This photo was taken at Oniishibozu Jigoku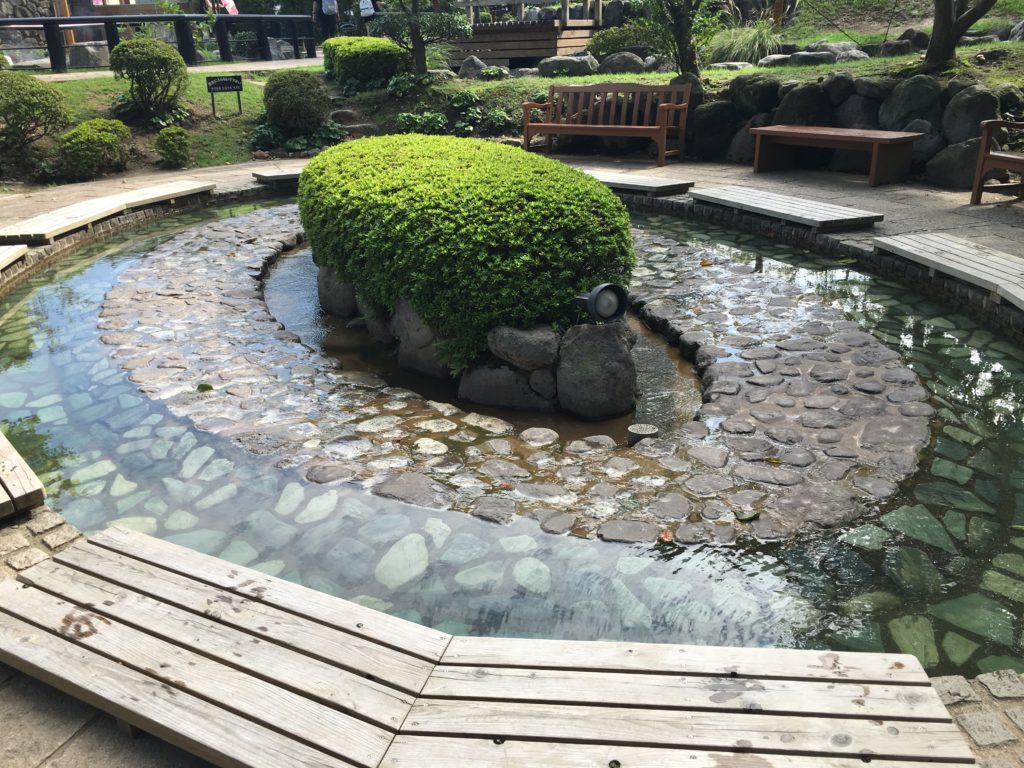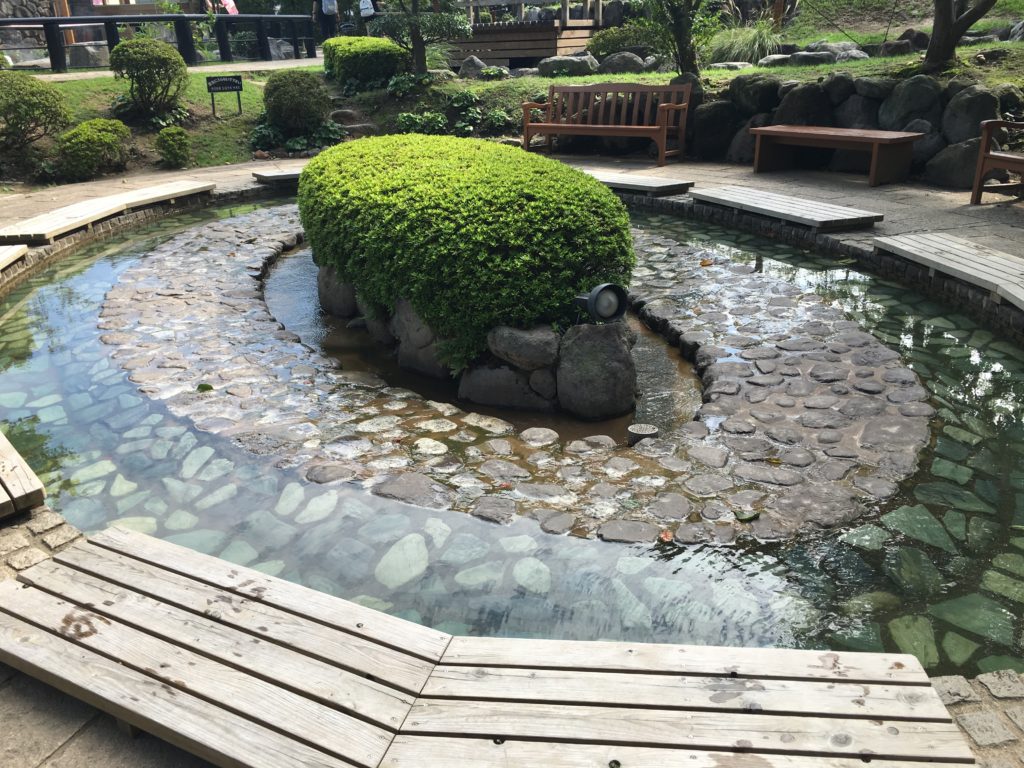 This is the foot bath inside the Oniishibozu jigoku.  You can just relax and soak your feet here.
THE CHINOIKE JIGOKU
The "blood pond hell" features a pond of hot, orange- red water. It is one of the most photogenic of the eight hells. People in Japan's past named the Onsen Chinoike-jigoku based on an image of hell found in Buddhism. Chinoike Jigoku is also rich in iron oxide at the base of the pond, which gives the pool a deep reddish color.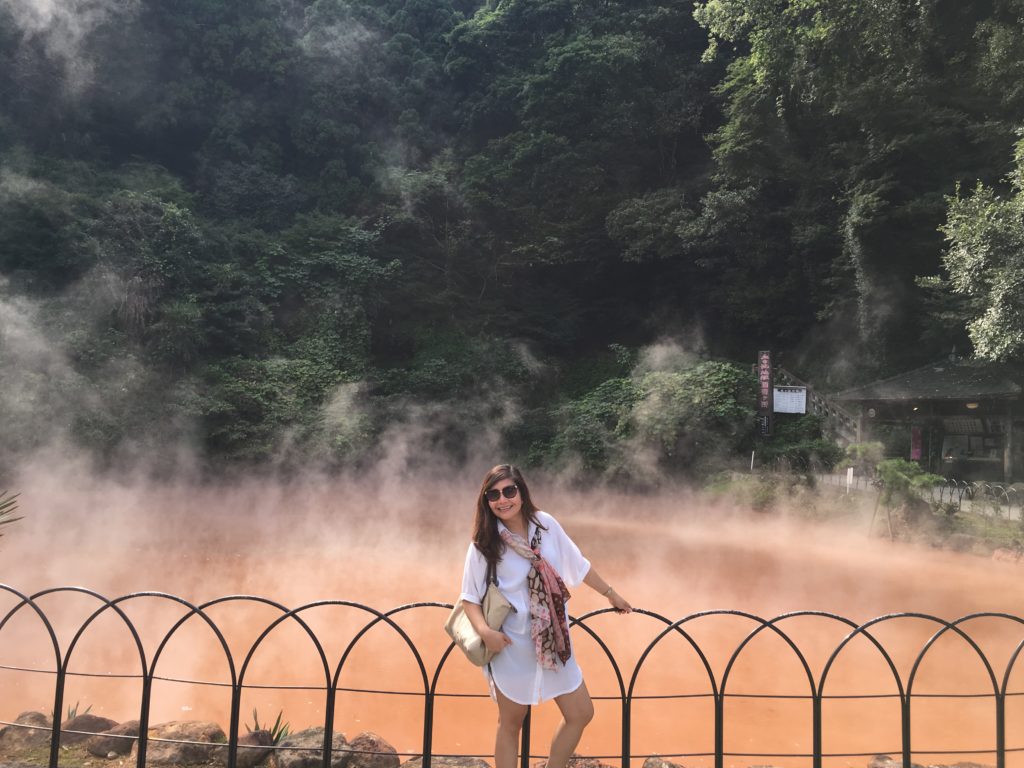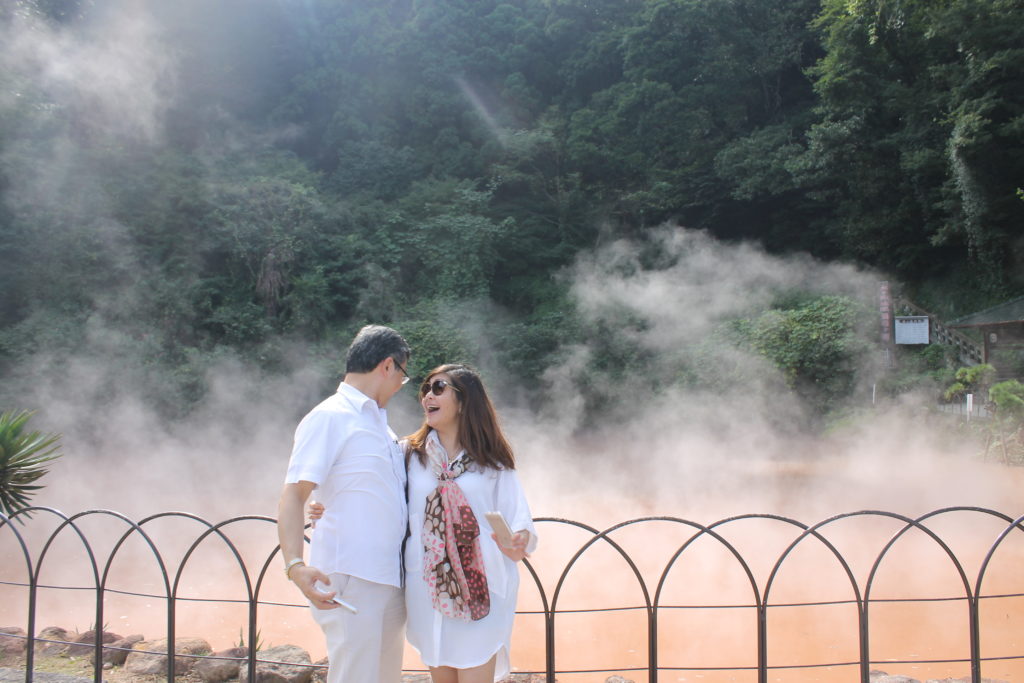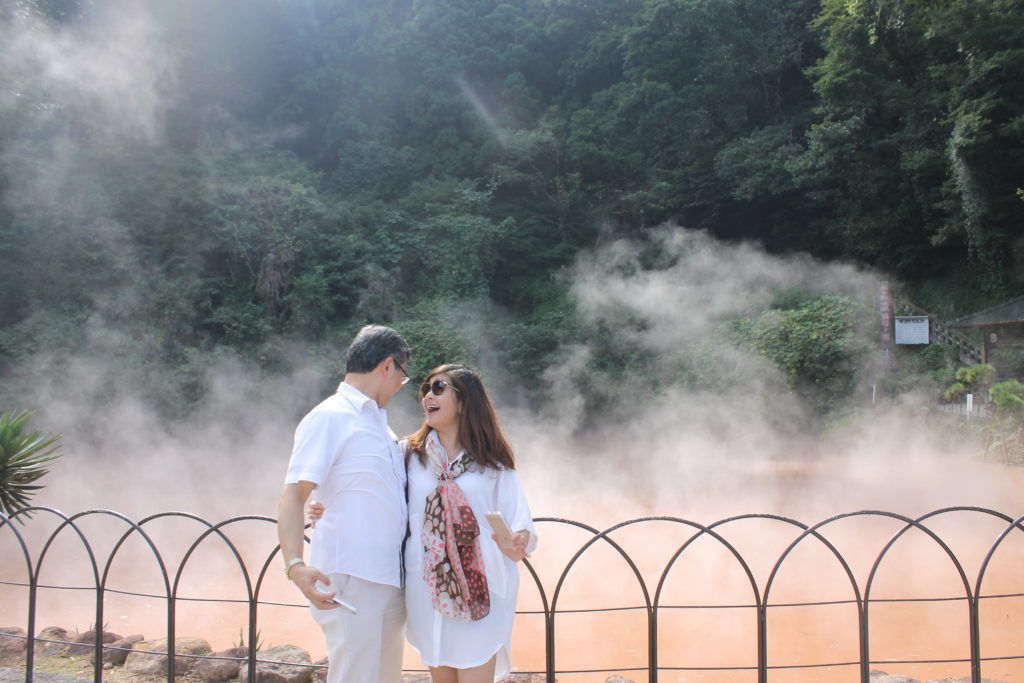 At 78 degrees Celsius, Bloody Hell Pond could better be used for cooking than a spa treatment.
This photo was take at Chinoike Jigoku with my husband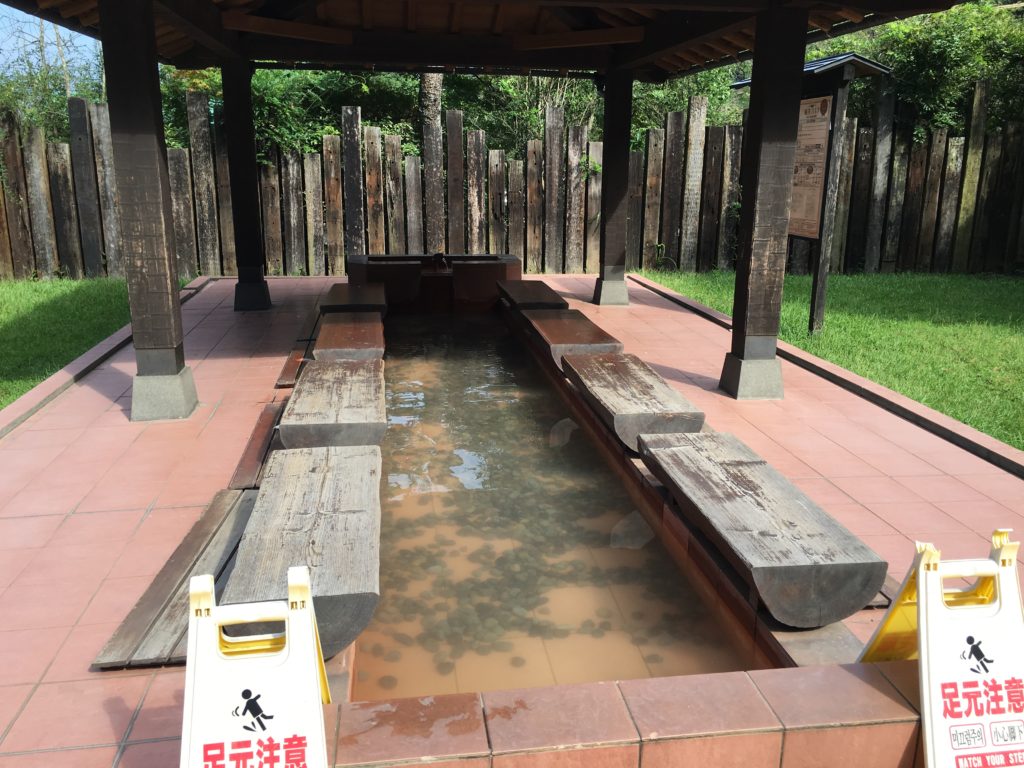 This is the foot bath inside the CHINOIKE JIGOKU
HERE ARE THE OTHER HELLS (JIGOKU)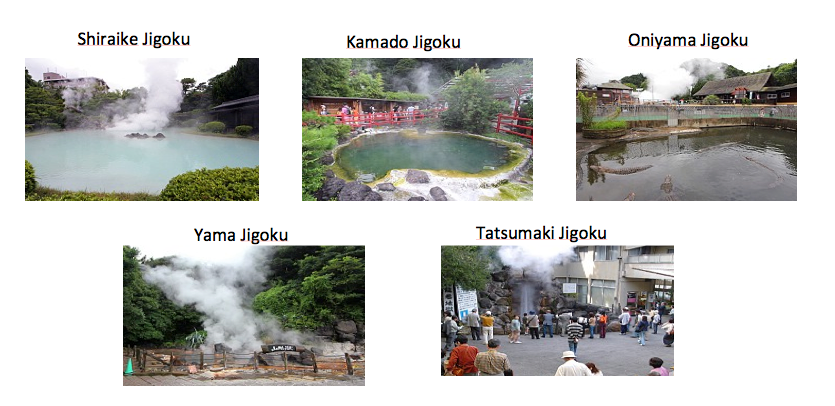 HOW TO GET THERE (The Hells)
The six hells are located in the Kannawa district.  Kannawa district can be easily accessed by frequently departing buses from JR Beppu Station.  Bus number 5, 7 and 9 are the fastest. Get off at Kannawa bus terminal.
Bus number 16/16A runs twice per hour from Kannawa to Shibaseki (5 minutes) where the remaining two hells are located.
HELLS OPENING HOURS:
From 8:00 am to 17:00 pm
Mondays to Sundays
TIPS:  At JR Train Station go to the tourist information center
and ask for Beppu City Map and Bus Schedule They are so friendly and will show you everything how to get there.
Also, make sure to read everything down below this article for you to ask a clear direction from the tourist center to make things easier for you on how to get to the other recommended places to visit listed below.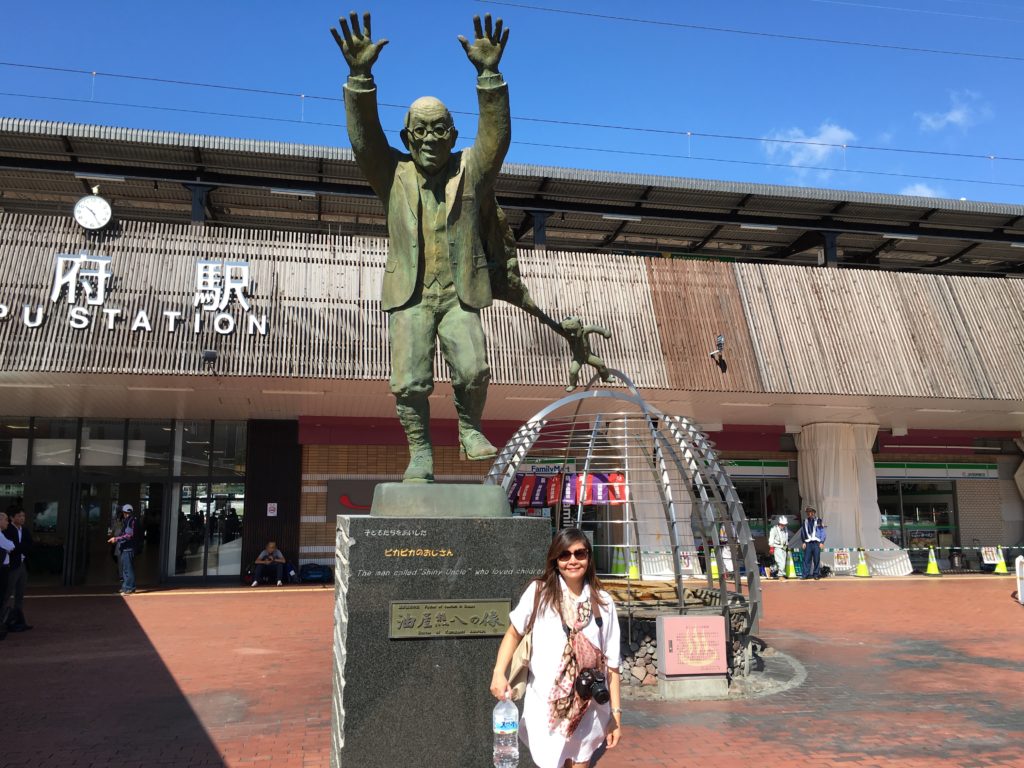 Photo taken at Beppu JR Train Station
THINGS TO DO IN BEPPU:


GO FOR SAND BATH
You will have a unique, relaxing experience in the hot sand bath at Beppu's seaside.  Ease your body muscles by sinking in the warm sand while gazing over the vast, blue ocean.  Don't forget your camera because the staffs are so friendly and happy to take your picture buried in the sand  a great souvenir to remember your trip in Beppu!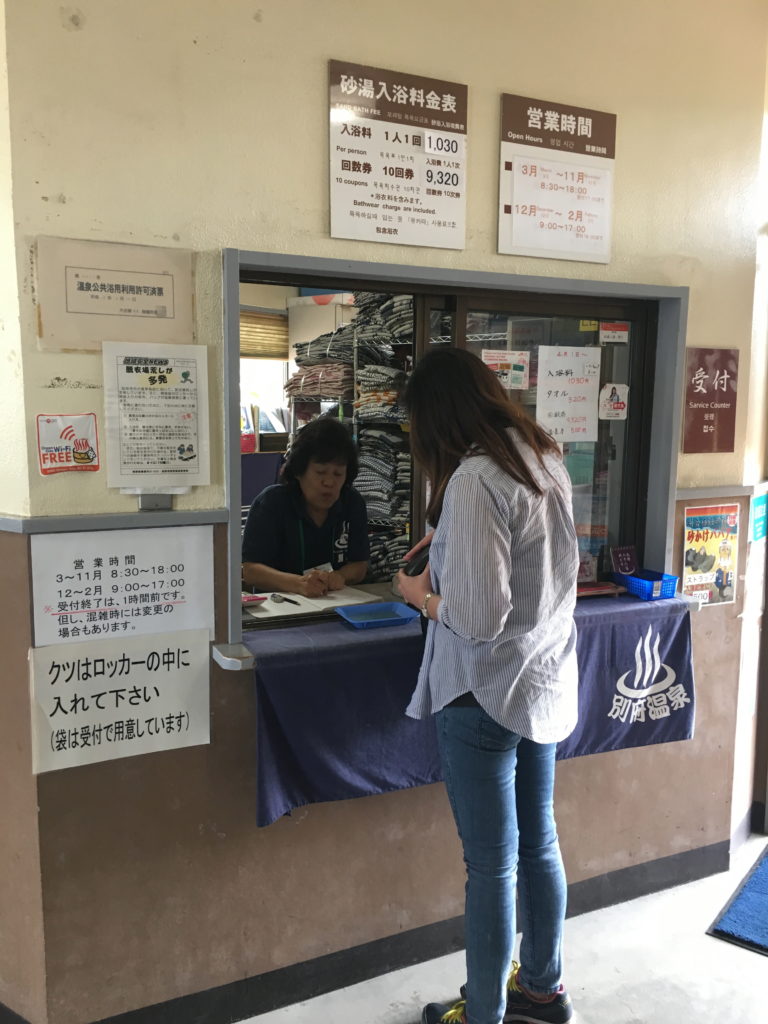 Bathing Fee 1,030 Japanese Yen including a yukata robe.
If you don't bring towel, you can just buy there at  200 Yen.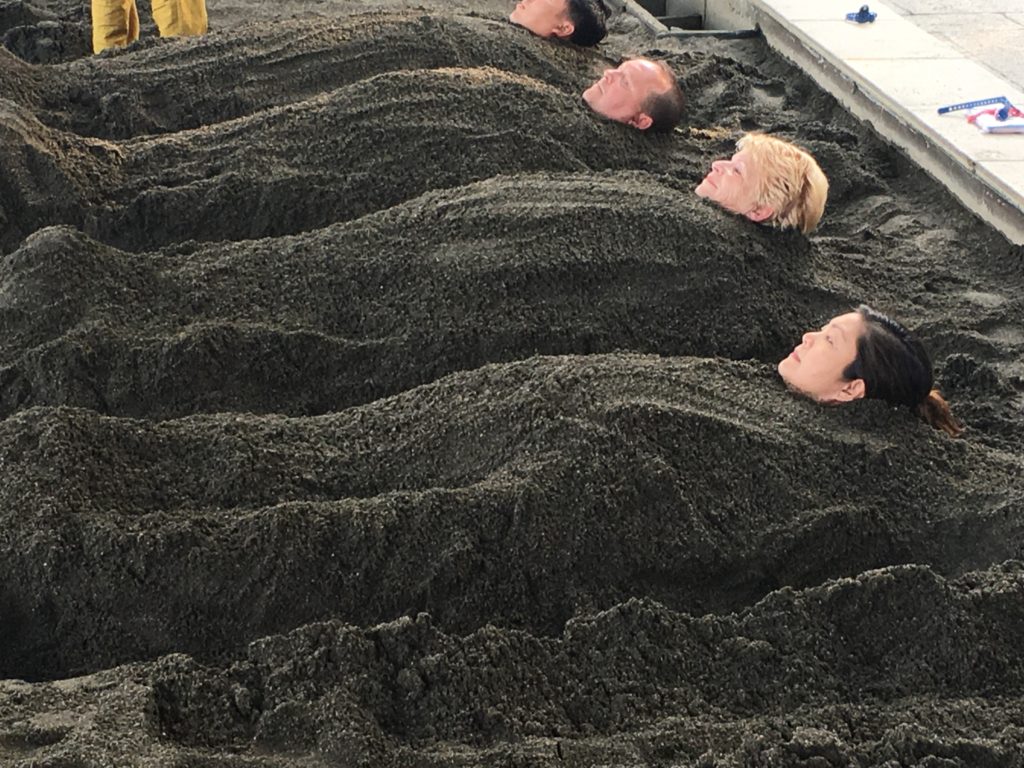 A group of friends and family can enjoy the sand bath together.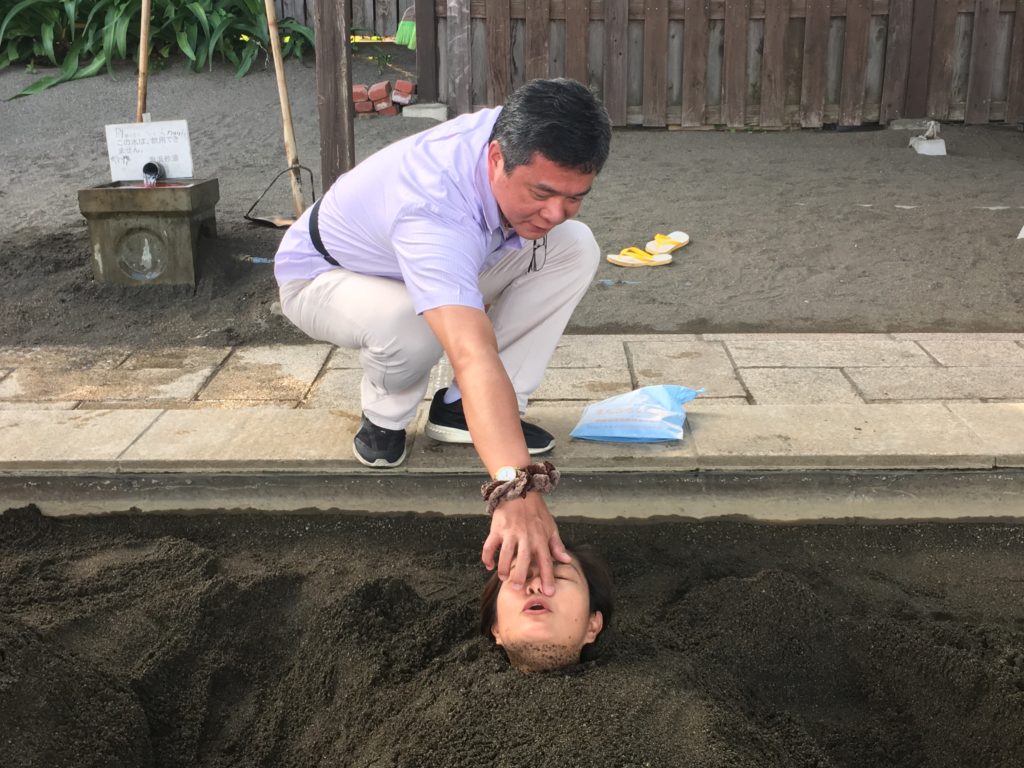 My nose was itchy…so lucky that my husband was there to scratch it! LOL!!!!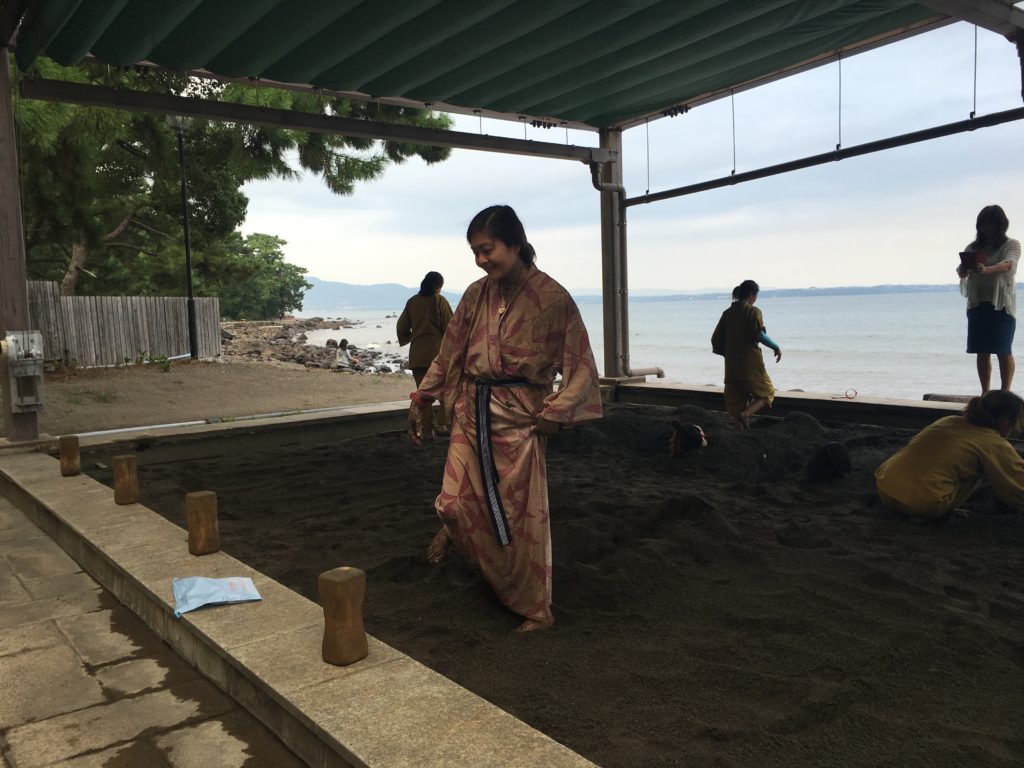 Just finished my sand bath.  The sand bath will take about 15 minutes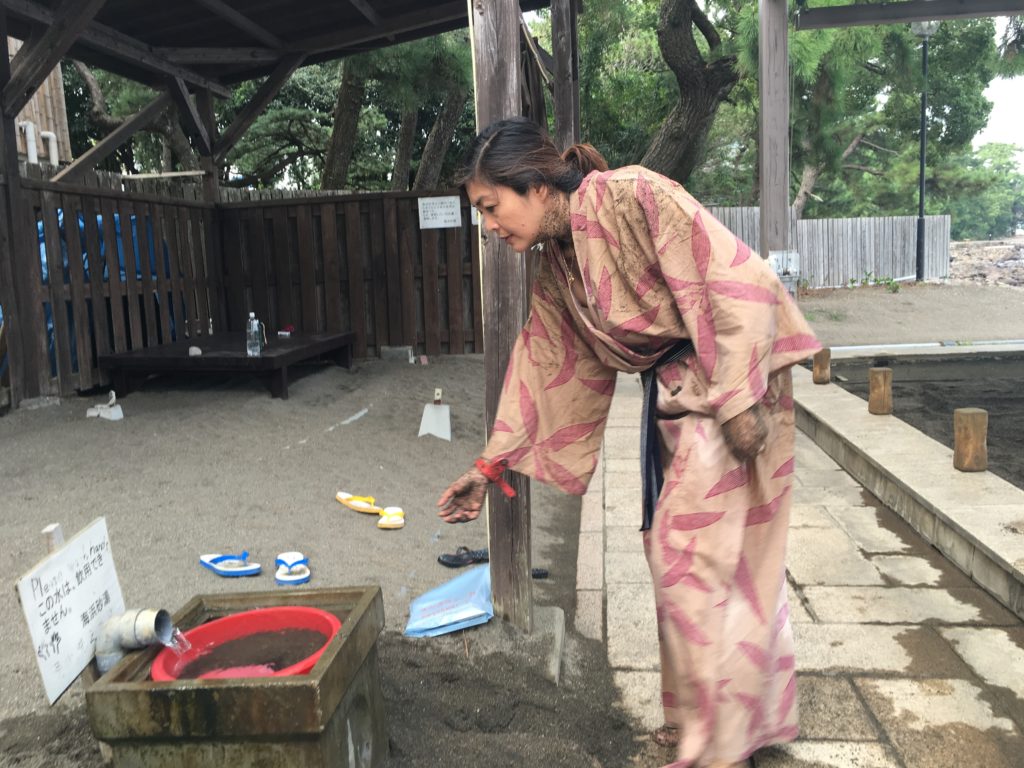 You can wash your hands from this basin.  While washing off, you can enjoy onsen as well inside the shower room.   There is a regular hot spring bath inside the shower room, or you can take a shower right away. Your choice!
HOW TO GET THERE:  BEACH SAND BATH IN BEPPU

From JR Beppu Station East Exit→Get off at "Rokushoen Beppu Kaihin Sunayu Mae" (Approx 15min.bus-ride/ Adult;230Yen/One way, bus no.26
Sand bathing was one of my excellent experiences during my 3 days visit in Beppu.   
THINGS TO DO IN BEPPU: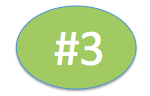 EXPERIENCE THE MUD BATH
AT BEPPU ONSEN HOYO LAND  MUD BATH
If you want to experience a real Beppu onsen (hot spring) mud bath, then this place is definetly worth a visit. This  Onsen Hoyo Land is a  natural and simple mud bath.   The power of the natural hot spring plus the old concept setup, make that place UNIQUE.
This is an open mud bath I experienced in Beppu.
CAUTION:  When you go out to the outdoor area the men and women is a mixed area separated only by a wood fence.  I was surprised to see my husband relaxing outside.   So make sure NOT to stand up otherwise they will see you naked.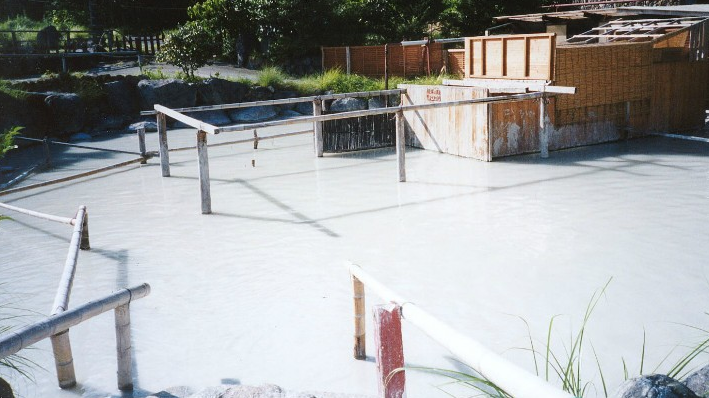 This is the outdoor mud bath area
If you are sensitive, you may feel that this area is somewhat filthy, but still an interesting experience, specially if you like mud and sulfur.  The baths are arranged in a labyrinth way, which is fun to explore.  But move slowly because the floor is very slippery.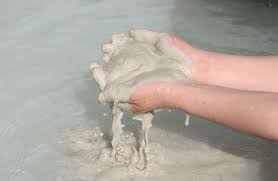 This is the mud that you can rub all over your body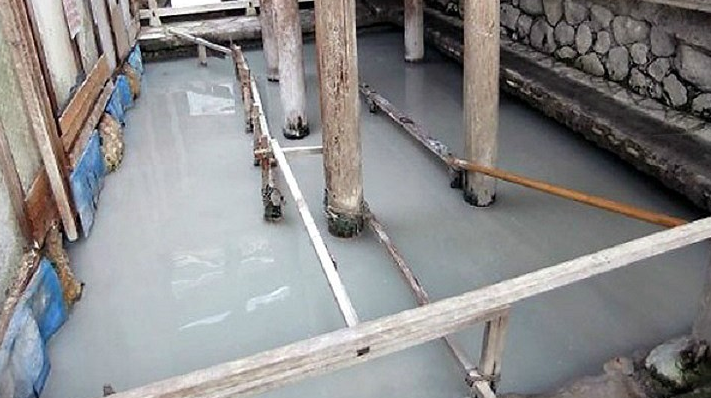 This is the indoor mud bath inside the women's area
HOW TO GET TO BEPPU ONSEN HOYO LAND
You can take a bus from JR Beppu Train Station. There are several buses that departs from this area.
Entrance Fee:  1,050 Japanese Yen (maybe this fee might change)
Bathing time from 09:00 to 22:00
(until 20:00 on Monday)
THINGS TO DO IN BEPPU:  

EAT SUSHI
Kamesho Kurukuru Sushi Restaurant
If you want to taste the best sushi in town, go to this place called Kamesho Kurukuru sushi.
This is where I tasted the best mackerel and Toro (tuna) sushi in my life at a very reasonable price.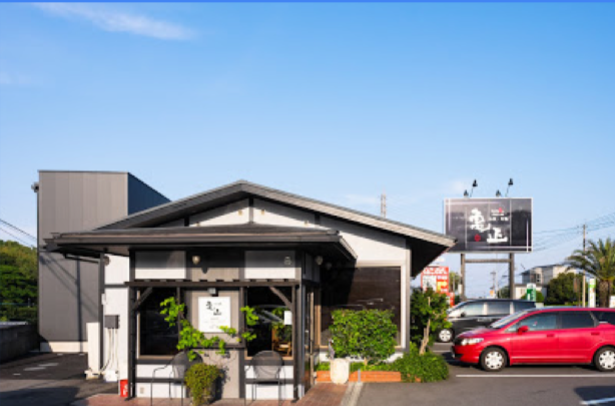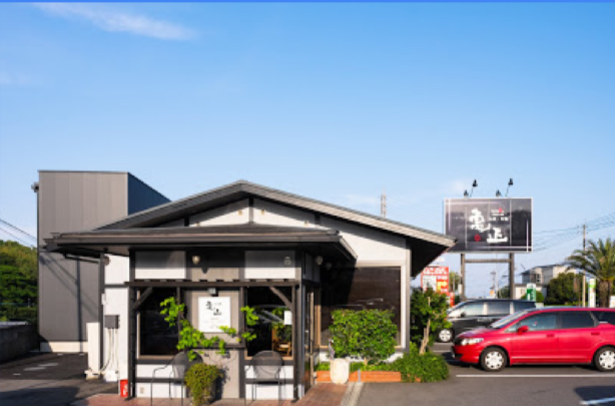 Located at 〒874-0835 Oita Prefecture, Beppu, Kitaju, 7組 (you can just take taxi to go here)
This place is always full so make sure to make a reservation first.  Tel. no. +81 977-66-5225
Here's some photos I've taken from what we ordered.  ENJOY!!!!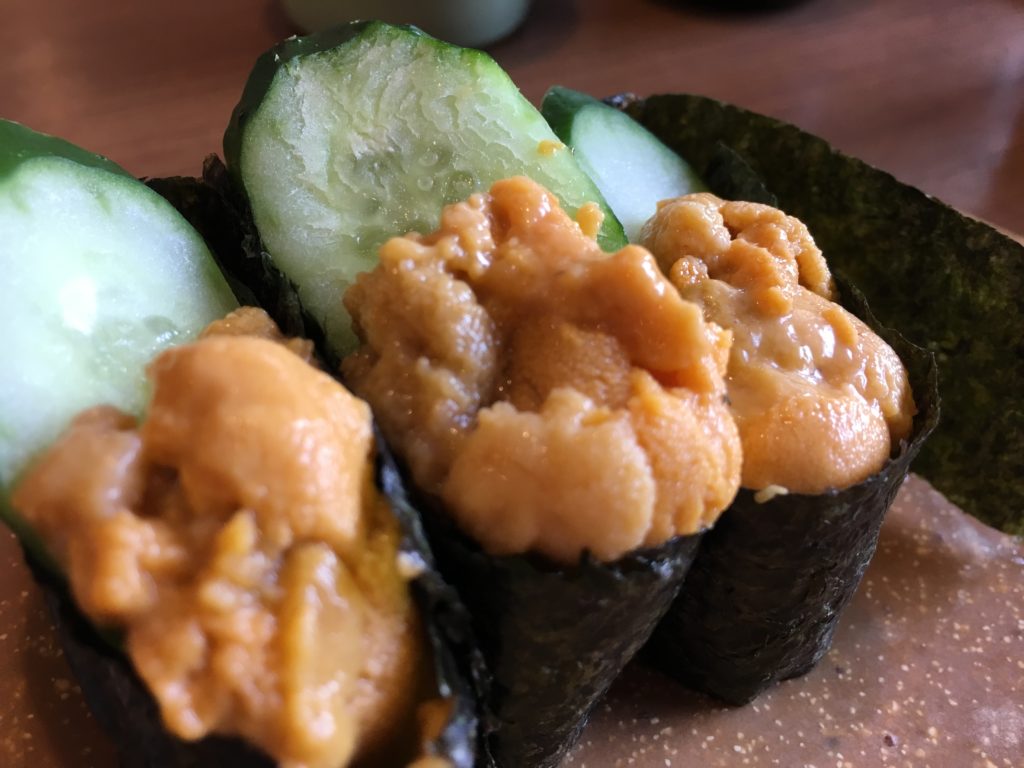 Sea Urchin Sushi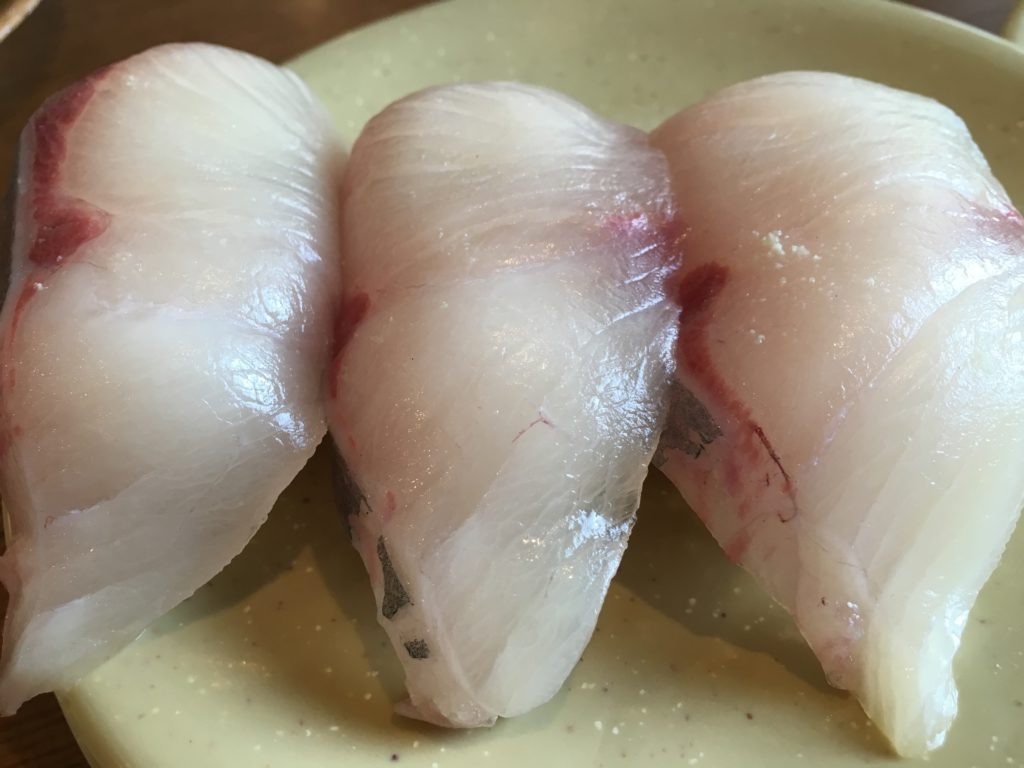 Really taste sooooooooo good…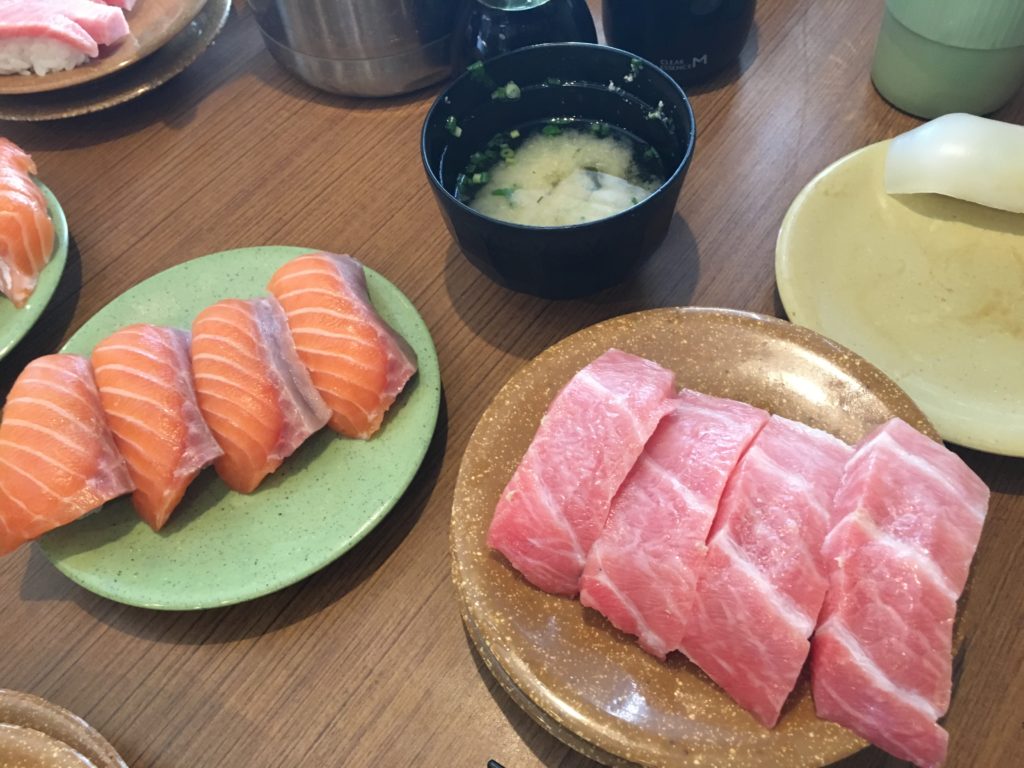 Salmon & Toro (tuna) Sushi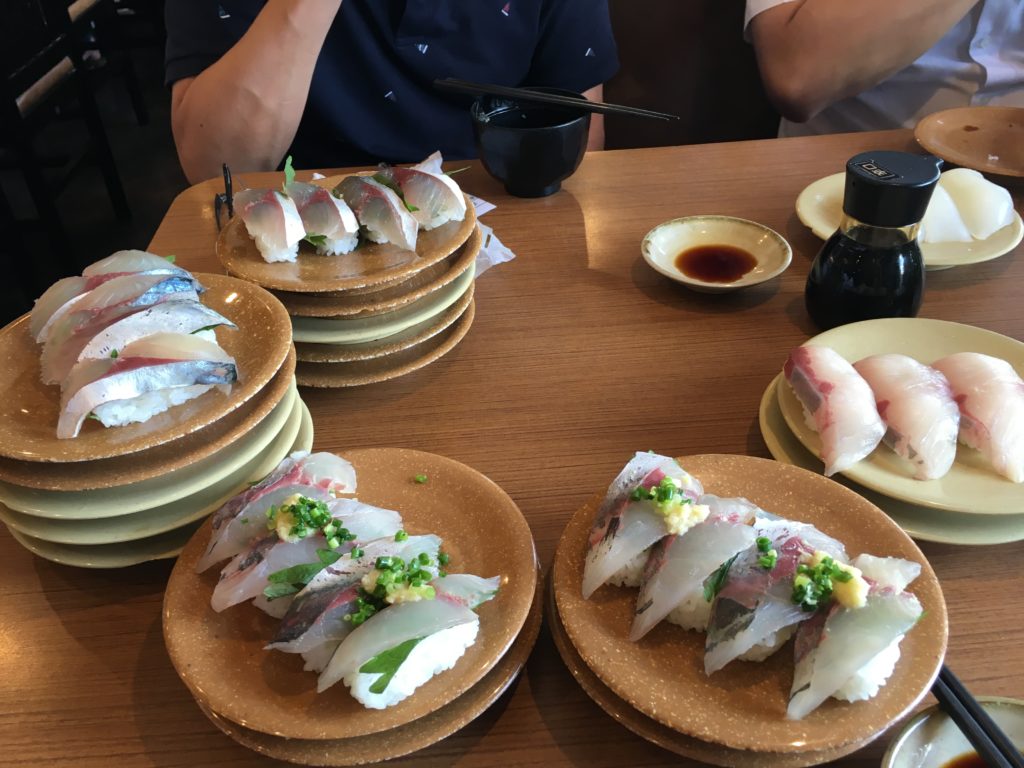 Mackarel Sushi
With all these sushi we had, we paid around 9,500 Japanese Yen (this is about P4,750 Philippines Peso or about US$98).  Frankly, we ordered too much and we cannot even finish it…Just order what you can finish .  Must try this!
===========================
HOW TO GET TO BEPPU?
There are several ways to get to Beppu.  You can travel by air or by train from Tokyo, Fukuoka or from any other cities from Japan.   With my experience I travelled from Fukuoka since I want to eat the original HAKATA ramen first in Fukuoka before heading to Beppu.
So, here's how you can get to Beppu from FUKUOKA.
BY TRAIN: About 1Hour and 56 Minutes using Limited Express Train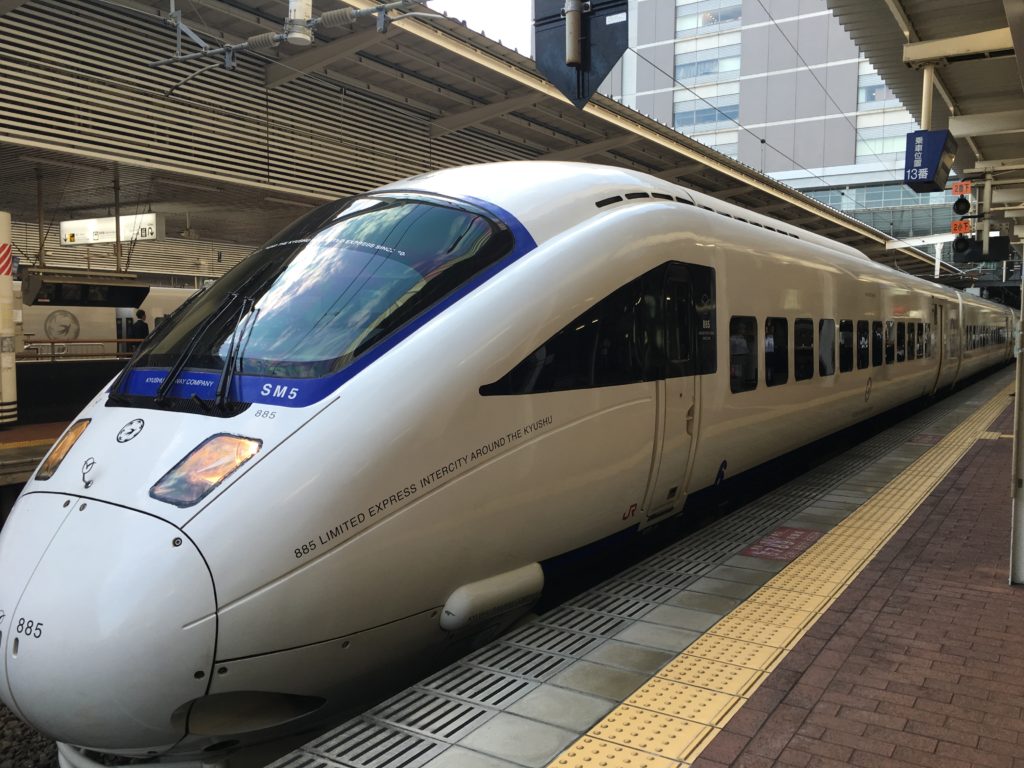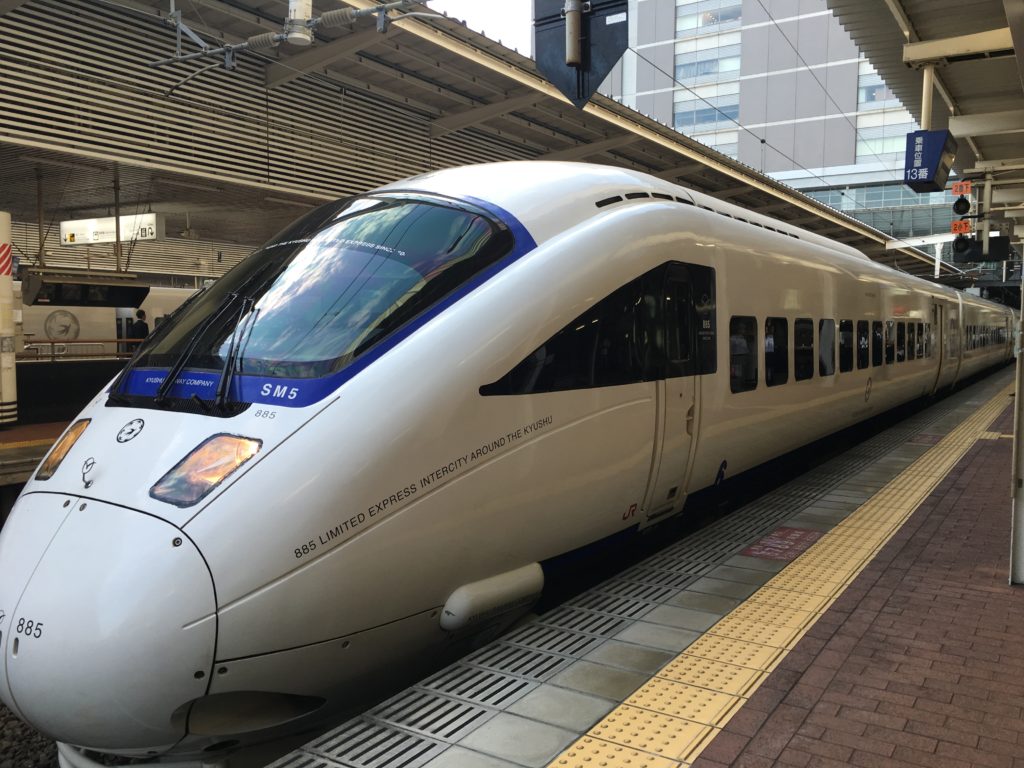 This is the Limited Express Train Serviced by JR Kyushu
Run every 20 to 40 minutes for daytime. 32 round trips a day are operated.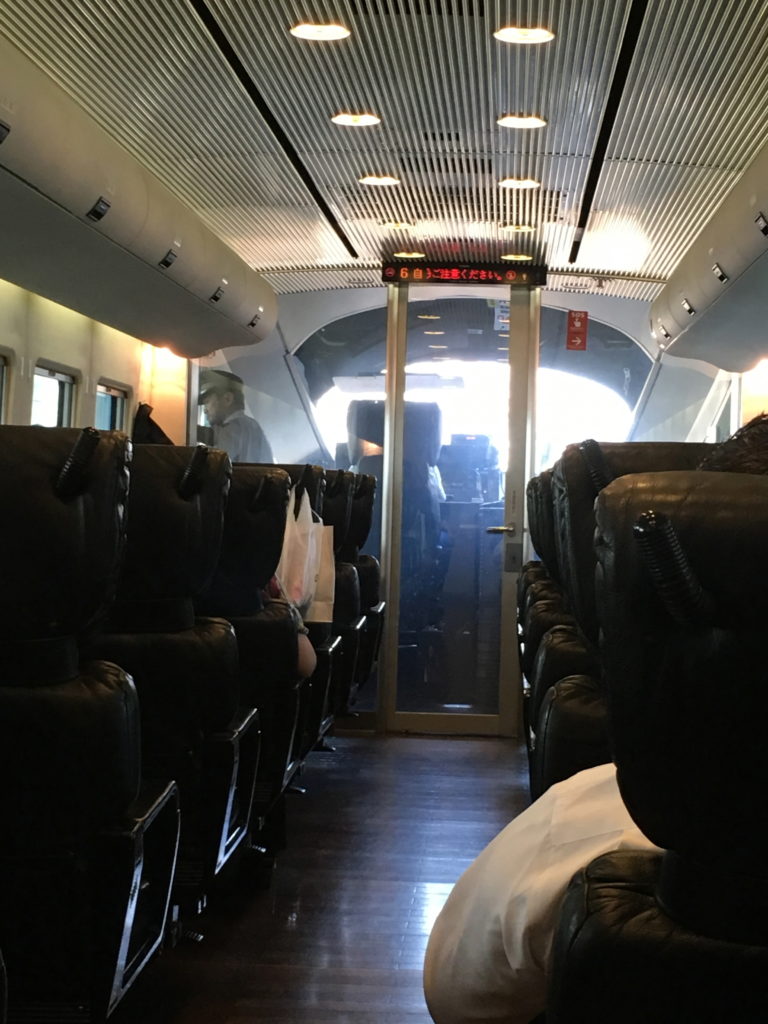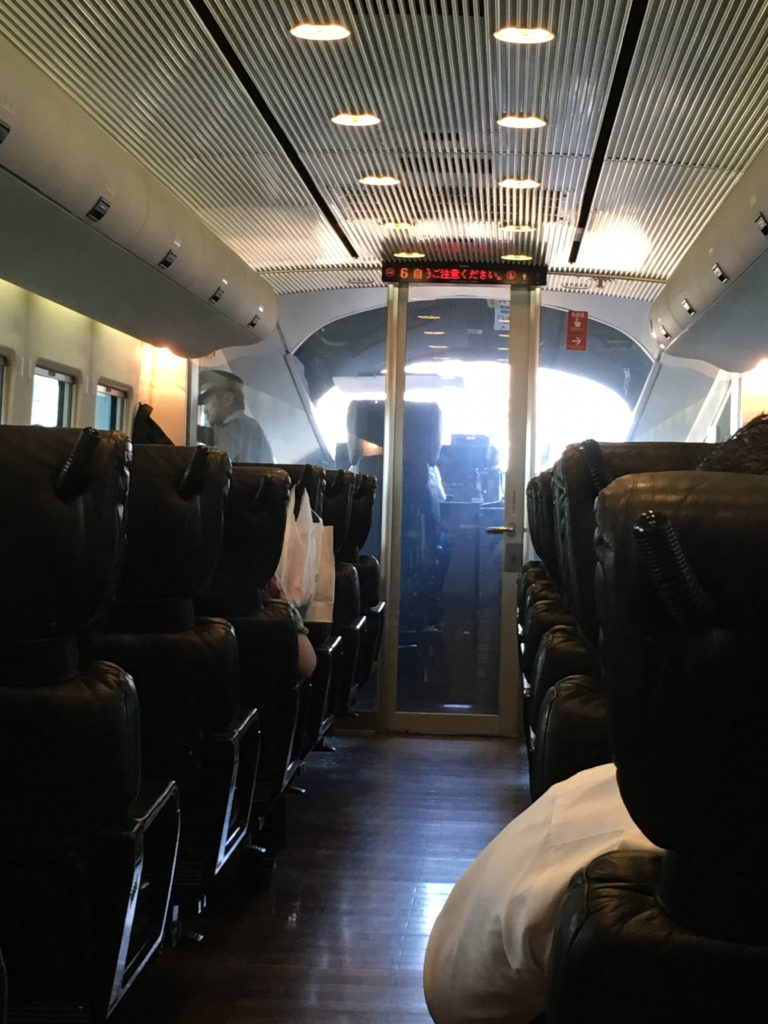 Photo taken inside the train. You can reserve your seat without paying any extra cost from the JR Ticket Office at Fukuoka Train Station.  During my trip on Oct. 6, 2016 it was not full at all.  You can seat anywhere you want.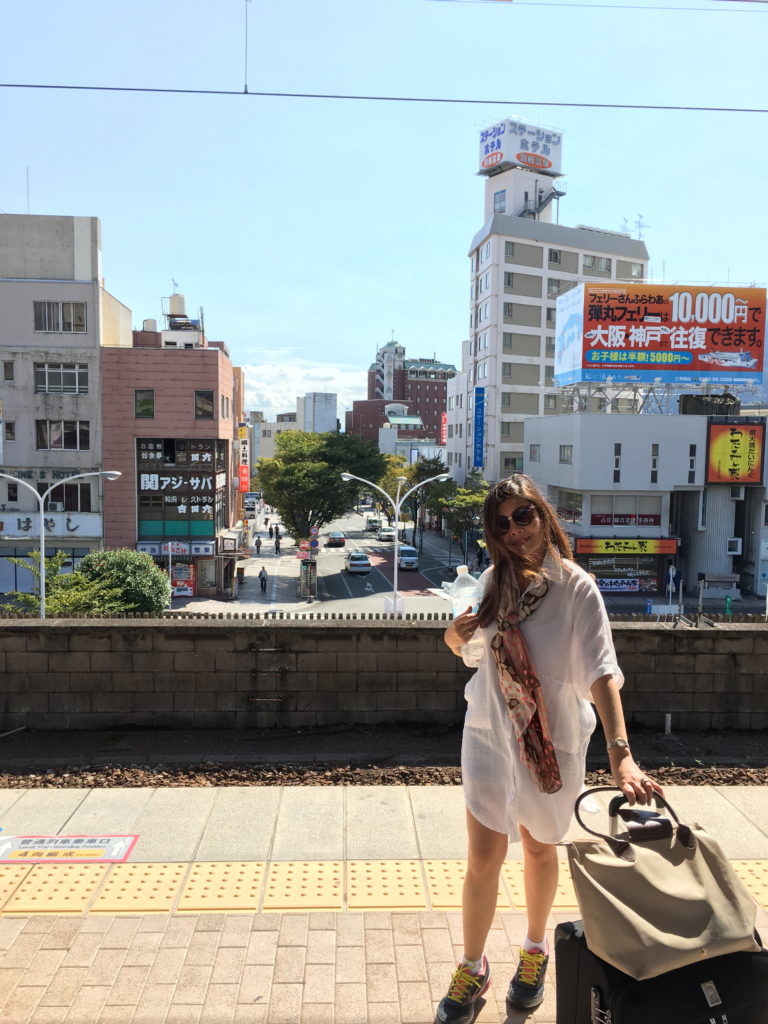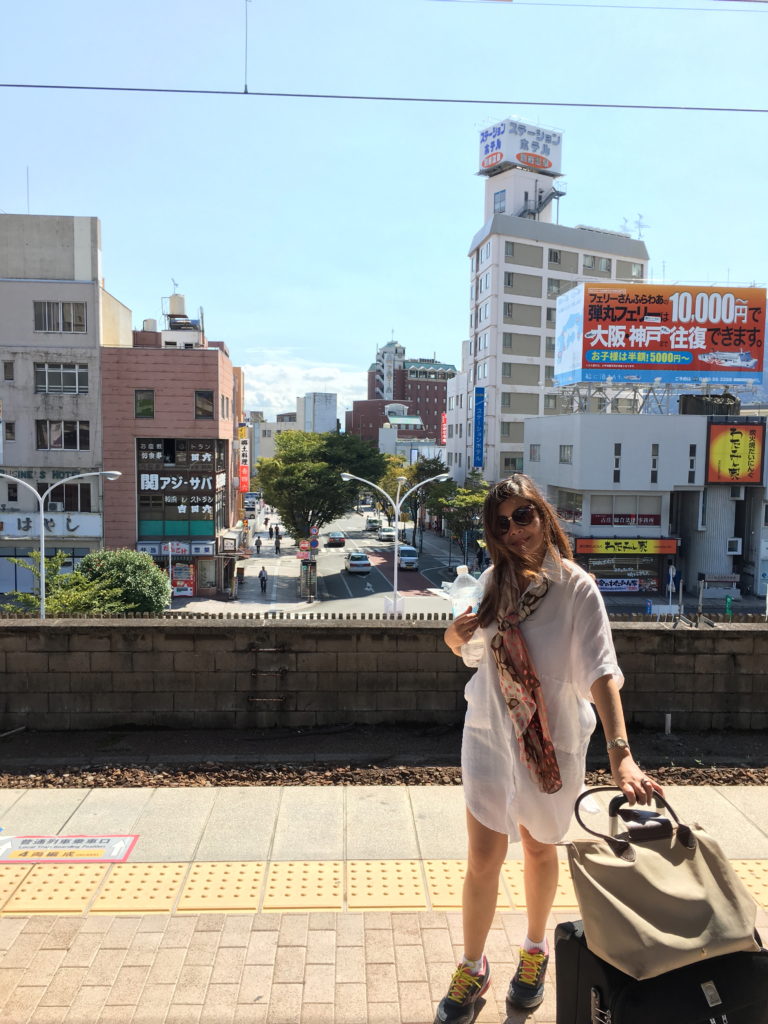 Finally arrived at Beppu!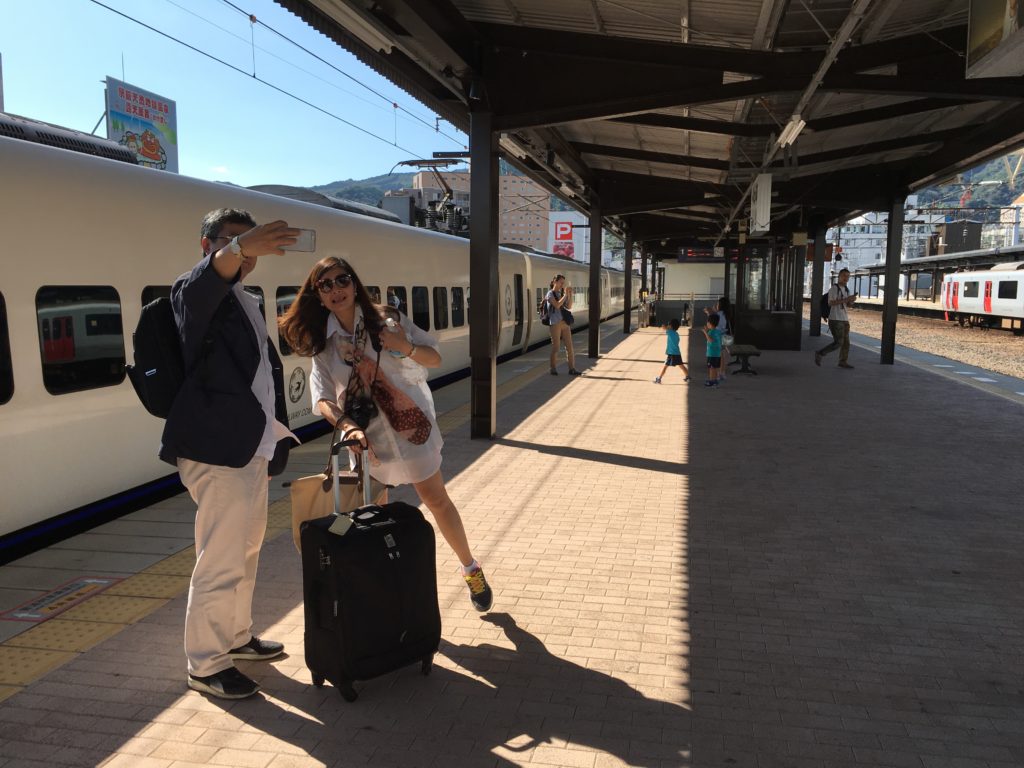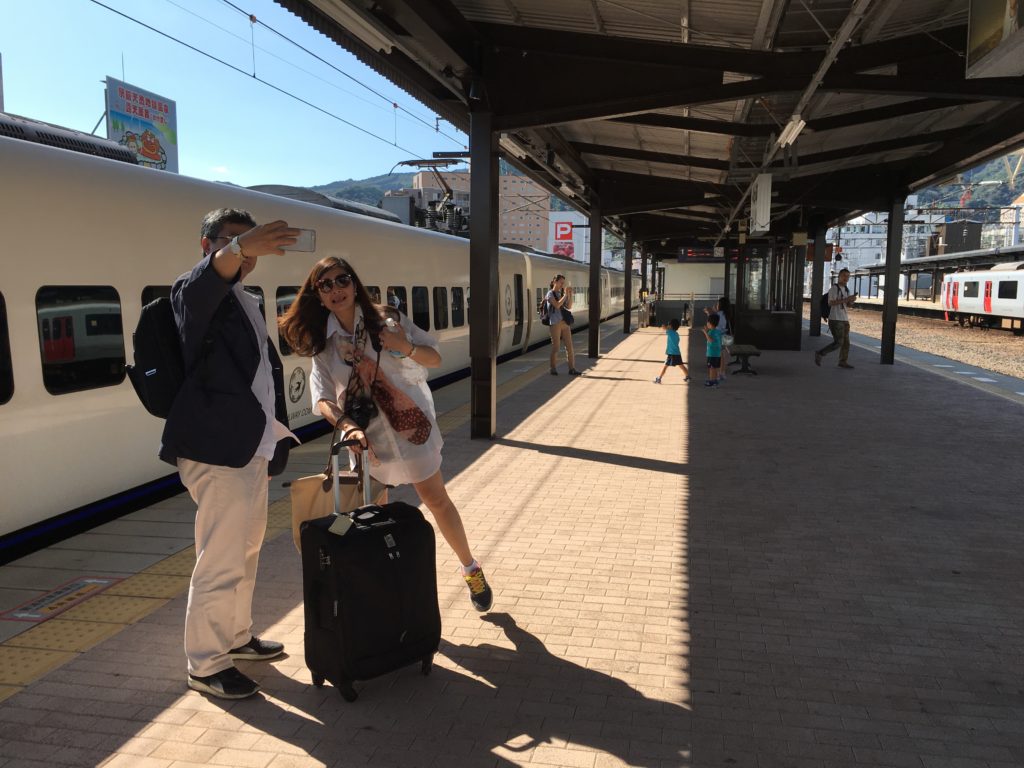 Photo was taken at Beppu train station just right after we get off from the train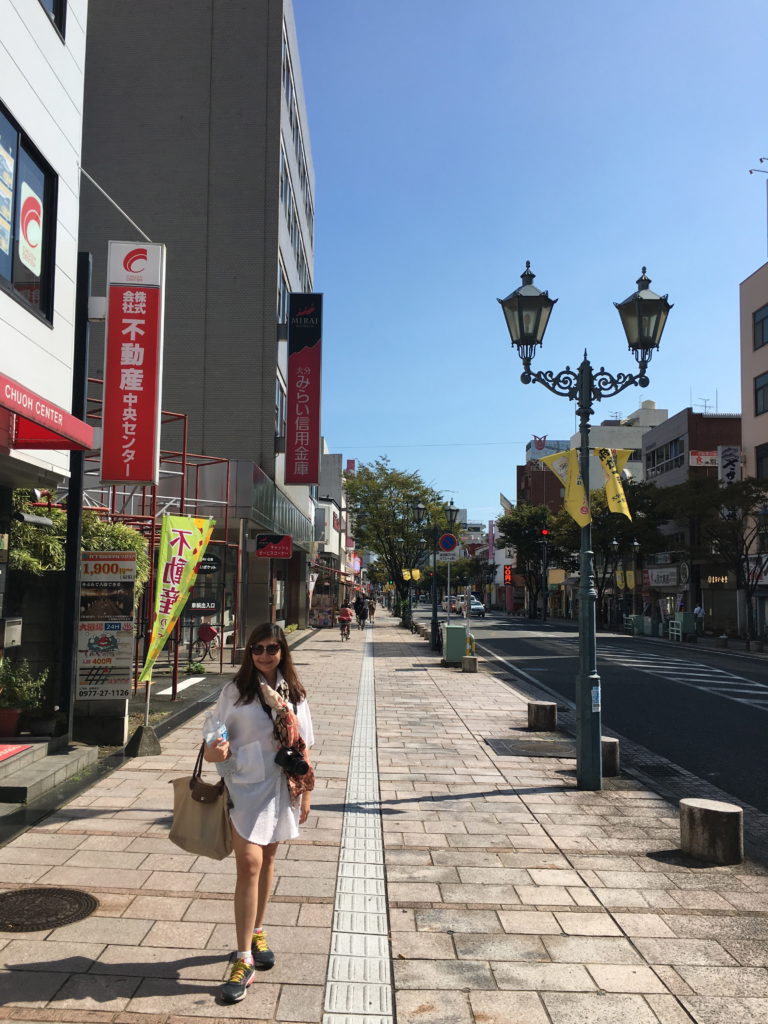 Beppu is a laid-back town in Japan.  This photo was taken from one of the main road in Beppu
just across the Beppu Train Station.  Just strolling around.
WHERE DID I STAY IN BEPPU & WHY?
HOTEL IN BEPPU :  KAMENOI HOTEL BEPPU
There are several hotels in Beppu depending on your set budget.  I decided to stay in Kamenoi Hotel because this hotel is very convenient to Beppu Train Station where the bus station is also located for you to go around.  Kamenoi Hotel Beppu is just about 5 minutes walk from JR Beppu Train Station.   Kamenoi Hotel Beppu has a large spa that you can relax at night after a tiring day strolling around the town.
Kamenoi Hotel Beppu have both indoor and out door hot baths and saunas.   Children are also allowed to go inside the hot bath areas. Kamenoi Hotel Beppu has an amusement center for kids to enjoy located at the 3rd floor (just right across of the hot bath area).
HOW TO GET TO KAMENOI HOTEL BEPPU
Once you get out from the train station just cross the street – walk to the right then after few blocks (you'll pass a parking lot on your left and right)  you will see a signage of the Kamenoi Hotel – just turn left  and walk straight until you  pass a liquor store on your left- you will see a huge brown building on your right –  that's Kamenoi Hotel Beppu.
Just in front of Kamenoi Hotel is a convenient store called Lawson.  You can just opt to buy your breakfast here.  Cost of onigiri (rice wrapped in seaweed will cost you about 100 Japanese yen).  Water from the hotel is drinkable.
Here's some photos taken in Kamenoi Hotel Beppu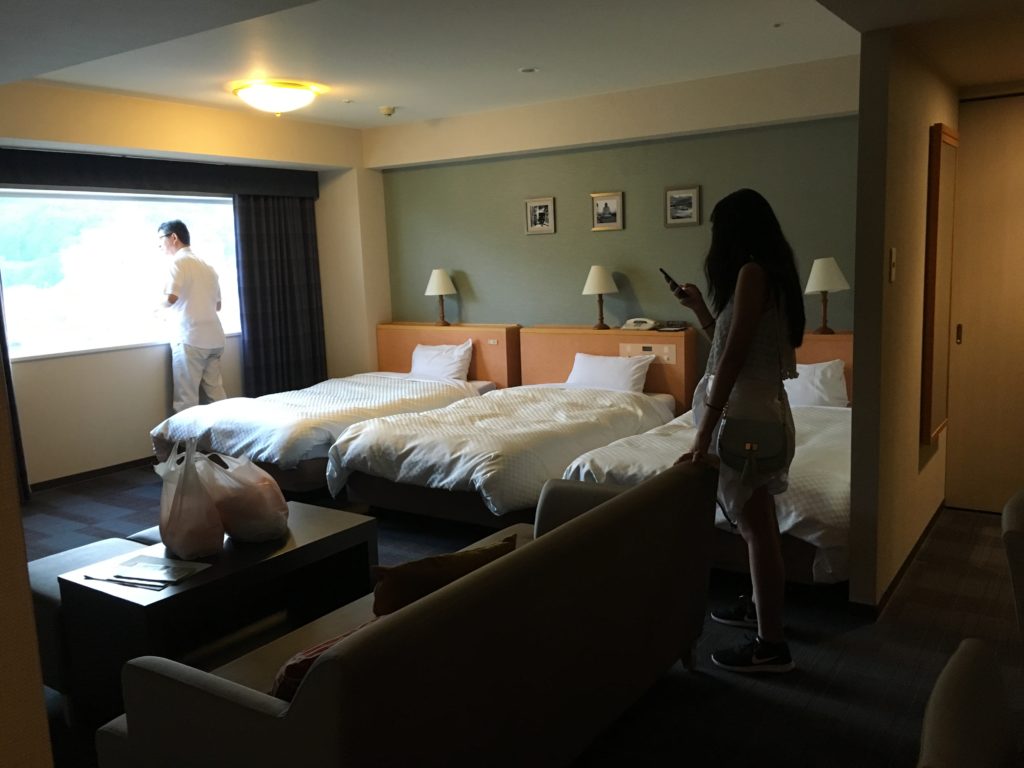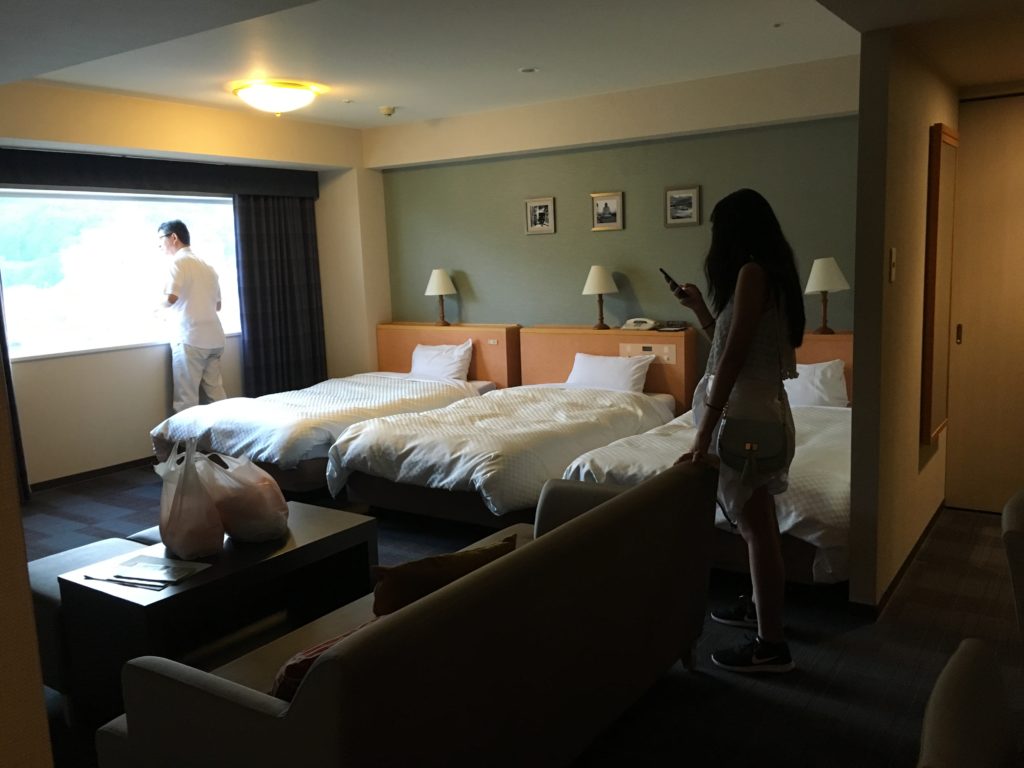 We were upgraded to a bigger family room that includes of  6 beds though we just use 2 beds
The view was brilliant – it was facing the mountain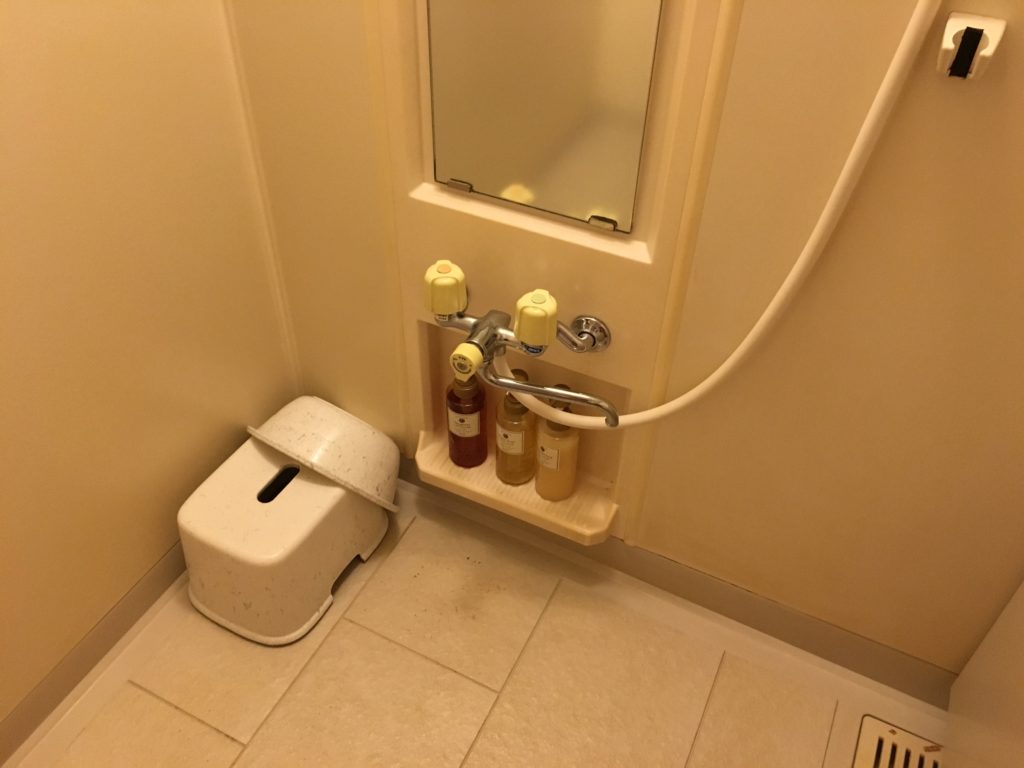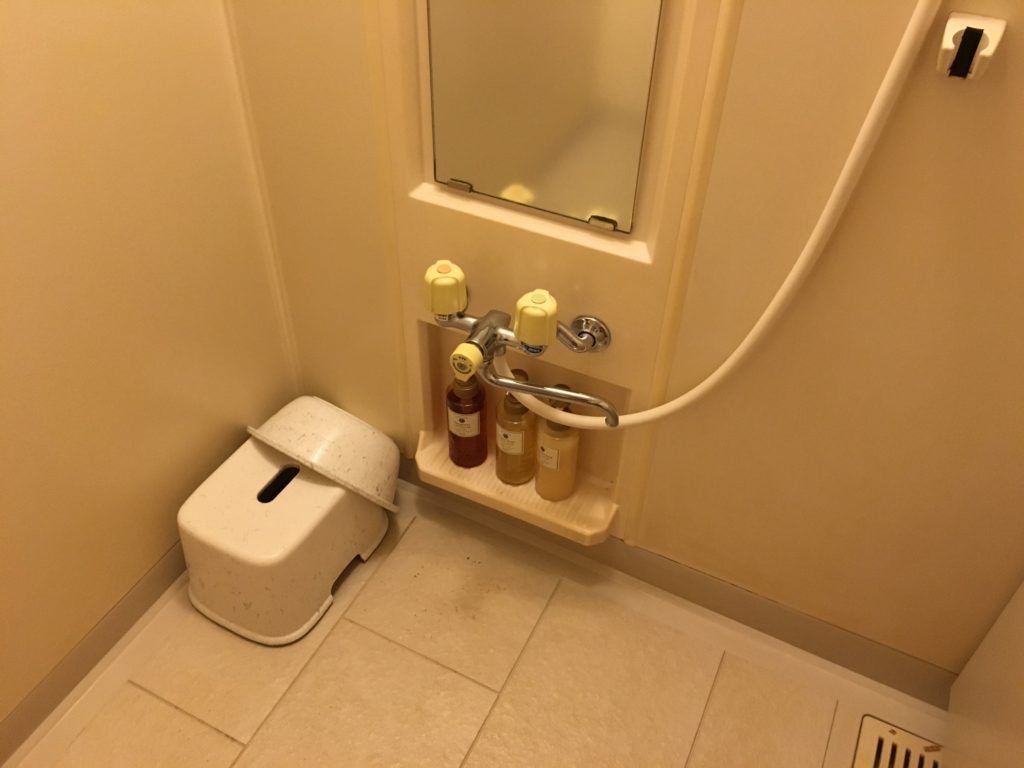 Kamenoi Hotel Beppu Shower Room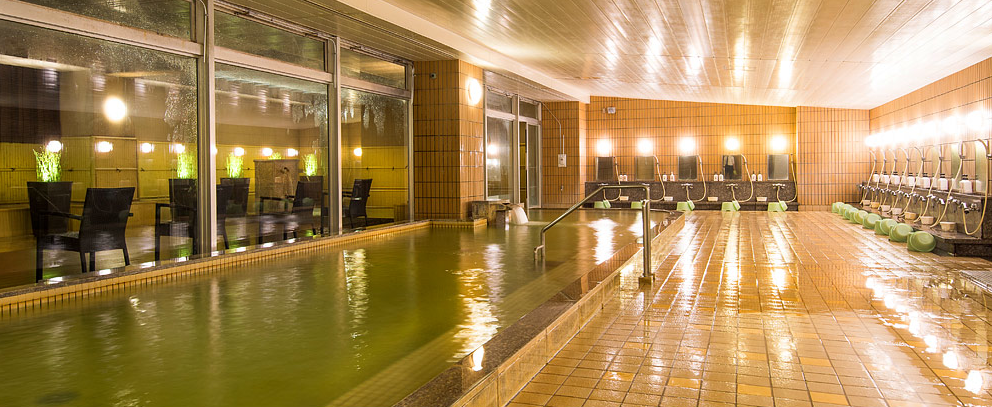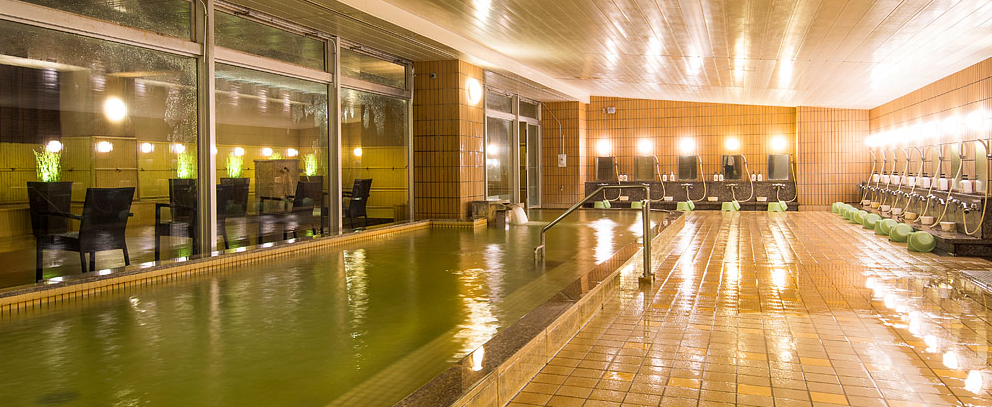 This is the indoor hot pool bath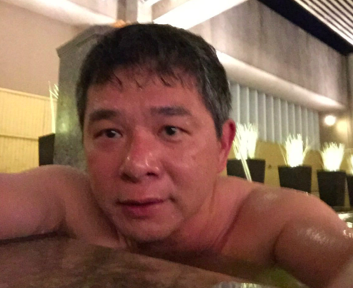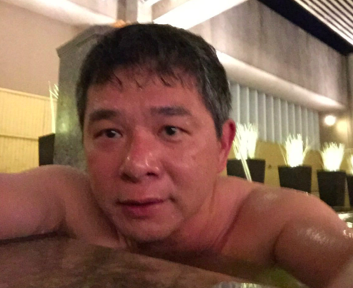 This is a snap shot taken by my husband at the outdoor hot pool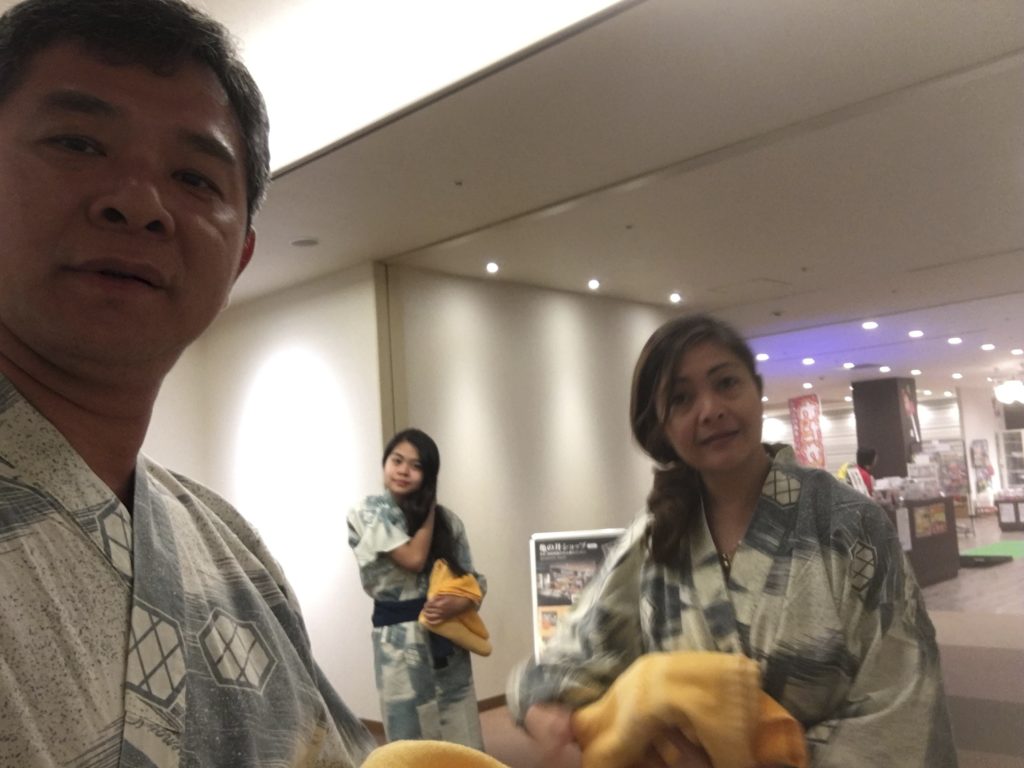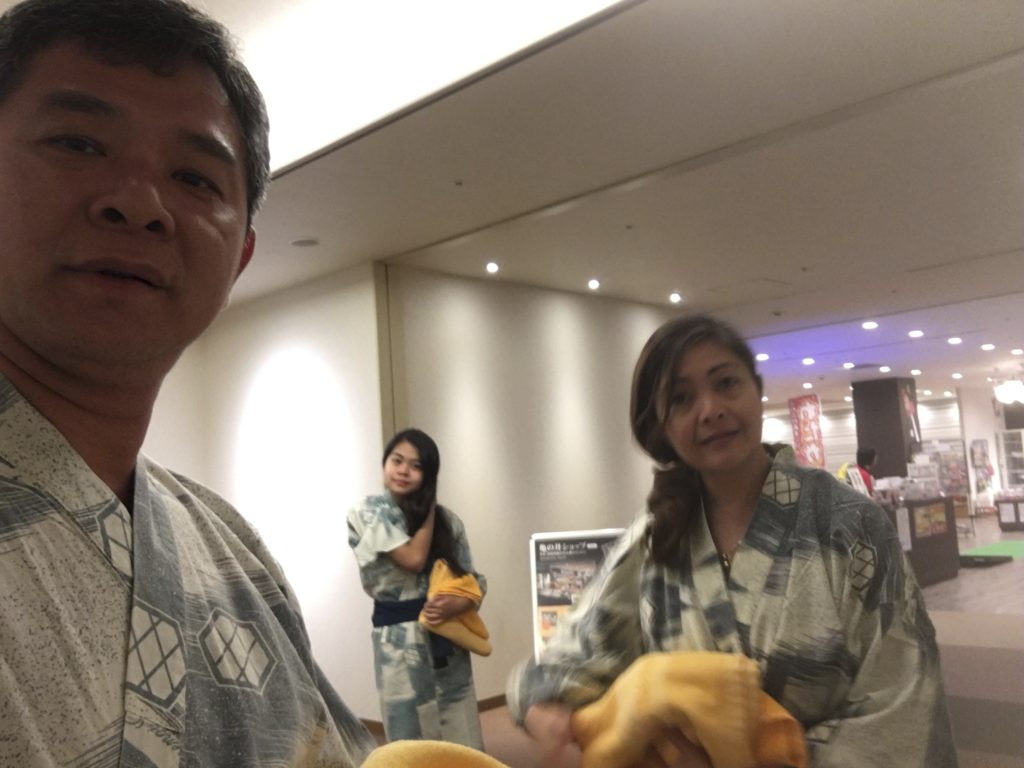 This photo was taken before getting in to the hot bath (3rd floor at Kamenoi Hotel Beppu)
with my husband and daughter
======================
I hope this Beppu travel post will give you the best and most exciting trip that you will never forget in your life. Life is short, enjoy and make the most out of it! Go out there and explore the world.
This travel with jeng seeks to encourage more people to explore and travel the world to live life to the fullest!  It's all about the adventures, the different cultures, the people, different food exploration, the journey to reach your destination and most of all to make your travel experience with EASE!
This article was brought to you by Travelwithjeng.com.  I'd love to hear your suggestions for future topics and if you have any questions how to make your travel easier & more fun – please leave me a comment below.