My Trip To The Great Wall of China (photos + video)
Are you planning a visit to the Great Wall of China? 
Whenever I think of China, the grandeur of the great wall is one of the most appealing that comes to my mind.
In this post, we talk about:
Which section of the Great Wall of China is worth visiting
The Great Wall of China has different sections that are accessible to  tourists. The two most popular areas are Badaling and Mutianyu. 
Badaling is one of my favorite sections because of its tourist-friendly trait. It has an easy walking conditions compared to other sections. 
The Badaling section is approximately 80 kilometers from Beijing's city center depending on traffic.  The total length of this section is 7.5 miles (12 kilometers) with 43 watchtowers, however, only 2.3 miles (3.74 kilometers) and 19 watchtowers have been restored and opened to visitors.
How to get to Great Wall of China Badaling
You can take the bus no. 877 to Badaling Great Wall. It is about 1 – 1.5 hours. 
Bus 877 departs from Deshengmen to Badaling directly with no stop. Deshengmen, about 10 minutes' walk from Jishuitan subway station (Exit B2) of subway line 2.
The first bus leaves from Deshengmen at 6:00 am and the last bus from Badaling Great Wall leaves at 4:30 pm.
Click here for bus information to Badaling Great Wall of China.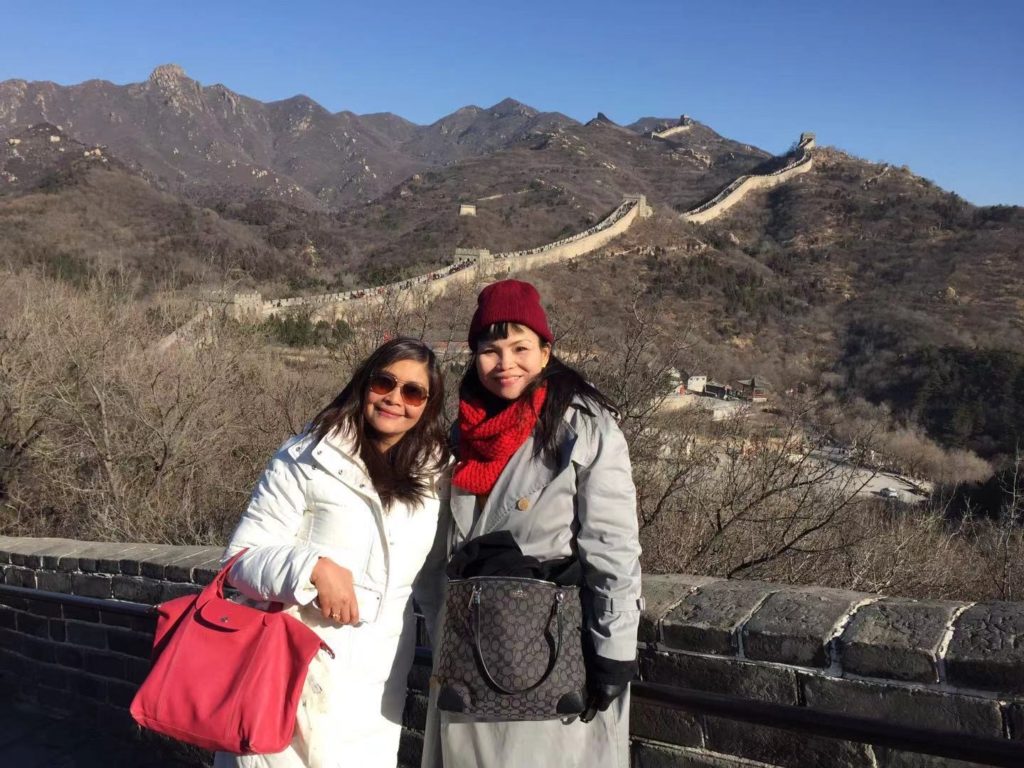 Badaling is the most popular section and well preserved. The stairs are not very steep and they are equipped with handrails.
You can pick a direction to go when you're at the wall. You can choose to go left and you'll find staircases and when you go right you'll find fewer staircases and some smooth surfaces. Either way is prepared to walk a bit.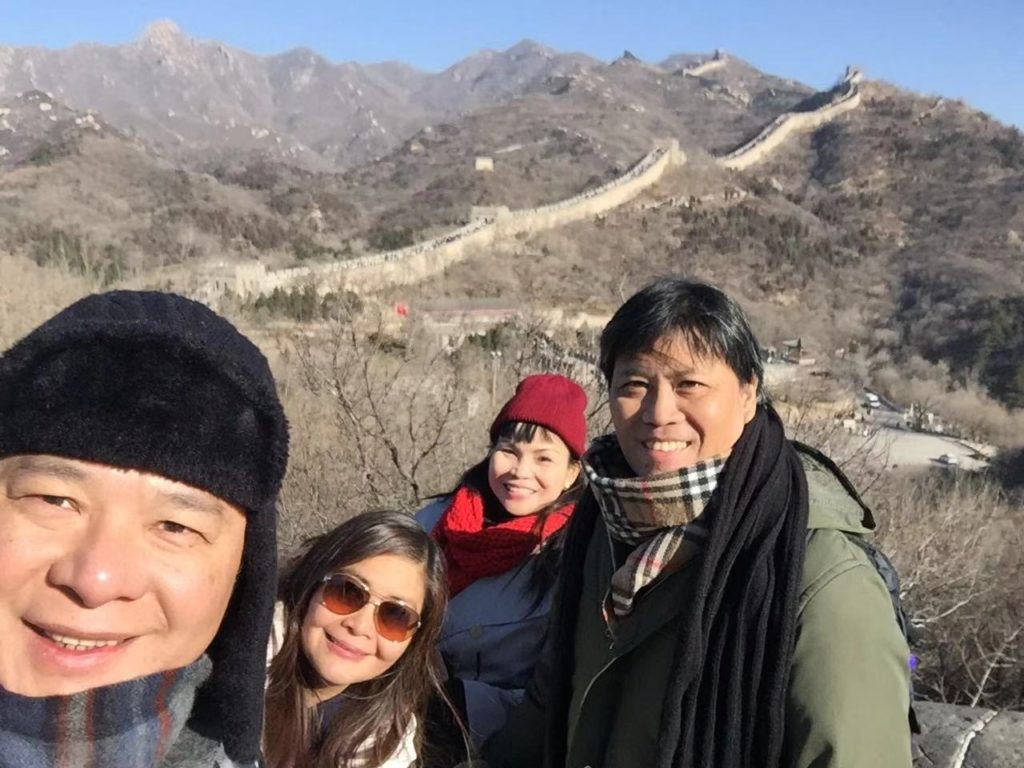 During this visit (late November) the visibility was great because you can see the magnificent and impressive view of the wall.
But, our past visits during the summer season, some parts of the walls were covered by green trees and you can hardly take a nice photo from a distance.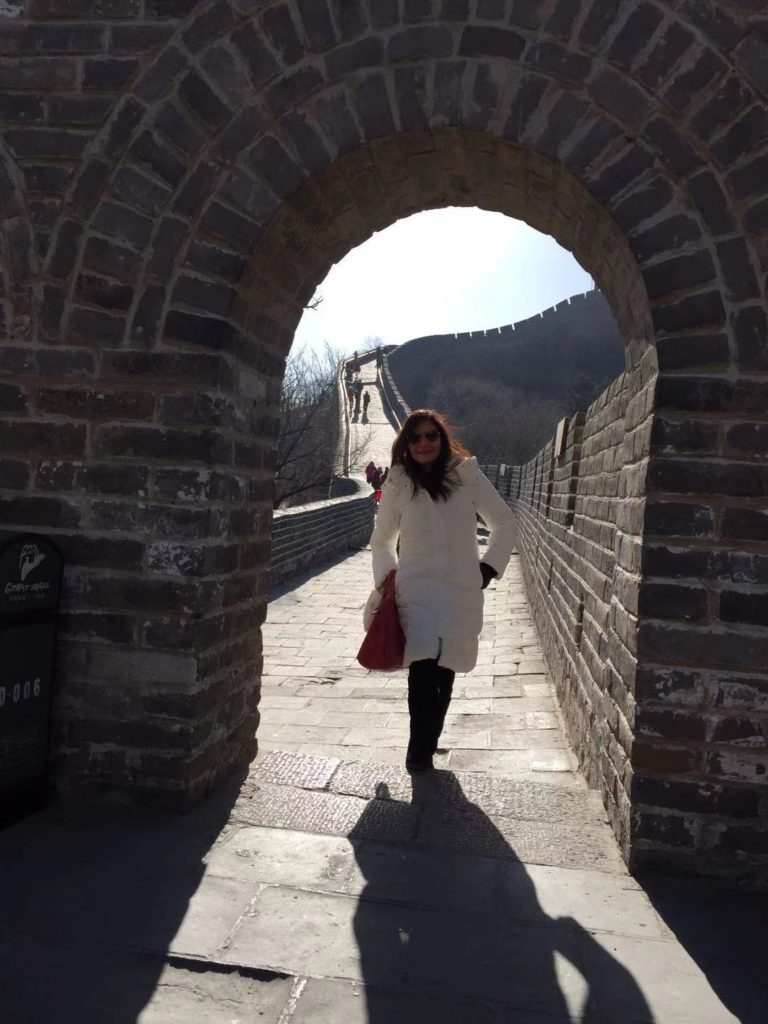 Once you're at the wall, you'll find all sorts of watchtowers.
The watchtowers were used to watch enemy movements and transmit signals.  Most of the watchtowers were built in the highest places, which was more convenient for soldiers to look out for enemy movements.
The construction materials used for the walls were mostly stone bricks.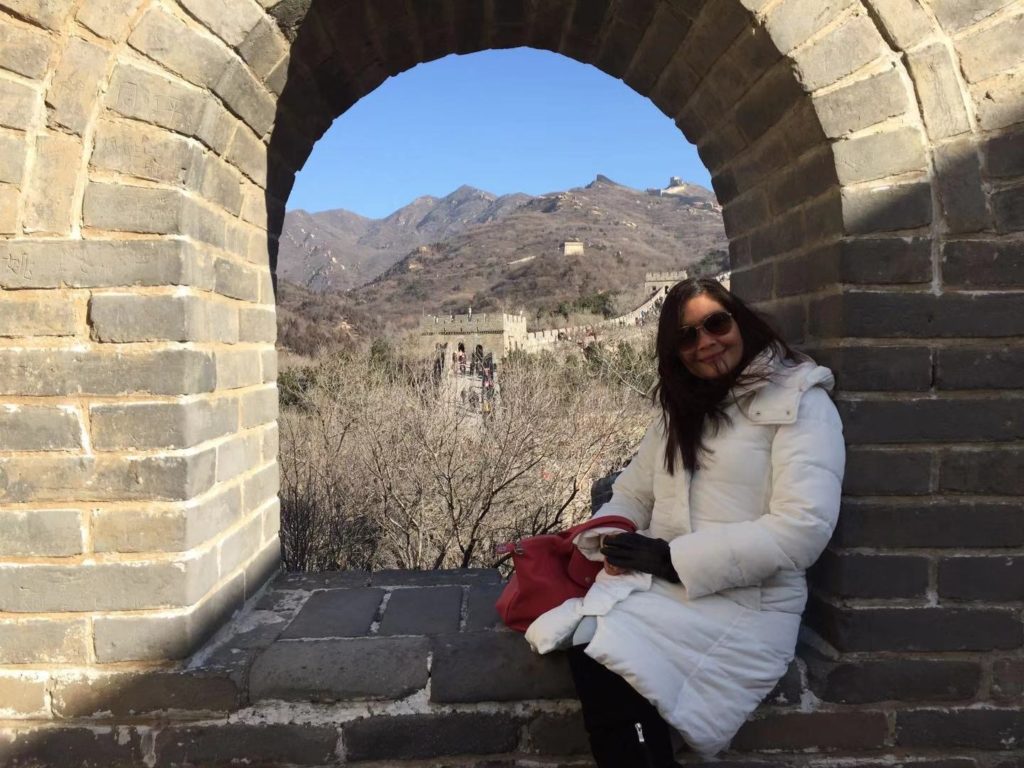 If you cannot speak the local language, it's very hard to go around China.  It's better to contact your travel agency and join a tour.
But if you love traveling by your own you can buy tickets online through the official ticketing system or their official account on WeChat. 
If you come all the way to China to see the Great Wall, I recommend taking a private tour to avoid any hassles in communications and finding your way to go around.  Make the best of it especially if you are with your good friends and loved ones. 
China provides a tailored itinerary, comfortable air-conditioned transport, and one-to-one tour guiding at a very reasonable price.
They don't allow public transportation anymore to go closer to the main entrance of the wall, so instead, you need to park your car and take the big tour bus that will take you just close to the Great Wall Ticket Area.
Great Wall of China Admission Fees:
From April 1 to October 31: CNY 40 (about $6)
From November 1 to March 31: CNY 35 (about $5.50)
The entrance ticket also includes a "Hero Achievement Certificate", which you can write down your name to certify you had climbed the Great Wall. 
Opening Hours:
From April 1 to October 31: 06:30 to 19:00
From November 1 to March 31: 07:00 to 18:00
Where is the best hotel to stay in Beijing?
If you are looking for a great location hotel, we stayed at the Crowne Plaza Hotel which is seated right at the heart of the city of Beijing in Wangfujing street located in Dongcheng District.
Wangfujing is a famous walking street in Beijing and you'll not get bored because there are so many things to see & do in the Wangfujing area.  Great place for shopping, good restaurants to try the peking duck and their seafood hotpot. 
And if you are adventurous, you'll find some exotic food here such as the scorpion on the stick and stinky tofu.
A visit to the Great Wall of China is really a MUST when you visit Beijing! I have to say that it was the coolest experience and the Great Wall really does deserve to be one of the seven wonders of the world.
It was greatly preserved.
The Great Wall of China is really must be on your travel bucket list!
Enjoy this article? Pin It!