My 4 Best Passive Income Examples To Help You Make Money in 2021
If you've been thinking of ways to supplement your income, you're not alone. 
Millions of people are looking for the best ways to earn extra cash to pay off debt, pay their kid's education, or save for a vacation. So if you are ready to find ways to make passive income, in this post we will cover:
Passive income can have a positive and remarkable effect on your ability to build wealth and passive income is the money that you can generate with or without your active participation in making it.
I'm not a financial advisor nor have any degree in business. So anything that I will share with you in this post is only based on my own personal experiences on how passive income can help ease some financial burden on your life.
4 passive income examples:
In practice, there are different types of passive income and I will list down some examples that I personally do. Passive income may appeal as an easy to "get-rich-quick" way to make money but you need to understand that this income involves monetary investment and some leg work upfront as well as additional labor to properly maintain it to keep the money flowing. 
When my husband and I were able to manage to get out of debt, the first property that we had is a 410 square meters piece of land. Does this piece of land generate passive income for us now? No.
We often hear that making passive income outside your day job can help you build your net worth faster or maybe have at least peace of mind at night. So why we don't generate passive income from this property?
My simple answer is lack of knowledge when we buy this parcel of land. The three most important factors to consider in buying properties especially to generate passive income are location, location, and location because a great location can dramatically play an important role in property appreciation as well as with the supply and demand of tenant's renting your place.
Rental income is one type of passive income you can generate from renting an office space, condominium, commercial area, or even vacant land for parking area.
Pros: Tangible assets, tax deductions, and capital appreciation.
Cons: High investment, liquidity, and asset depreciation.
If you own a company's stock you can actually get paid a portion of the company's earnings. Most companies pay dividends on a quarterly basis. 
I do not encourage anyone to invest in the stock market unless you already have the full knowledge about the intrinsic value of the company that you want to buy. It's better to ask yourself this question –  can I own this company for 10 years or longer?  If your answer is no, then stock dividends are not for you.
Here are some examples of stock dividends from Cognizant Technology. I know this company well because I do coaching business and it also matches my values. I spend hundreds of hours knowing this company if it passed my criteria to own it.  
CTSH gives a stock dividend of $0.24/share and Visa gives $0.32/share (see below screenshot).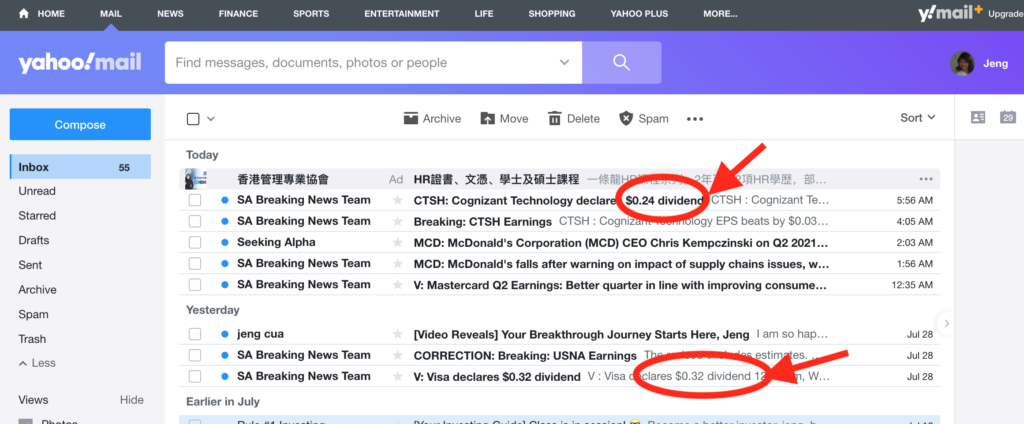 Pros: Dividend reinvestment for compounding returns.
Cons: High investment and investment risk ONLY if you don't know your company well.
3. Selling Digital products
One passive income that I love is creating digital products. I started to make passive income online in 2016 by selling my online course with ClickBank. The beauty of information products or teaching online such as online course, video course, podcast lessons, ebook, and membership site is you can generate extra cash even without any investment.
Also, teaching online doesn't require any school diploma or any business degree. As long as you know something well enough to teach, speak, or write about you can create your different streams of passive income online.
If turning your expertise into an income has crossed your mind, you can turn your experience, passion into money online and win over your audience. 
After the initial effort, you can begin to earn money on autopilot if done correctly from the start. Literally, this is how you can make money while sleeping, 24/7, 365 days!
I can tell you that this is the best feeling I ever had when I check my email inbox when I wake up in the morning and see that I made a sale!
Below are notifications from ClickBank in my Yahoo mail notifying me about the sales I made.
In affiliate marketing, you earn income by promoting other people's products or services.  Like in my case,  I promote the tools that I am using to run my online business. And this works well for generating affiliate income for the same reasons they work well for my business.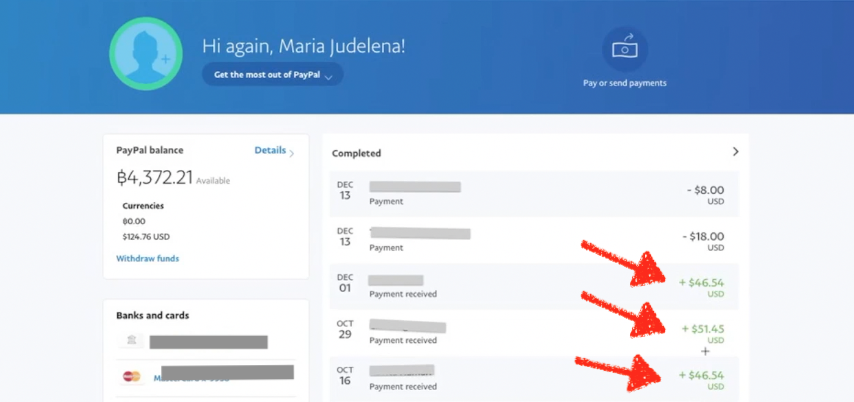 This is where you have to do some work at the beginning like choosing the product that you can stand 100% behind it, create content to promote on your website.  If you get it right, you shouldn't have to do much after it's set up the right way.
Like this one from ClickMagick (see below screenshot), I am no longer using this tracking tool for almost nine years now, but still, I continue to get passive income without putting any additional effort into promoting it.
What is this additional $51.45 for you as passive income?

How can you make $1,000 + per month from passive income without investment
Working from home has been becoming more and more popular in the last few years, and with the COVID-19 pandemic that struck the world, we are witnessing a historic shift on how it could be beneficial to both employers and employees to work remotely.
Now, if you are just like me who wants to create additional income online for you not to babysit your business and to have the flexibility to spend more quality time with your family, then you are in the right place…
Because I'll be sharing some resources about the stuff I'm learning helping other people turn their expertise, story, experience, and passion into an income online.  Now, want me to add you to my list when I start?
Click here to sign up for free.
So if you are ready to find ways to generate some extra cash, here's the recap of what we have covered:
Enjoy this article? Pin It!