8 Money Management Tactics How I Paid Off My Debt In 2 Years
Money management is to help you determine your short-term and long-term financial goals and create a balanced plan to attain those goals.
Do you frequently find yourself dreaming to get out of debt? Maybe spending hours tossing and turning unable to sleep at night? Once you are drowning in debts, this would seem like the world is caving in around you, and getting out seems an impossible task.
In this post, we'll talk about:

The Importance Of Money Management To Regain Control Of Your Future
I know that each and every one of us wants to achieve financial independence but without managing our money well, we could be putting ourselves and our family into a long-term financial burden.
Money plays a huge part in my life because I know how to live on nothing.  I was NOT born with a silver spoon in my mouth. I struggle with money because I don't have any idea how to manage money. 
We all have our own financial difficulties and we need to accept that was the TRUTH. 
For anyone who finds themselves on the wrong end of credit card debt, money management can be a lifesaver because I've been there –  borrowing my lifestyle from credit card debts. 
8 Money Management Tactics I Used To Pay My Debt Faster
1. Knowing your net worth
I was sitting at a meeting table borrowing money from a reputable bank for the company that I was working with. And out of curiosity, one of the bankers seated across the table asked me I quote "when do you want to stop working?"
Stop working? I asked.
Knowing your net worth is the very first step you need to do if you want to meet your financial goals. Whether to get out of debt or if you have a child that aspires to go to college someday.  
Whether you're earning money selling coffee at Starbucks, spending at Walmart, or saving it, it's important to know your net worth because this is how you can gauge whether or not your lifestyle is in proportion to your wealth. 

If you don't know where your current financial situation,  believe me it is difficult to get out of any financial struggles.
2. Calculate your monthly income
How many people in your family are dependent on you financially?
Get a piece of paper and calculate your "sure" income per month. If you are married,  include the income of your spouse. If your income varies from month to month, figure your average monthly income. 
By knowing your income, you will be more careful in making sound decisions with your money. 
3. Determine your monthly expenses
Calculate your fixed monthly expenses (rental, utilities, food, transportation) and expenses that come once or twice a year (taxes, gym membership, medical check-up).
Also, there will be unexpected expenses such as auto repairs, dental, medical bills, or home repairs. In this step, get an estimated amount of where your money is going each month. 
4. Create a savings-spending plan
A savings-spending plan will help you to stay in control of your money. This simple habit can help you to make ends meet, and save for emergencies and plan ahead for any big expenses because if your spending under control, then you can have money for the things you need and to accommodate the needs of your family. 
5. Compare income and expenses and make adjustments
Add the total of your monthly expenses and subtract this amount from your and your spouse's net monthly income. If you have a negative balance, make changes to your savings-spending plan to bring your income, savings, and spending into balance. See where you can cut back like some recurring fees from your Netflix monthly subscription or meal recipe subscription.
But you need to make sure your basic needs are met first like food, utilities, shelter, and transportation.
6. Develop your skill sets to earn more
If you're searching to get to your dream net worth by the age of 50, you can totally do it. Just keep those 5 steps that I mentioned above and continue to invest in your own life skills and really improve your relationship with money and be a money lover!
I battled with debt for several years and I am sure that no one likes to fall into any vicious cycle of any life misery. Here are some useful life skills that I've learned along my life journey to help you lessen the pain of how to manage work, money, and family.
Just delay investing in the stock market or derivatives trading even if you see your friends making money from it. Pause it temporarily if you're still trying to pay off your credit cards, home, or car mortgage because the extra cash you can generate you can use to pay down your debt, save for emergencies, and prepare for your retirement.
Learn more about how much money you need to retire comfortably.
For the sake of meeting your financial goals, stop comparing yourself if you see your friend's Instagram or newsfeed on a European family vacation because, if your finances don't give you permission to go for a vacation, it's wiser that you focus first on improving your net worth rather than planning a trip.
Listen, you actually don't know their REAL financial situation if they pay for that trip on a credit or not, but what you know is… once you're out of debt, you'll be able to turn your travel dreams into reality on your own with comfort.
Best Tools For Personal Money Management
Having a purpose can simplify many things and clear your perspective to meet your financial goals.
No wonder why most financial gurus like Dave Ramsey, Robert Kiyosaki, and Suze Orman suggest making a monthly budget. The good news is you don't have to be a financial specialist to do that because I've been there myself.
If you're a100% organized person and like to plan everything with pen and paper, then the Money Management Planner will be a perfect tool for you. The money management planner is a collection of my best printable money management templates that you can instantly download on your computer and print it.
Money Management Planner, Personal Finance Management, Savings Planner, Money Templates, Debt & Mortgage Tracker, and Retirement Planning (PDF Instant Download!)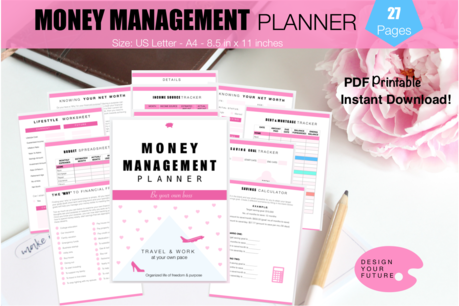 I want to help you to bring order to your financial chaos using the Money Management Planner Printable to know your net worth, track your income and monthly expenses because, in the world of commercialism, it's easy to spend a few bucks here and there and quickly find out that you are spending more than you can afford.
Size: US Letter, A4, 8.5 in x 11 inches. This is a DIGITAL DOWNLOAD. NO PHYSICAL ITEM WILL BE SENT.
Section includes:
+ Knowing Your Net Worth
+ Lifestyle Worksheet
+ Income Source Tracker
+ Debt and Mortgage Tracker
+ Budget Worksheet
+ Saving Goal & Investment Tracker
+ Daily, Monthly, and Yearly Savings Tracker
+ Your "Why" To Financial Freedom
+ Spending Habits Worksheet
+ Spending Habits Tracker
+ Savings Calculator
+ Savings Account Tracker
+ Interest Tracker
+ Debt Trap Tracker
+ Resist Impulse Buying Worksheet
+ Retirement Planning Template
You don't want to fall into a debt trap, don't you? Moreover, keeping track of your finances can play an important role in the pace you improve your savings account and save money for your dream vacation, house, car, or even for your early retirement.
Getting out of debt isn't easy for anyone, it takes dedication and a lot of patience.
Listen, it's even harder if the debt is keeping you up all night because it becomes tough to focus at work and it will negatively affect nearly every aspect of your life SERIOUSLY — a chain reaction that affects your marriage life, health, business, home, and almost everything that you do.
Small moves matter because these baby steps, they'll certainly add up and help you feel more in control of your future.
To recap, here's what we have covered in this post:
Enjoy this article? Pin It!
How am I able to Turn My Travel Dream To Reality?