How To Get To Beppu Japan
Are you planning to visit Beppu? 
Beppu is a city in Oita Japan that is famous for its Onsen hot springs, sand bath, mud bath, and much more.
When planning a trip, it's not always easy to get to the place you want to go especially if you are traveling with your family or friends for the first time. In this post, I'll share with you my family trip:
How To Get To Beppu By Shinkansen
Japan has an amazing and efficient transport system for travelers that is very convenient to go around different parts of Japan.
You can take the Shinkansen from Fukuoka, Tokyo, Osaka, or from any other part of Japan to go to Beppu.
How To Make a Train Reservation To Beppu
You can reserve your seat without paying any extra cost from the JR Ticket Office Train Station.  
The Sonic limited express travel along the coast of Kyushu, from Fukuoka to Beppu and Oita in Japan. You can choose a reserved seat, unreserved, or luxury seat. 
During our trip, the train was not full and travelers can seat anywhere they want.  You can make a reservation online by clicking the link below.
If you are looking for an onsen near Fukuoka, look no further than Beppu Onsen. My family loves to explore new places together and Beppu is a charming laid-back town where you can be fully relaxed.
Beppu's main claim to fame is that it has one of the highest volumes of hot spring waters in the world.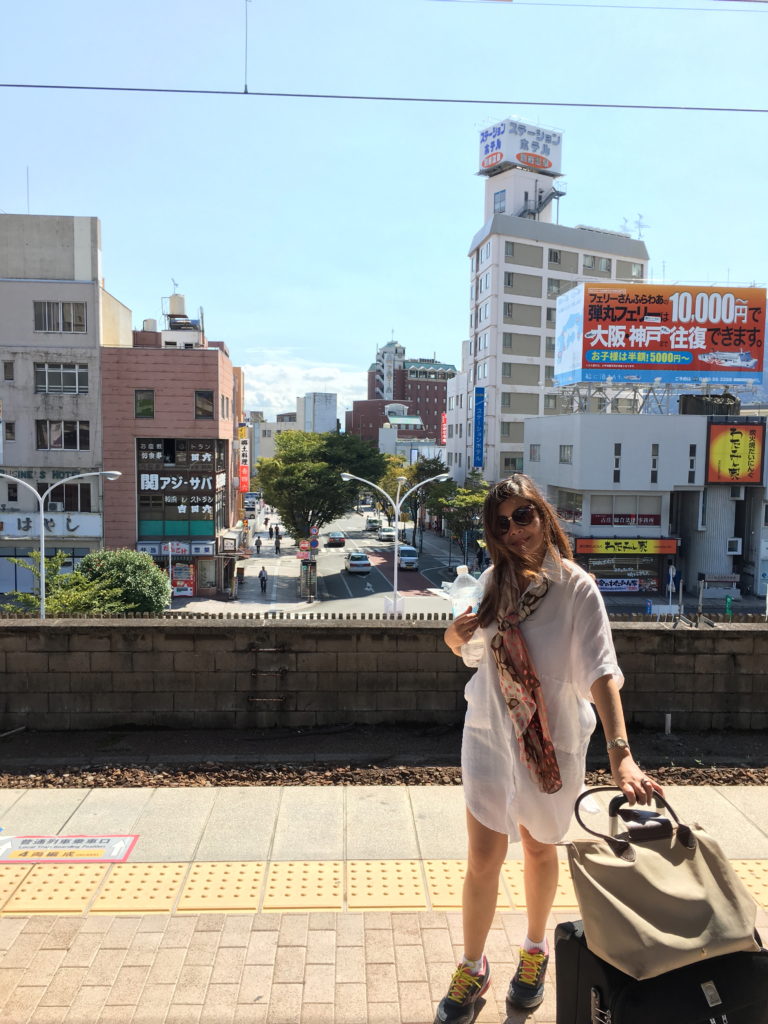 There are several hotels in Beppu depending on your set budget.  
During our family trip, we decided to stay in Kamenoi Hotel because this hotel is close to the Train Station where the bus station is also located for you to go around.  
Kamenoi Hotel is just about a 5-minute walk from JR Train Station. 
Click Below For Beppu Full-Day Private Trip
Click Below For Fukuoka Private Tour
Reasons Why I Stayed At The Kamenoi Hotel
The Kamenoi Hotel has a large spa where you can relax at night after a tiring day strolling around the town.
They have both indoor and outdoor hot baths and saunas. Children are also allowed to go inside the bath areas. 
A spacious amusement center for kids to enjoy is located on the 3rd floor if in case you don't want to bring your kids inside the bathing area. 
The amusement center is located just right across the bath area.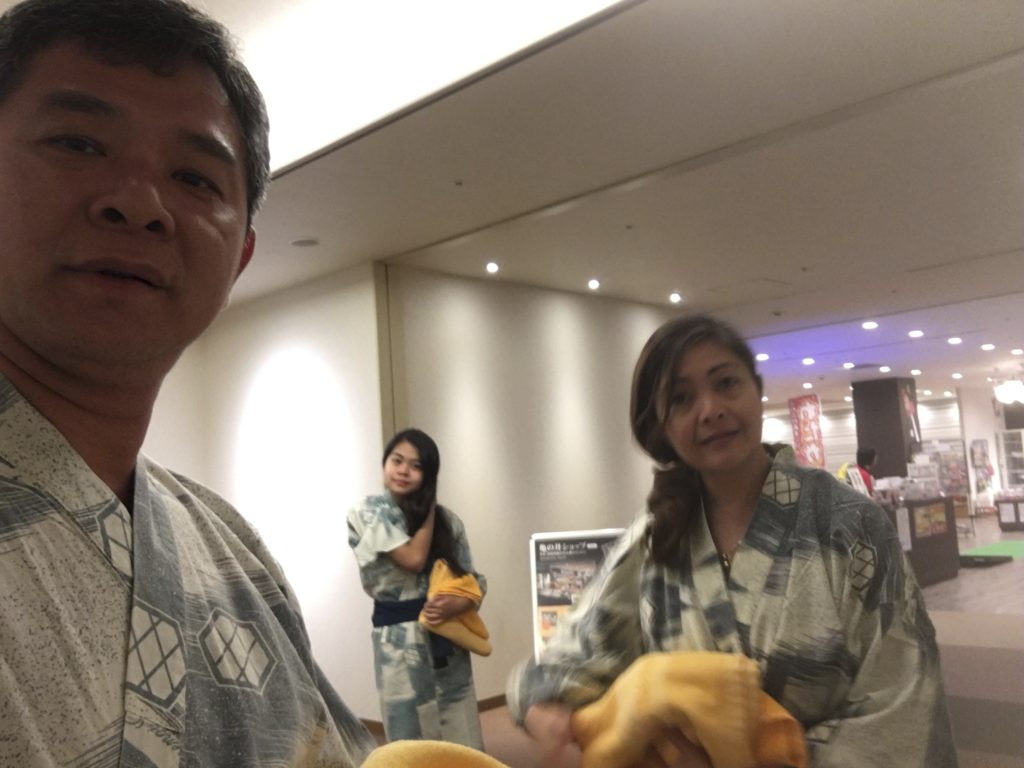 How To Get To Beppu Kamenoi Hotel
Once you get out from the train station just across the street turn right.
After a few blocks you'll pass a parking lot and you'll see the signage of the Kamenoi Hotel. 
Turn left and walk straight until you pass a liquor store on your left. You will see a huge brown building on your right and that's the Beppu Kamenoi Hotel.
The hotel provides a Japanese buffet breakfast and you can pay extra for this when you book your room. But if you don't want to include breakfast on your room reservations, in front of the hotel there is Lawson, a convenience store.
You can grab some convenient food like Onigiri (rice wrapped in seaweed) that will only cost you 100 Japanese yen (about $.80) before you stroll this beautiful town.
The water from the hotel is drinkable.
We were upgraded to a bigger family room that includes 6 beds and
the view was brilliant facing the mountain.
Kamenoi Hotel Sitting Shower
Kemenoi hotel provides both a sitting shower and tub. A small stool is provided for you to sit down on while washing yourself.  This kind of bathing setup is also the custom at Onsen (hot springs), although most modern ones also have a stand-up shower nozzle. 
The sitting shower is a great experience too in Japan!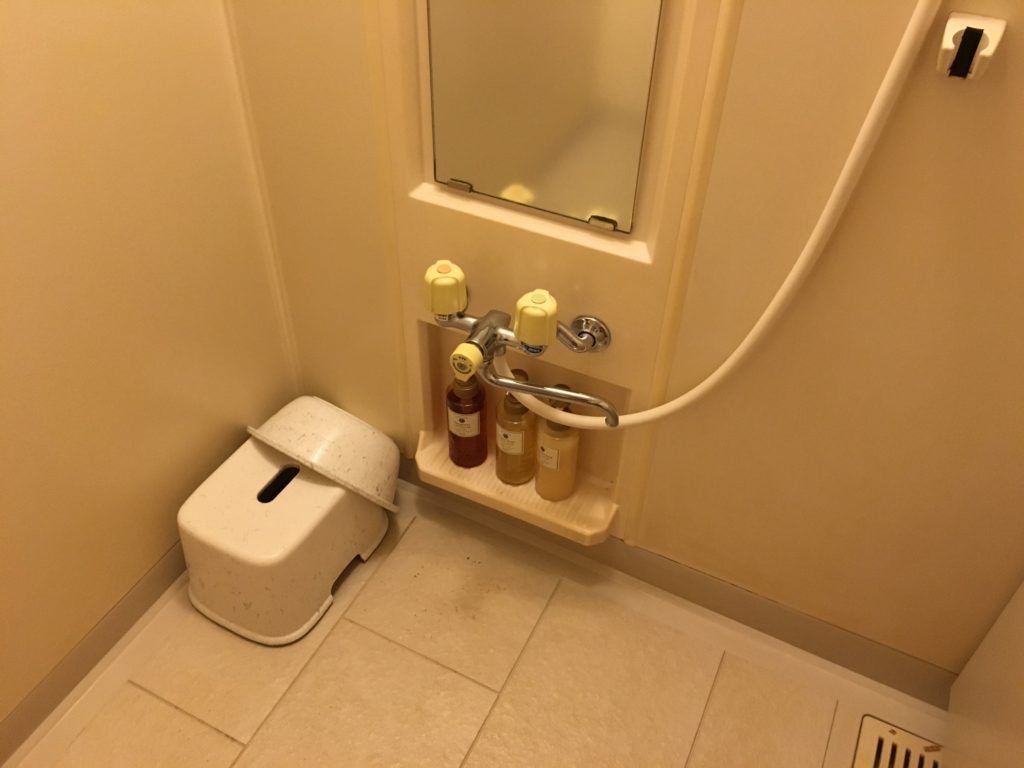 The Kamenoi Hotel Hot Spring Baths
The Beppu Kamenoi hotel has its own indoor and outdoor hot spring baths and sauna.
So adults can enjoy the hot spring bath while kids can enjoy the children's entertainment room on the same floor. 
We came to Beppu to enjoy much of what Beppu had to offer such as the phenomenal onsen (hot springs) experience, the relaxing sand bath, and volcanic mud bath, and visit the hells of Beppu. 
Nothing can really be sweeter than spending your quality time creating great memories with your loved ones exploring new places like Beppu! 
The recap of what we have covered in this post:
More Travel Planning Resources:
My Other Japan Trip You Might Like: