There are several ways to get to Beppu.  You can travel by air or by train from Tokyo, Fukuoka or from any other cities from Japan.   With my experience I traveled from Fukuoka since I want to eat the original HAKATA ramen first in Fukuoka before heading to Beppu.
So, here's how you can get to Beppu from FUKUOKA.
BY TRAIN: About 1Hour and 56 Minutes using Limited Express Train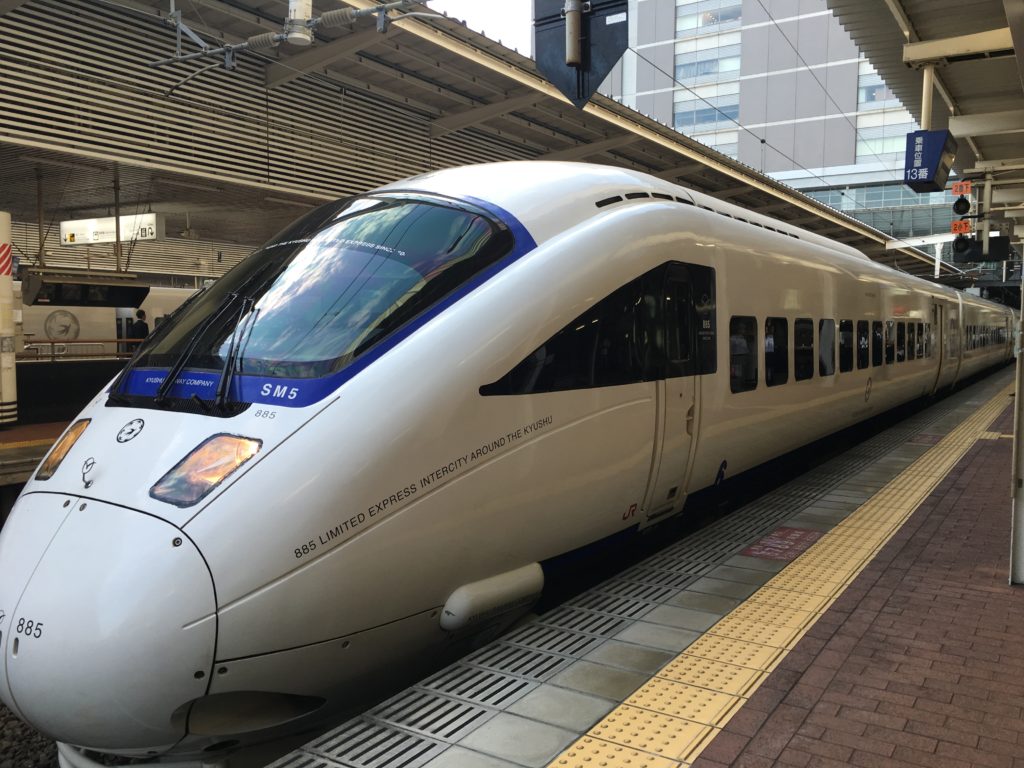 This is the Limited Express Train Serviced by JR Kyushu
Run every 20 to 40 minutes for the daytime. 32 round trips a day are operated.
Photo was taken inside the train. You can reserve your seat without paying any extra cost from the JR Ticket Office at Fukuoka Train Station.  During my trip on Oct. 6, 2016 it was not full at all.  You can seat anywhere you want.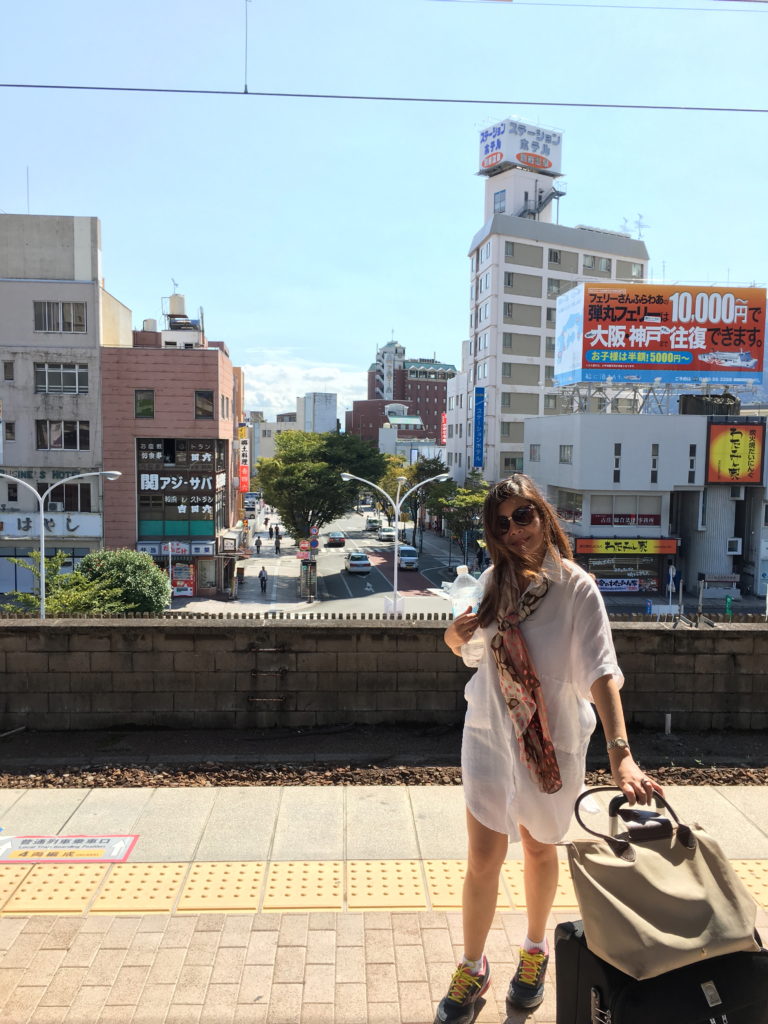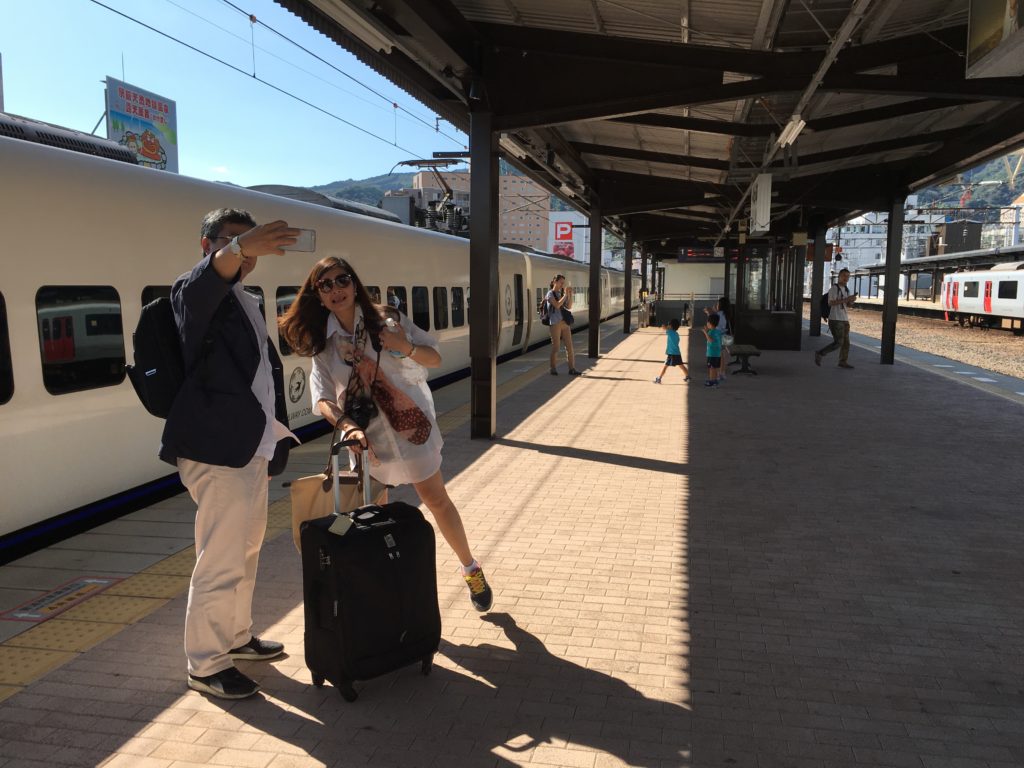 Beppu is a laid-back town in Japan.  This photo was taken from one of the main roads in Beppu
just across the Beppu Train Station.  Just strolling around.
WHERE DID I STAY IN BEPPU & WHY?
HOTEL IN BEPPU :  KAMENOI HOTEL BEPPU
There are several hotels in Beppu depending on your set budget.  I decided to stay in Kamenoi Hotel because this hotel is very convenient for Beppu Train Station where the bus station is also located for you to go around.  Kamenoi Hotel Beppu is just about 5 minutes walk from JR Beppu Train Station.   Kamenoi Hotel Beppu has a large spa that you can relax at night after a tiring day strolling around the town.
Kamenoi Hotel Beppu has both indoor and outdoor hot baths and saunas.   Children are also allowed to go inside the hot bath areas. Kamenoi Hotel Beppu has an amusement center for kids to enjoy located on the 3rd floor (just right across the hot bath area).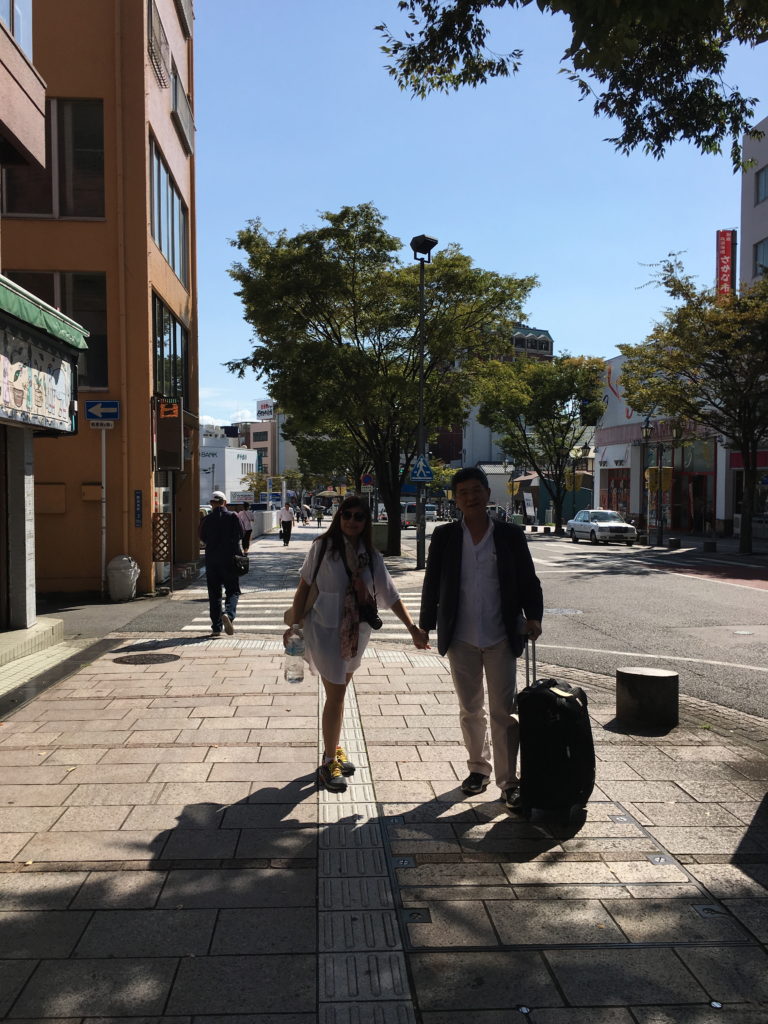 HOW TO GET TO KAMENOI HOTEL BEPPU
Once you get out from the train station just across the street – walk to the right then after few blocks (you'll pass a parking lot on your left and right)  you will see the signage of the Kamenoi Hotel – just turn left and walk straight until you pass a liquor store on your left- you will see a huge brown building on your right –  that's Kamenoi Hotel Beppu.
Just in front of the Kamenoi Hotel is a convenient store called Lawson.  You can just opt to buy your breakfast here.  Cost of onigiri (rice wrapped in seaweed will cost you about 100 Japanese yen).  Water from the hotel is drinkable.
Here are some photos were taken in Kamenoi Hotel Beppu
We were upgraded to a bigger family room that includes 6 beds though we just use 2 beds
The view was brilliant – it was facing the mountain
Kamenoi Hotel Beppu Shower Room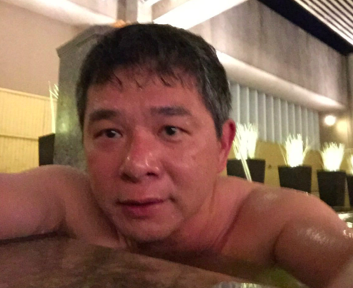 This is a snapshot taken by my husband at the outdoor hot pool
This photo was taken before getting into the hot bath (3rd floor at Kamenoi Hotel Beppu)
with my husband and daughter
======================
I hope this Beppu travel post will give you the best and most exciting trip that you will never forget in your life. Life is short, enjoy and make the most out of it! Go out there and explore the world.
This travel with Jeng seeks to encourage more people to explore and travel the world to live life to the fullest! It's all about the adventures, the different cultures, the people, different food exploration, the journey to reach your destination and most of all to make your travel experience with EASE!