Best Things To Do In Ghent
Ghent is located in Northwest Belgium. It is the capital and largest city of the East Flanders province, and the third-largest in the country exceeded in size by Brussels and Antwerp. source Wikipedia.
You can take an easy day trip to Ghent from Brussels or Bruges.  The city center isn't very big so you can easily see all of Ghent's beautiful medieval architectures and churches in a single day.
Gravensteen also knowns as the "Castle of the Count"
The Gravensteen is a medieval castle at Ghent, East Flanders in Belgium. The current castle dates from 1180 and was the residence of the Counts of Flanders until 1353.
It was subsequently re-purposed as a court, prison, mint, and even as a cotton factory. It was restored over 1893–1903 and is now a museum and a major landmark in the city. Wikipedia
A  trip to Ghent is simply not complete without a visit to the  'Castle of the Counts'.
Things To know About Ghent
Currency: The Belgian currency is the Euro (€, EUR).
How to pay for things: Card is accepted in most places, and there are ATMs all over the city
Language: As the official language in Flanders and Ghent is Dutch.
Is Ghent expensive: It can be as cheap or as expensive as you want.
Weather: Average temperatures in Ghent vary greatly.
If you're looking for the very warmest time to visit Ghent, the hottest months are July, August, and then June. The windiest month is December, followed by February and January.
The busiest month for tourism in Ghent, Belgium in October, followed by September and May. Prices for hotels and flights will be most expensive during these months.
Spring (March through May)
Summer (June through August)
Fall (September through November)
Winter (December through February)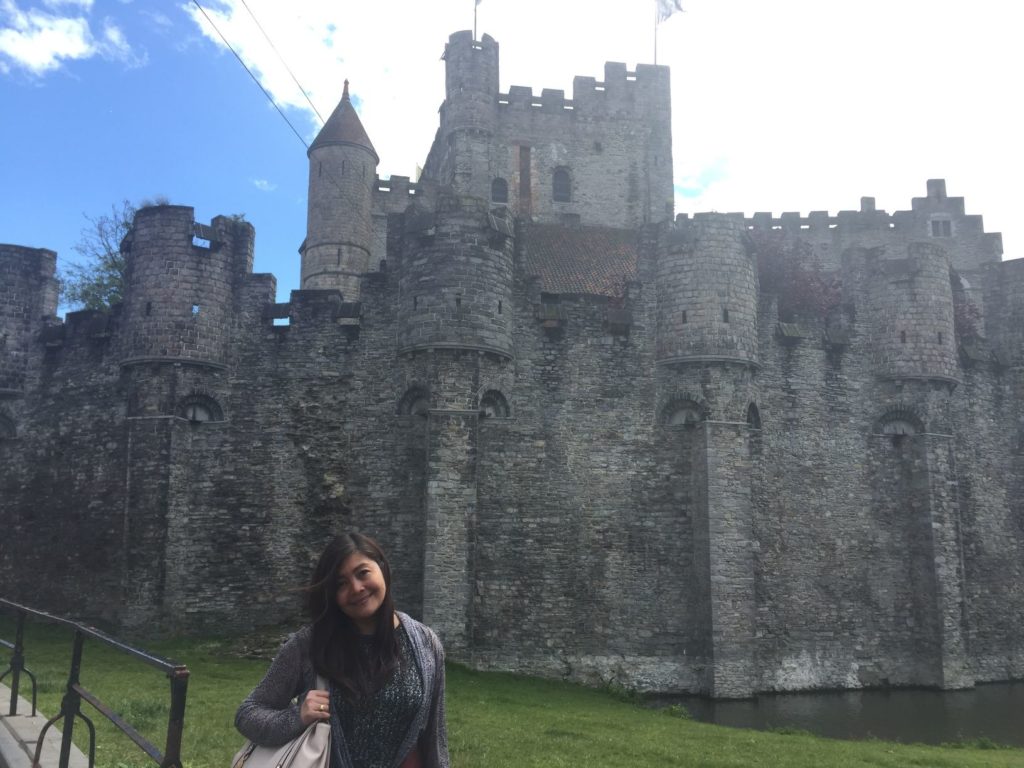 The fairytale fortress known as Gravensteen became a house of torture in the early times. 
Today, the site has been restored and still retaining a  moat on three sides, and a museum that is open to the public.
The Castle of the Counts also hosts all kinds of cultural activities, events, and also a popular place for wedding events. 
Gravensteen Opening Hours
From 10:00 am to 18:00 pm
A well preserved medieval castle, which is well worth a visit.
Visiting the Gravensteen – the Standard entry price is 12 EUR/ 13 USD.
You can book your ticket in advance to visit the Castle of the Counts with an audio guide here.
Climb the Belfry Tower for an incredible view of the city
The 91-meter-tall belfry of Ghent is one of three medieval towers that overlook the old city center of Ghent, Belgium, the other two belonging to Saint Bavo Cathedral and Saint Nicholas Church. Source:  Wikepedia
The Belfry tower symbolizes the city's prosperity and independence. The Belfry is the middle tower in the famous row of three, between St Bavo's Cathedral and St Nicholas' Church.
The main bus stations in Ghent which most transport routes go –  Gent Sint Pieters, Gand Dampoort/Gent Dampoort.
If you pay on the bus or tram you can only give the exact change or a €10 note. If you have larger notes, you're better off getting some change before you board.
When you board a bus or a tram you need to validate all paper tickets by inserting them into the yellow machine either by the driver or near the middle doors.
You can easily go around Ghent on foot.  It only takes about 20 minutes to walk through the historic city center.
Ghent is very walkable or you can take the bus, tram and taxis are also readily available to explore the surroundings.
All the main sites to see in Ghent is just right in the city center.
Wander Down The Werregarenstraatje, an alleyway covered in graffiti
Werregarenstraatje is the graffiti alley in Ghent. This alley is for local people to paint on the walls. It is literally a layer of scribble paintings that have been painted over and over again but you will also find some interesting neat designs and paintings.
The street itself has become a popular site for both tourists and locals.
Very fascinating to see the amazing colorful artwork down this alley. Grafitti all over walls.
All The Travel Basics You Need Before The Trip:
What Toiletries organizer to travel smart?
BAGSMART Toiletry Bag Travel Bag with hanging hook, Water-resistant Makeup Cosmetic Bag Travel Organizer for Accessories, Shampoo, Full Sized Container, Toiletries, Soft Pink
What camera do you bring?
Canon EOS Rebel T7 DSLR Camera Bundle with Canon EF-S 18-55mm f/3.5-5.6 is II Lens + 2pc SanDisk 32GB Memory Cards + Accessory Kit
What luggage do you travel with?
Samsonite S'Cure Hardside Luggage with Spinner Wheels, Black, Checked-Large 28-Inch
What travel pillow to carry with ease?
Twist Memory Foam Travel Pillow for Neck, Chin, Lumbar and Leg Support - For Traveling on Airplane, Bus, Train or at Home - Best for Side, Stomach and Back Sleepers - Adjustable, Bendable Roll Pillow
What laptop bag do you carry?
Samsonite Modern Utility Laptop Messenger Bag, Charcoal Heather, One Size
What book do you read when traveling?
Ray Dalio 3 Books Collection Set (Principles Life and Work [Hardcover], Principles for Success [Hardcover], Principles for Navigating Big Debt Crises)