10+ Best Startup Ideas How To Travel & Work At Your Own Pace
Chances are, if you landed on this page, you are probably burnout in your career and looking for the best startup ideas to follow your travel dreams. 
You probably can't have peace of mind when you see bills piling up on your table.
Perhaps even more frustrated if you were one among those unlucky to get laid off during the pandemic.
Whatever the reason you are stuck for ideas of which business to start, please know that I've been there several years ago…
I searched online about business startup opportunities, but the majority of my time was spent bouncing and sifting through various websites.
I have no clue at all and I was all over the place…
Listen, if there is someone who tells you making money online is easy, then run away…  
I've done everything in my power, gasped some air to stay afloat.  
The process of building my own business has not been easy. 
I made a lot of mistakes, trials, and errors, but I learned how to engage those mistakes and turn them into REAL income.
Here are business startup ideas to explore when you're stuck in your career and want to be your own boss.
Startup Ideas To Make Money From Anywhere
This post may contain affiliate links.
Thinking of Startup a Business To Follow Your Travel Dreams?
I get it.
Several years ago I was in the same position as you who wants to run my own online business to spend quality time traveling with my family.
Here's the thing, you can only get better from where you are at NOW so don't look at your past but rather look at how you can improve your situation.
Nobody can do this for you except you.
I hope you will get encouraged and motivated today to improve your situation…
Whether it's using your time or some creative tangible goods, here are my top 5 best startup ideas to make money from anywhere.
When I first started my blog, this was the FIRST step I made promoting other people's products.
I started to promote the business tools that I am using so they can compensate for some of my fixed business startup costs.
Also an associate partner of Amazon, ClickBank, and Peerfly (this company no longer exists).
And I was making $800-$1,000 a month.
Well, good money to survive.
So even I am promoting other people's products, I make it a point that I BUILD my own business asset (my own mailing list).
Then after I learned how the ClickBank platform works, I started selling my own online courses.
I became the product vendor on ClickBank and I started to build relationships with other vendors and affiliate partners.

My first product launch was a complete flop but on my second try, I made $3,500 for the first few weeks (not bad!).
If you want to bother to take a look at my few initial products that I listed on ClickBank marketplace, here are some of the few ones:
The Breakthrough Golden Secret and the Breakthroughs Mastery Course.
This is how I literally see money deposited into my bank account even when I am sleeping.
See below screenshot of ClickBank notifications on my yahoo mail.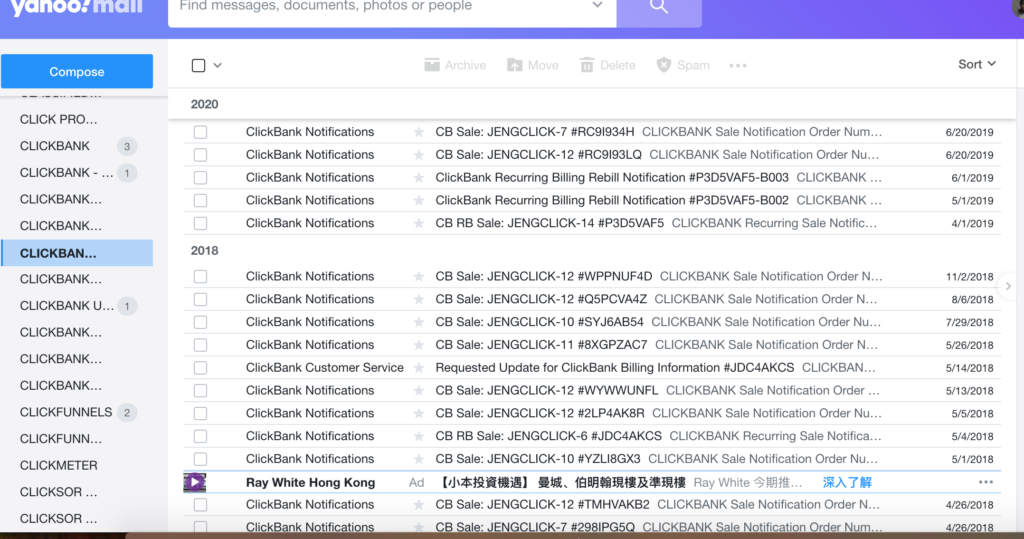 A healthy email list is what I've built over the years.
And it's really a fantastic way to earn money from the comfort of your home.
You really need to take good care of them because you can bring them wherever you go you want to operate your business.
Listen, it's NOT important how big or small the size of your mailing lists but what matters most is to convert them into buyers.
I've wasted a lot of money on paid advertising…
If your lists are NOT highly qualified enough to what you offer, this is something like you are BURNING money and time.
There's a lot of business startup ideas nowadays.
Making money instantly is doable that brings me to my BIG ONE!
Something you can absolutely do as well even without a mailing list, website, without being a techie, or you haven't sold anything yet before!
4. Expertise to Coaching (the best startup)
Business for me isn't JUST about making money but providing a transformational experience to someone's life. 
And that's when I started coaching or to make it simple teaching as long as you know something well enough to teach, speak, or write about.
This is how I made a leap from struggling to make $100 per client from my online courses to $10,000/client in 56 days.
And this is by far my favorite startup method.
You can start right away and test your business idea to see if someone will pay you (join my FREE expertise into coaching masterclass here).
At this time, I don't run any Facebook or paid advertising.
I love what I do, and I'm telling you right now that there's a goldmine of income you can make.  And you can do it in just about any way you want it.
I made money when I first started way back then, but I make more money using the skills that I developed with time.
And of course from my failures.
Listen, nothing is impossible, if you will NEVER give up pursuing what you want in life!
What exactly you want to do for the rest of your life?
Just you know that I am a neat freak creature and I am so OBSESSED organizing my entire life! Seriously…
How I went from borrowing my lifestyle, get out of debt for good, declutter my home, and how I build my own business with my computer partner.
Now, in my 9th year running my online business, and decided to help people to create a stress-free organized life using printables.
Traveling and working at my own pace was not happen by luck. I created it deliberately!
On Etsy, where I set up my BRAND NEW printables shop!
And while I'm writing this article for you now, I already made 3 sales while I am still putting my shop altogether.
My point is, you can absolutely make money instantly doing what suits you. 
If you'd like to find out if my printables is the right tool to help you…
For an extremely limited time, grab my business startup planner 50% off when you click here!
Use this discount code upon checkout (if needed) BEYOUROWNBOSS.
Also, I would like to ask a favor from you that if you loved your printables, I would appreciate it if you left a review on my Etsy Shop! 
Share me some love -:)!
I know being a small business owner, things can get chaotic and I hope my printables can help you NOT to give up your dreams!
I have my dream life and I love teaching others how to do it too.
I have a wealth of knowledge inside me and each week, I'm pouring out my heart and life to help others do exactly what I've done over the years.
So I hope you favorite my design your future shop and so you can get updates whenever I drop my new planner printables!