Best Places To Visit In Bali Indonesia In 3 Days
Our family short getaway to Bali, Indonesia from January 30 to February 2, 2017.
We arrived at Ngurah Rai Airport at night. Most of the hotels & resorts in Bali they provide a shuttle service from the airport to the hotel.
I was not able to arrange our airport pick up ahead of time, so we just took the Blue Bird taxi service from the airport terminal.
Blue Bird is recommended as one of the least expensive and safest taxis in Bali so we just took the blue bird car going to our hotel . When you go out from the baggage claim area, you can find the blue bird on your right side.
We paid 215,000 Rupiah (about US$16) to drive us all the way to the Sakala Resort- Sakala Resort is a great place to stay in Bali and it's about 30 minutes drive away from Bali Ngurah Rai Airport.
RESOURCES: Sakala Resort Bali Review
DAY 1 In Bali: Trip To Ubud
While visiting Bali you can find a wide range of things to do. Here are some places that we visited during our short visit to Bali, Indonesia.
Taxi Tour Service Rate
Rate from Sakala Resort to Ubud:
For 8 hours they charge us 750,000 Rupiah (about US$56) and for every extra hour they charge 125,000/hour (about US$9.50) .  This price was quoted by our hotel concierge and this might be at the high side.
Outside Taxi Service:
During our 2nd day we just contacted an outside taxi service and his name is Yopi (owner of the car), he was very nice and very flexible. He price us for  12 hours at 600,000 Rupiah (about US$45).
You can contact him at this no. +62 812 38114273.
Trip To Ubud
First Stop…
The UC Silver Gold Shop

This photo was taken at the UC Silver Gold shop. Silver & Gold is quite popular in Bali.  So, if you're interested to see balinese jewelries workmanship you may want to drop by at this place first before heading to the next stop.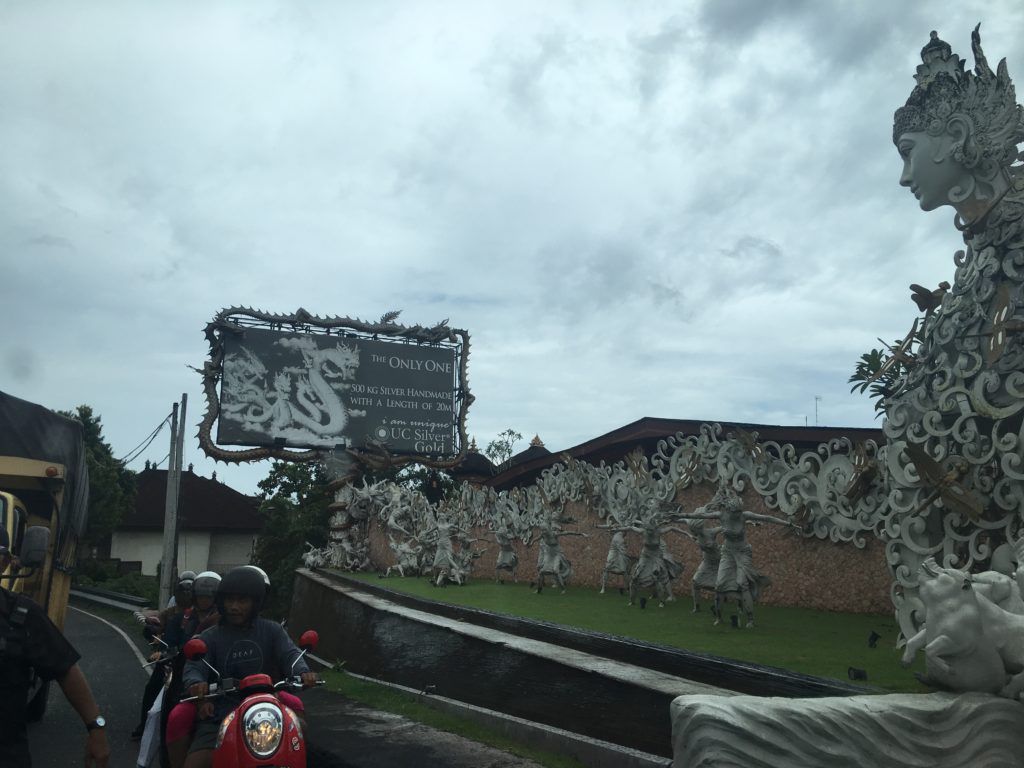 They've got gorgeous jewelries collection. You can take a closer look at them to appreciate it and buy some if you really like it.
Next Stop…
The Sari Amerta Batik Collection
This is a great place for batik shopping.  The selection of different batik fabrics is enormous. If you are looking for batik apparel, table cloths, bags, flip flops with batik, traditional Indonesian blouses, sarongs for women and shawls then this is the place to visit.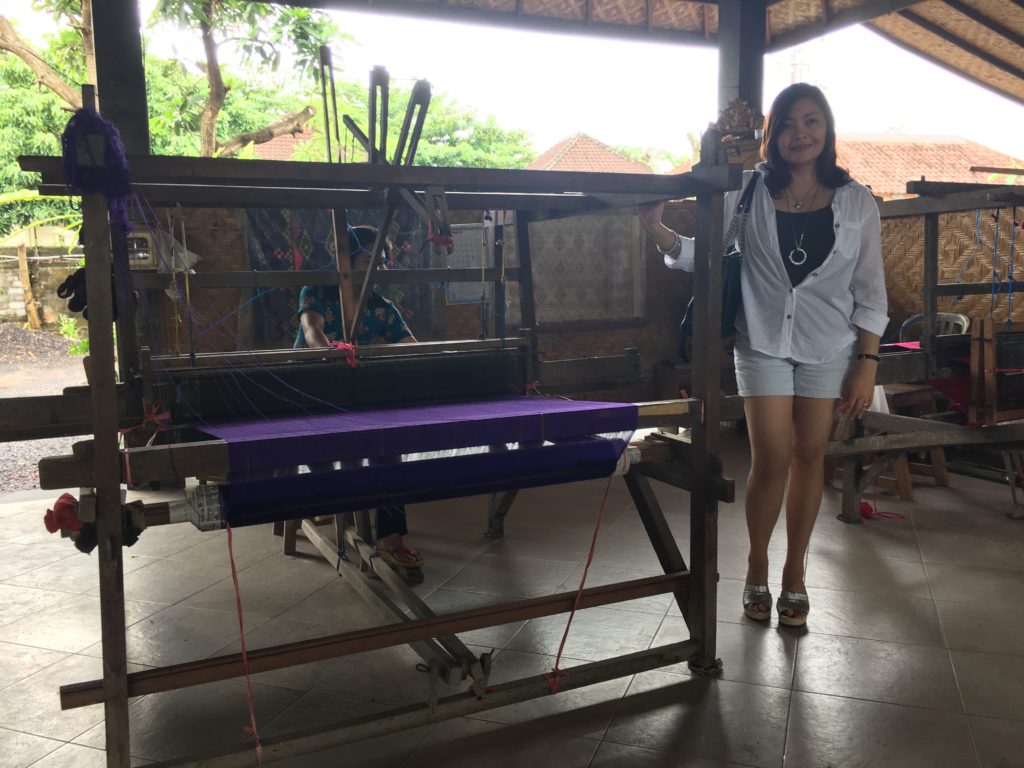 This photo was taken outside the Sari Amerta Batik shop you can see how batik fabrics are being made. You can watch how batik is created in a very meticulous process that needs many hours of involvement.
Next Stop is…
The Pura Puseh Batuan temple (Batuan Temple).
The Pura Puseh Batuan Temple is a local Balinese Hindu temple looked after by the local resident of Batuan countryside. 
This temple is located beside of the main road from Denpasar to Ubud.
Batuan Temple were founded in the year 944 isaka (1020 AD), Nearly 1000 years old- source Baligoldentour.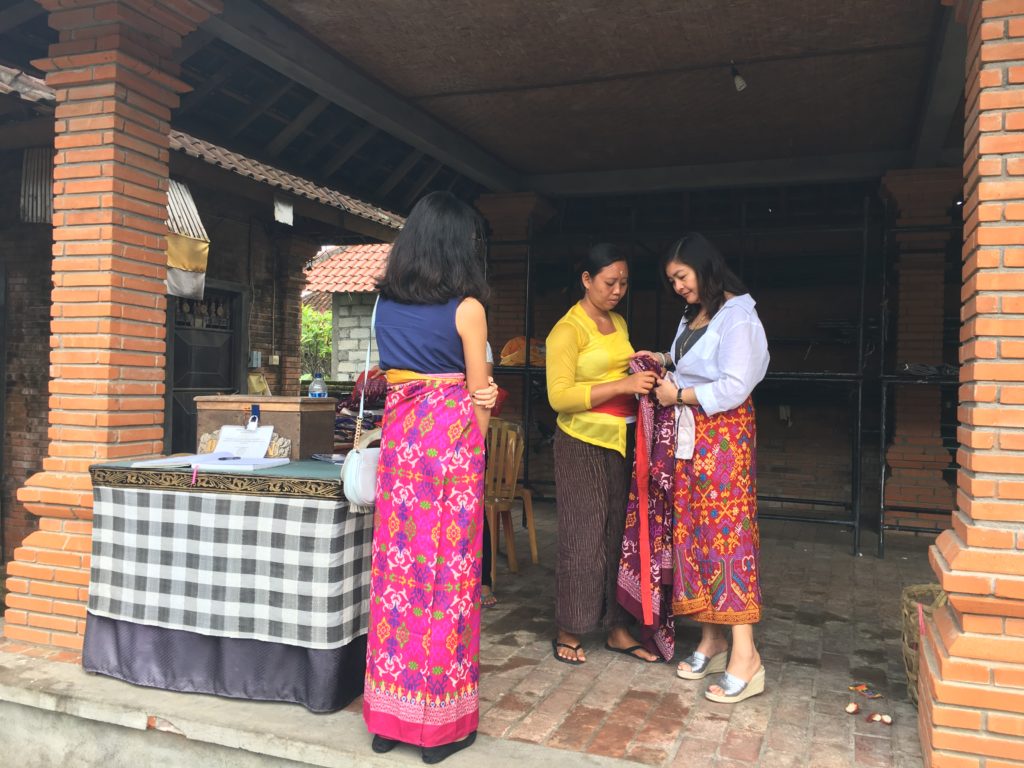 Before entering the Pura Puseh Batuan Temple, you need to wear a sarong for both male and female.
Local people are very concern about the care and preservation of the Batuan temple architecture and its environment and it's free to get in to the temple and donation is highly appreciated.
Nevertheless, after wearing the sarong the lady told us to pay 10,000 Rupiah (about US$0.75) per person.  However, the compound housing the temples is very well maintained, so it doesn't matter whether this is a donation or pay the amount of 10,000 Rupiah to enter – It's worth it!
You can find the sarong at the side road just right in front of the parking area.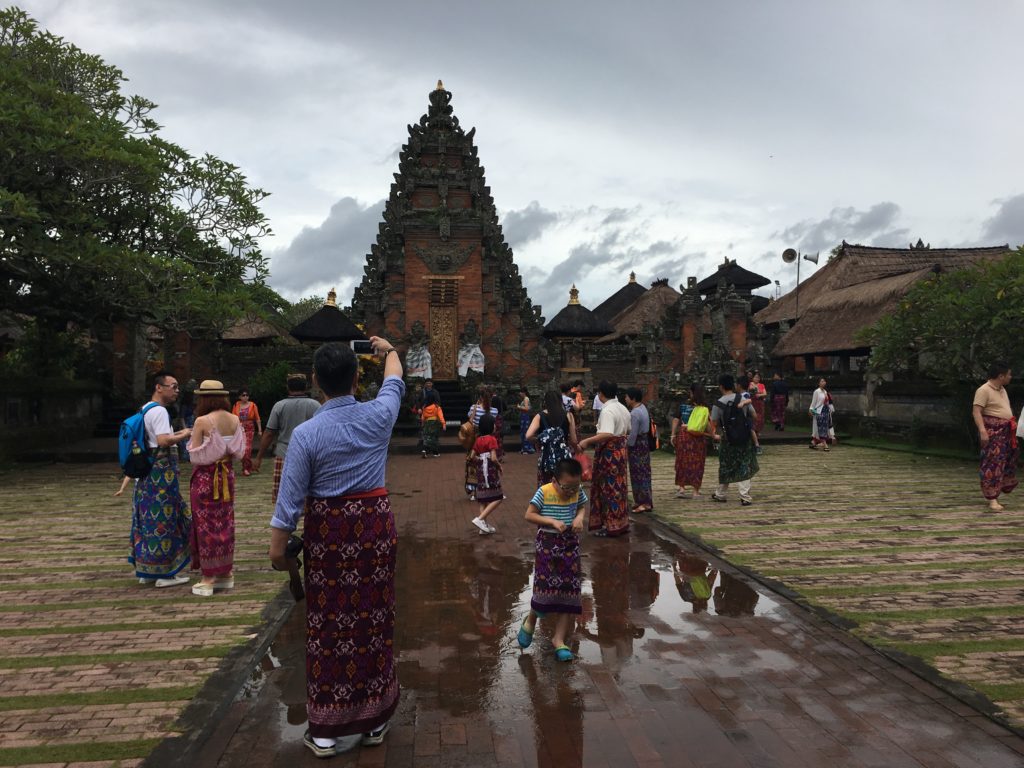 Upon entering the compound, this is the view that will welcome you – by the way, that's my husband taking photo at his best sarong.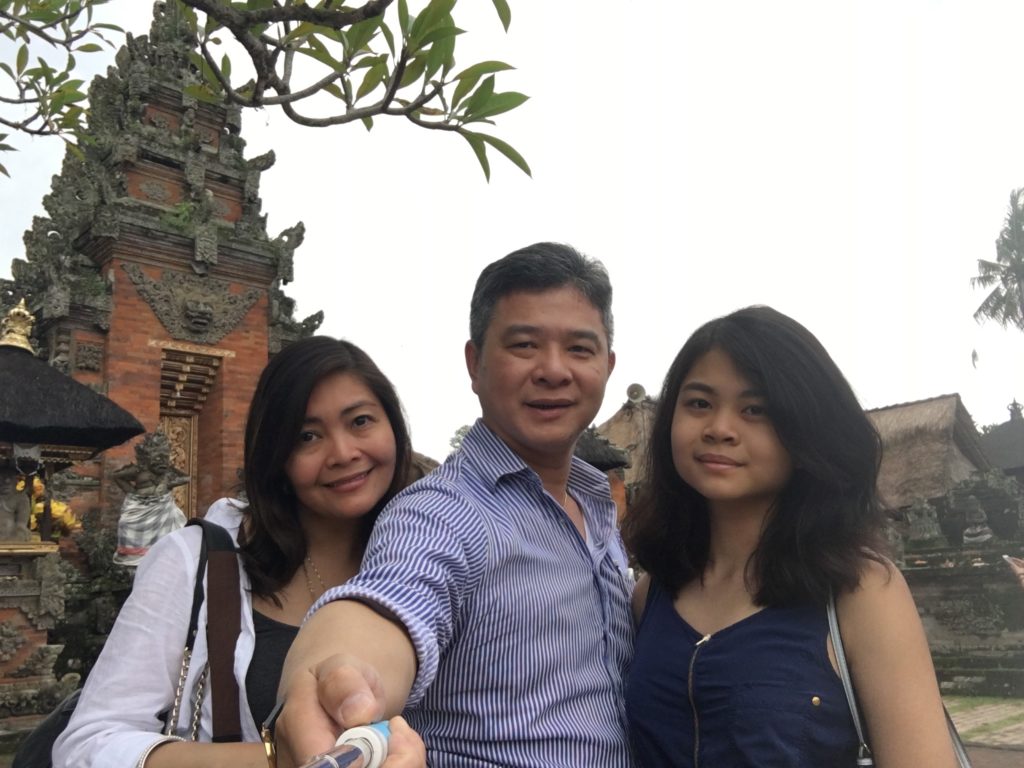 My family at Pura Puseh Batuan Temple, Bali Indonesia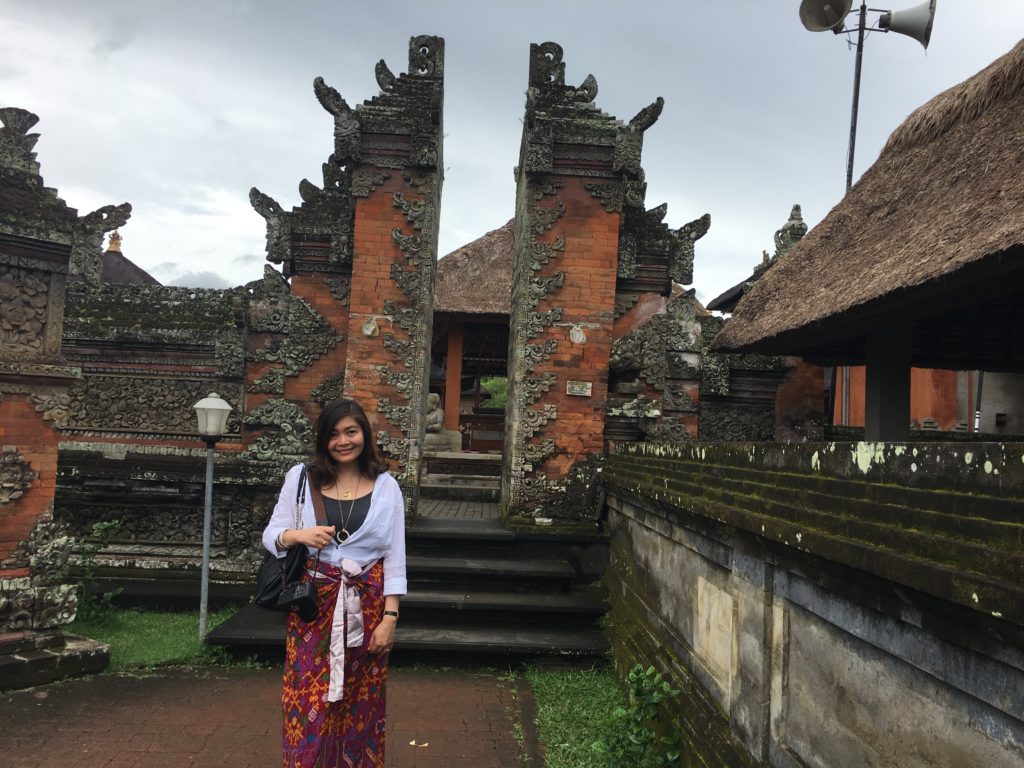 You will feel the tranquility of the surroundings when you get in the compound.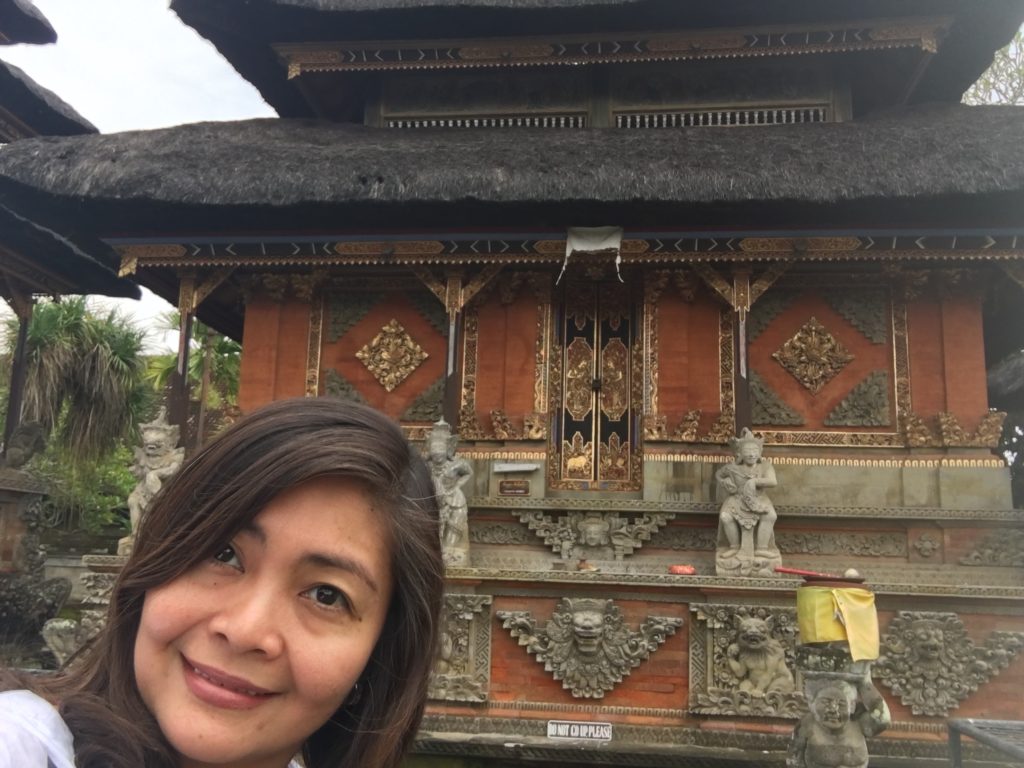 Puseh Batuan Temple is just one of the many Hindu temples all over Bali representing the historical values.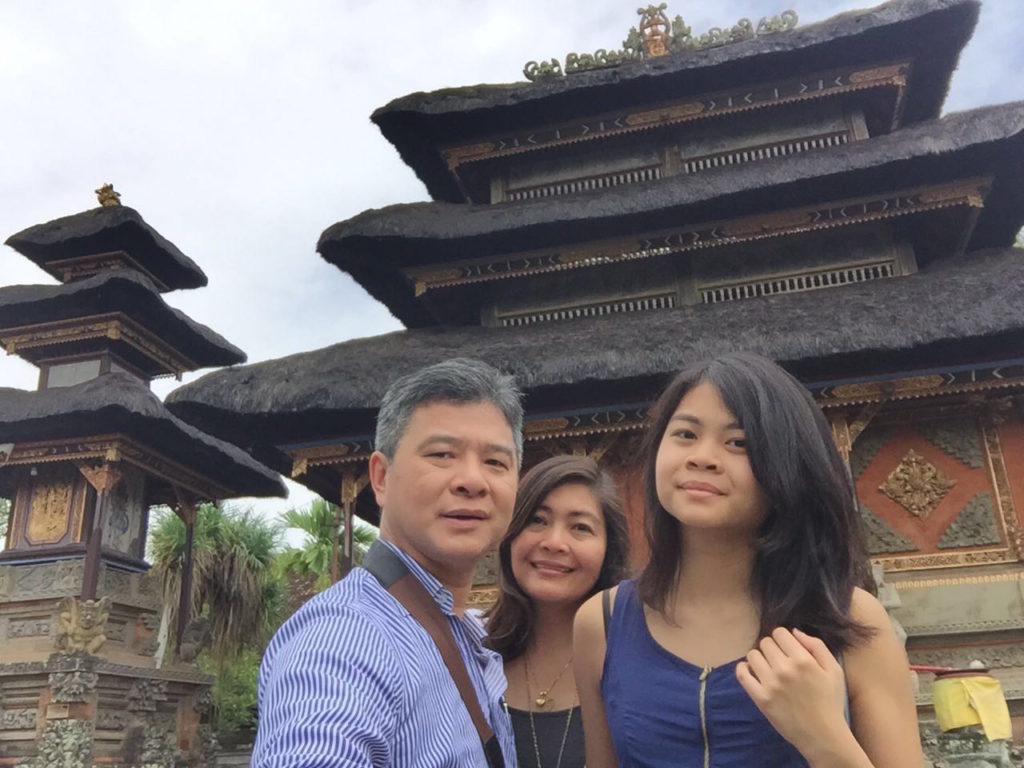 You'll be amazed of all the stunning ancient relics from prehistoric times.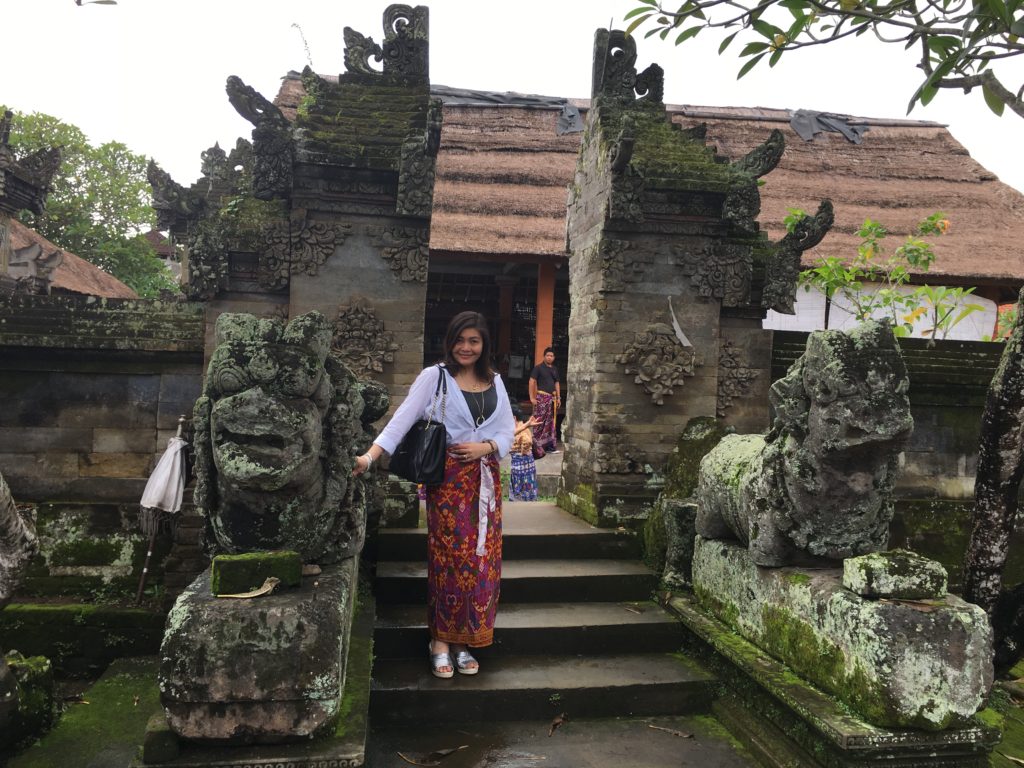 This place has its own character.  You will be surrounded by amazing stone sculptures sprouting from anywhere.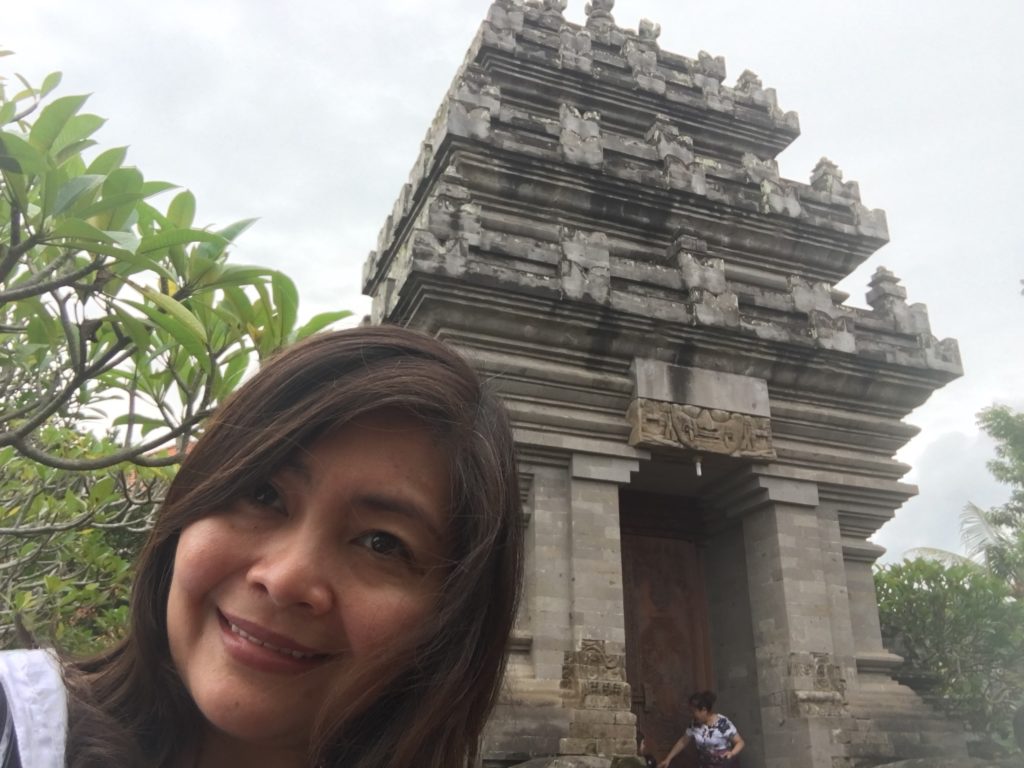 A lot of beautiful carved monuments, faces and mythical creatures around the compound.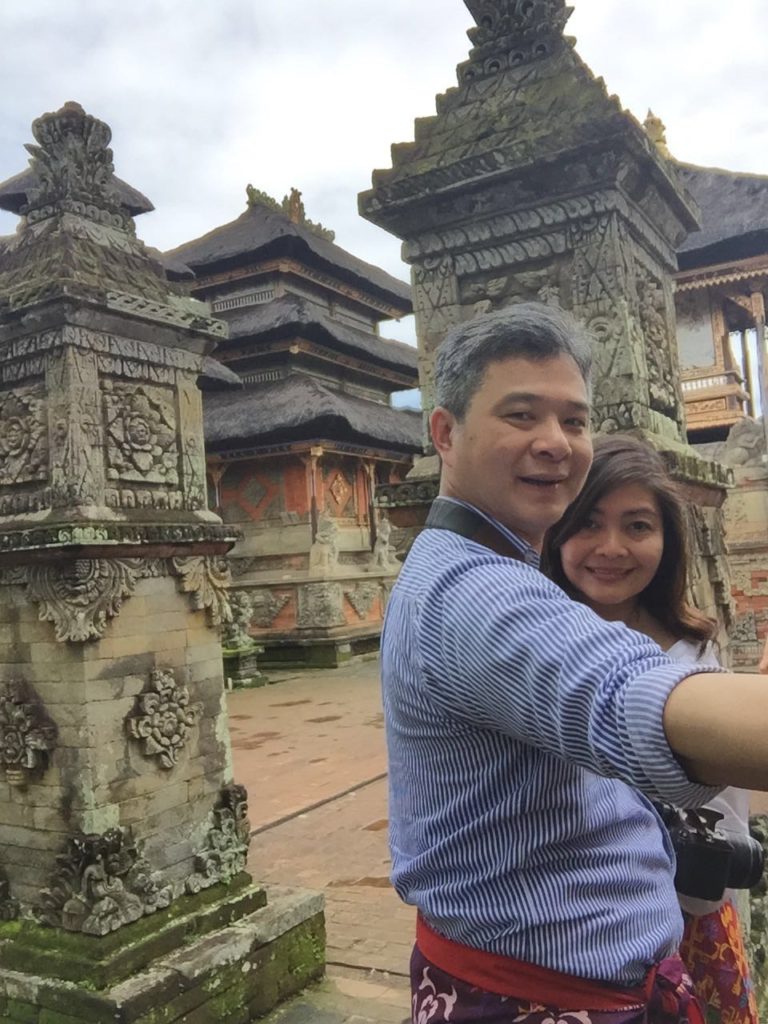 How the influence of Hindu culture in Bali made of natural stones in this temple become a place of worship and you can feel the solemnity of this place.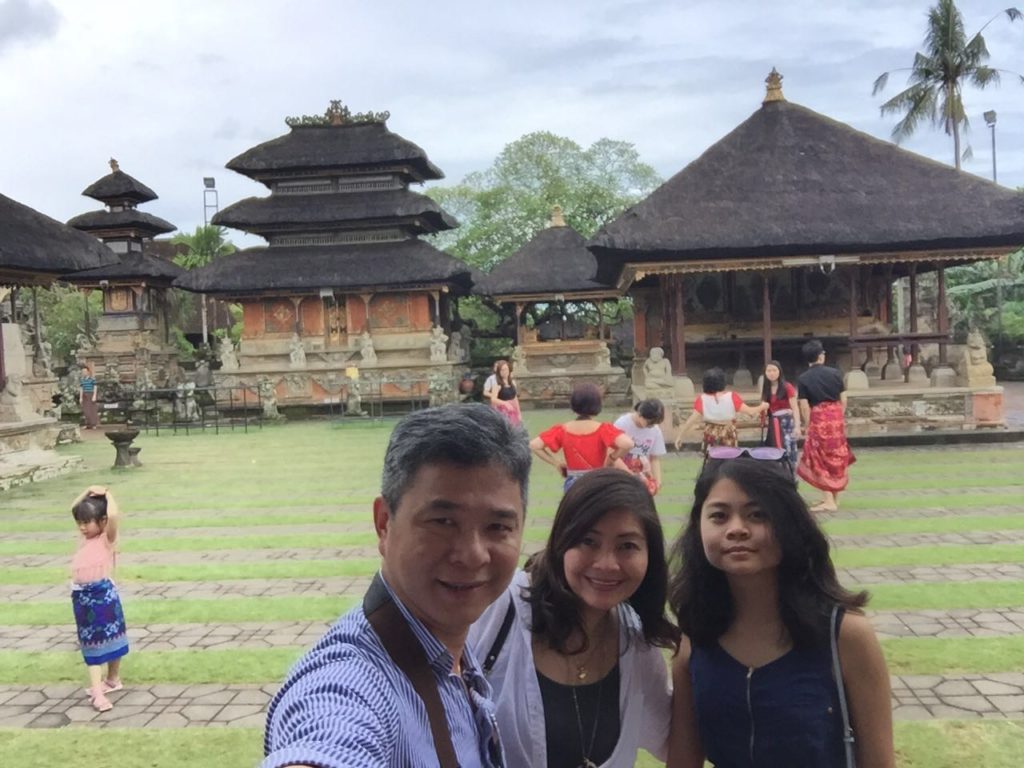 This is really a gorgeous well maintained compound  though the Batuan temple is considered as one of the oldest temple in Bali Island – Great place to visit!
Next Stop is…Ubud Palace
Located at the center of Ubud itself.  During our visit it was raining and it was so traffic and we are running out of time, so my husband just went down the car just to take a quick photo of the road heading to the Ubud Palace  – I am inside the white care behind him -:).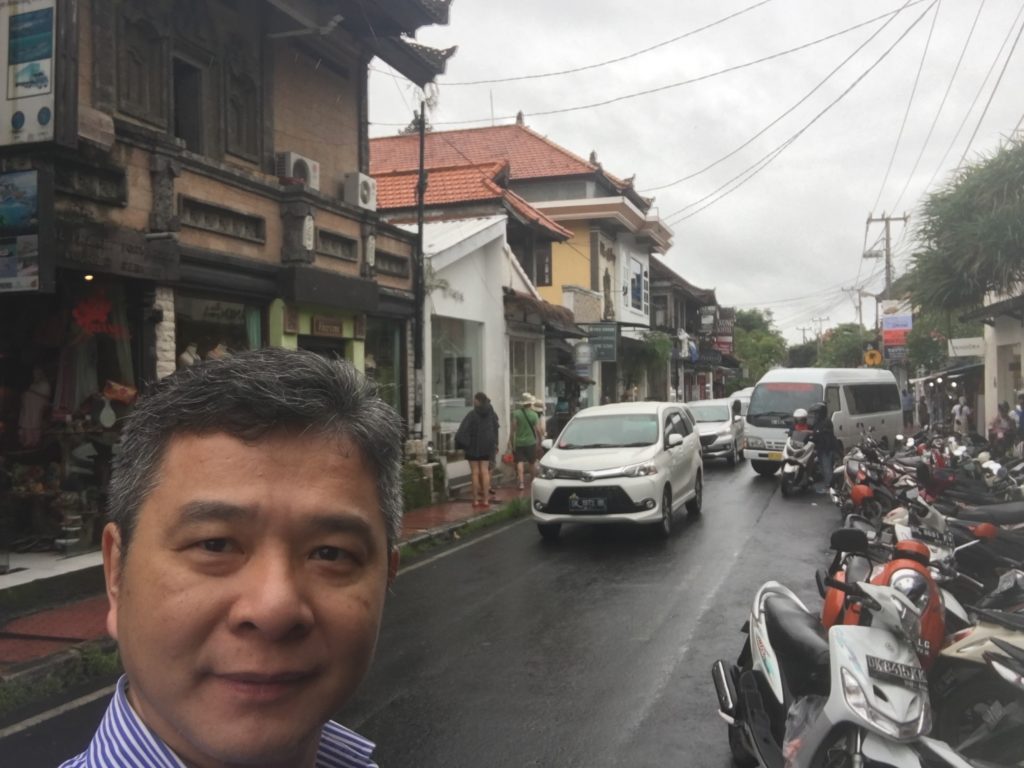 Next Stop is…The Tegallalang Rice Terraces in Bali
Tegallalang Rice Terraces in Ubud is famous for its beautiful scenes of rice paddies.  It was raining so hard when we reached the Tegallalang Rice Terraces. 
Along the road, you will see stairs going down. We took that stairs and just had a quick photo.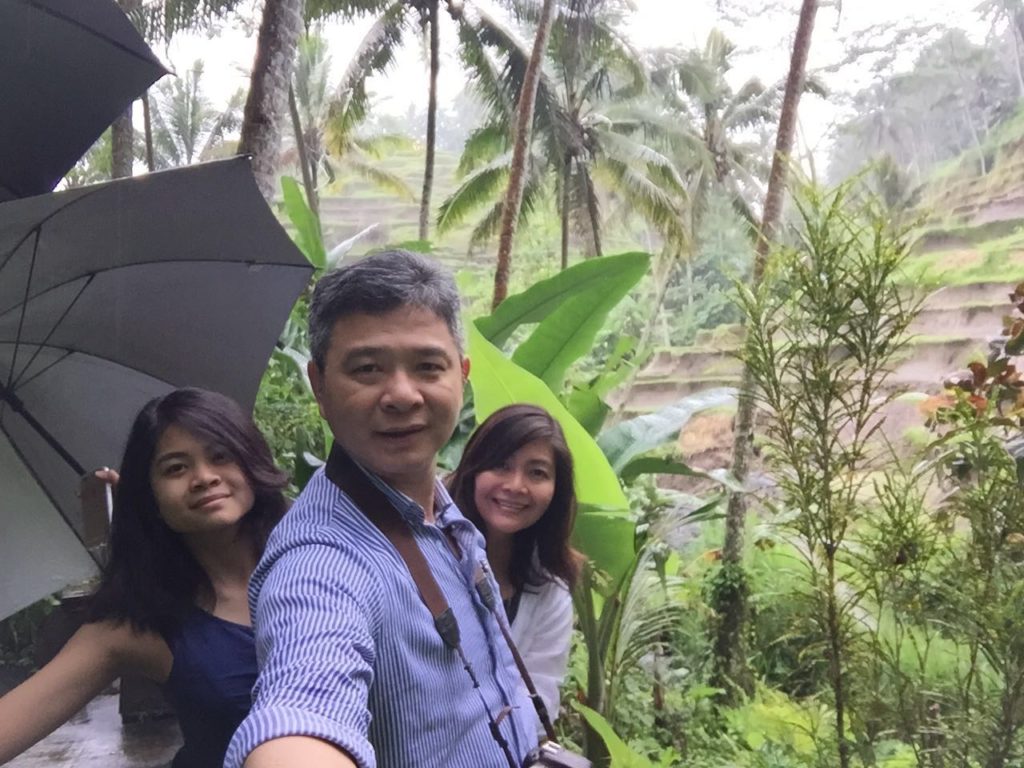 Then…when we reached the top going back to the main road – we didn't noticed that there were a  better spot for taking photo. No need for you to go all the way down huh!
Just walk beside the main road and you'll find an open area to take a good glimpse of the terraces.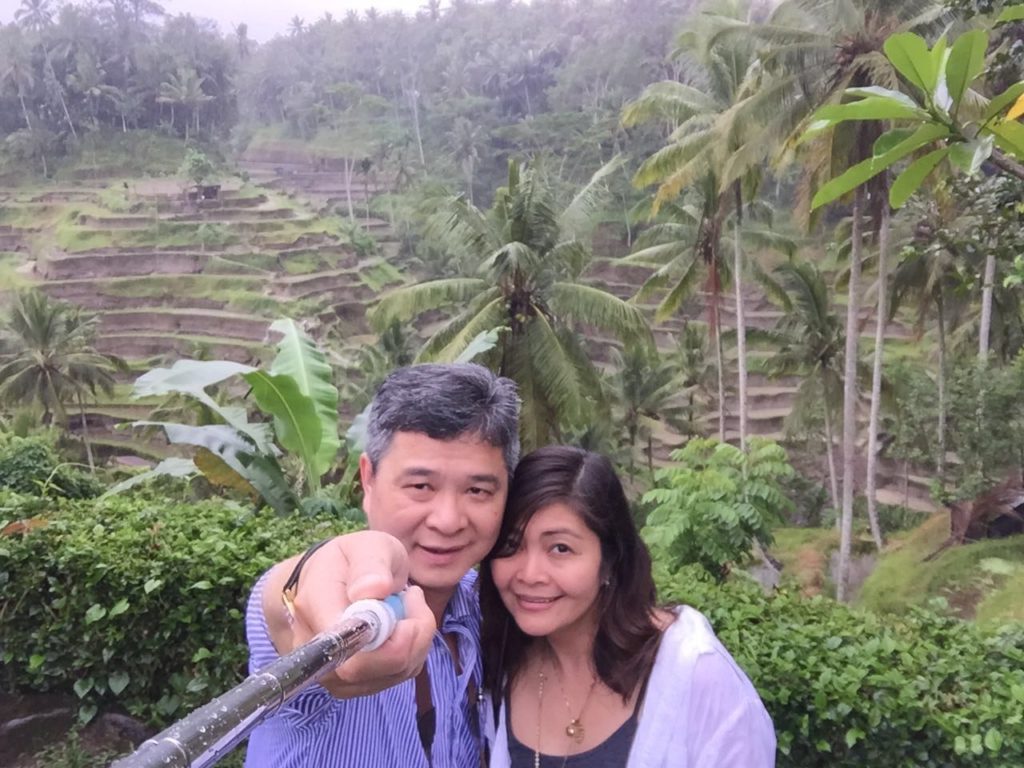 This photo was taken on the side of the road (better viewing). Along the road there are varieties of woodwork ornaments and various carvings for sale.
Next Stop…
Jimbaran Bay Seafood  Bali, Indonesia
If you are a seafood lover, Jimbaran Bay Seafood area is the best place to have dinner in Bali, Indonesia. It is a great place to enjoy grilled seafood.
We ordered 1 piece of crab, 6 pieces of medium size shrimps and 1 medium size garoupa fish and 3 fresh coconut juice, it costs us 1,700,000 (about US$128). I found it so pricey, but worth to try.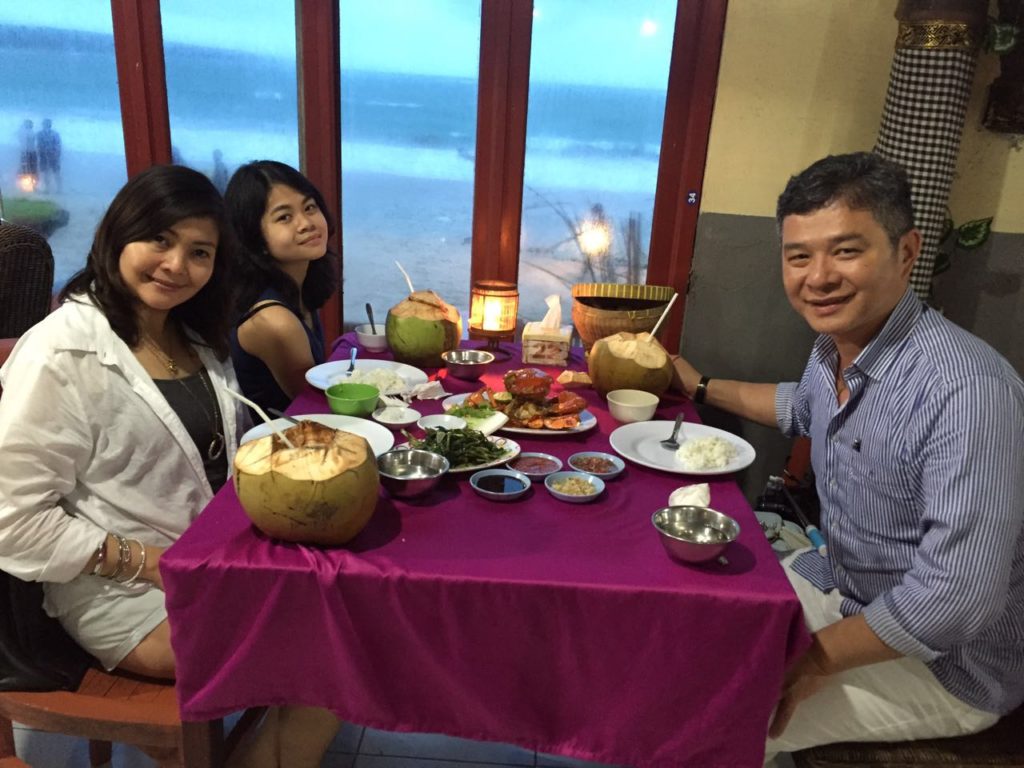 DAY 2 In Bali: Visiting Temples
First Stop is…The Taman Ayun Temple, Bali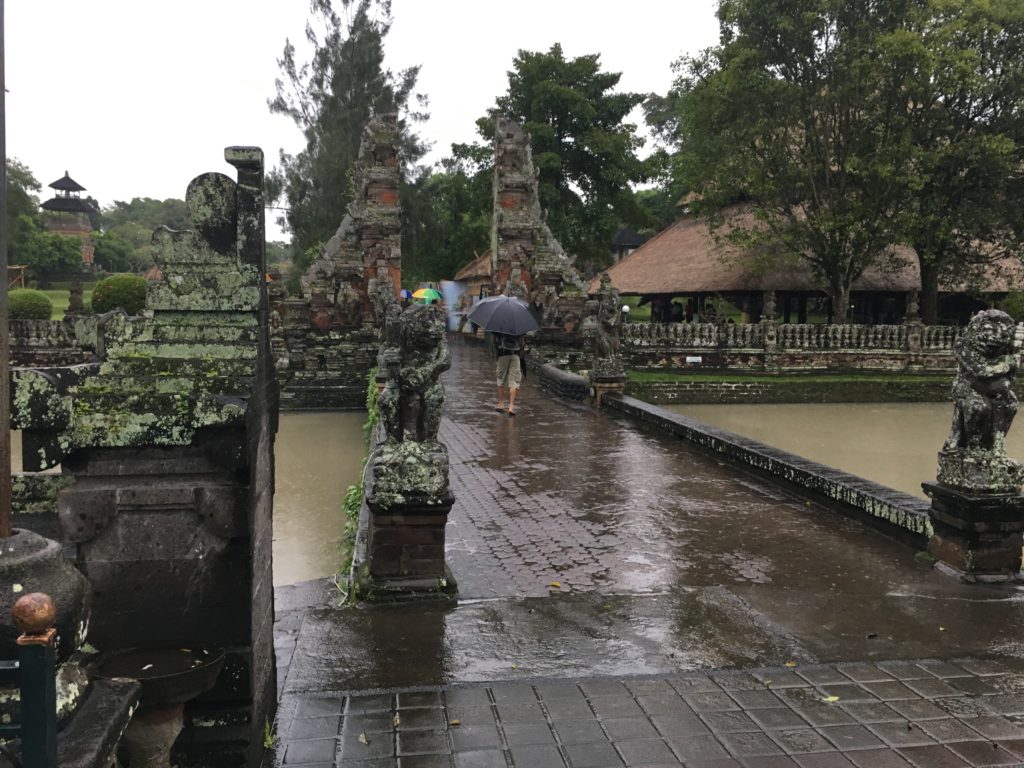 Taman Ayun Temple is in the village of Mengwi, Badung, located 17km northwest of Denpasar.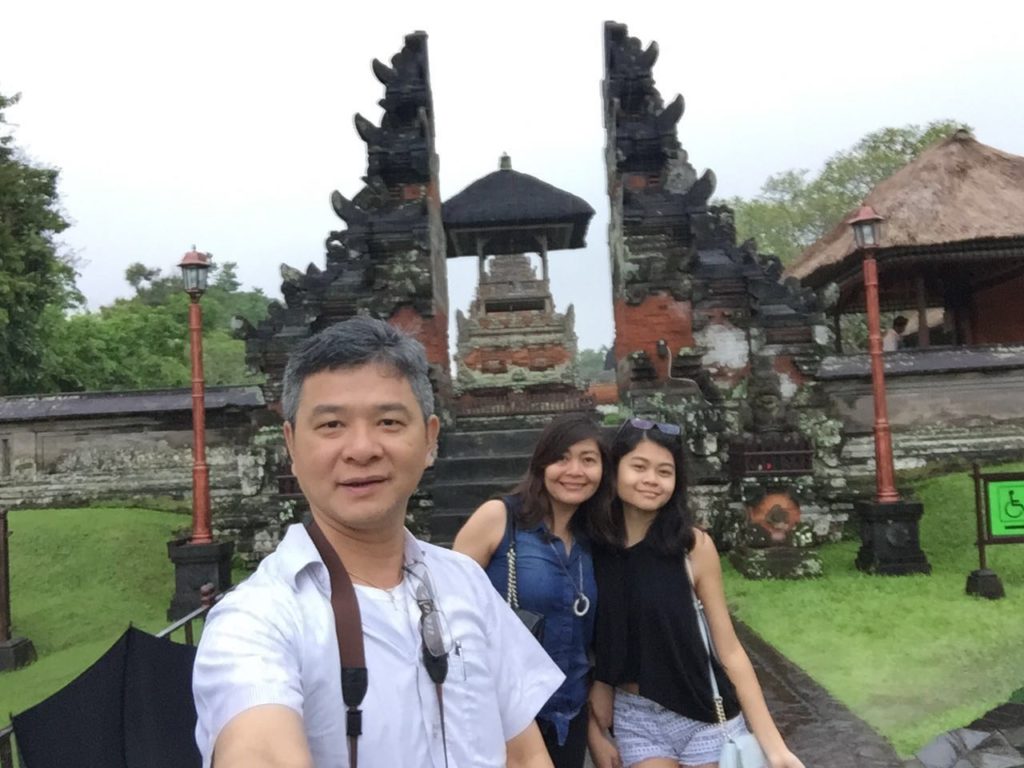 This photo was taken at the main entrance of the temple. 
The Taman Ayun Temple was to serve as a main site of worship among the Mengwi people who cannot travel farther.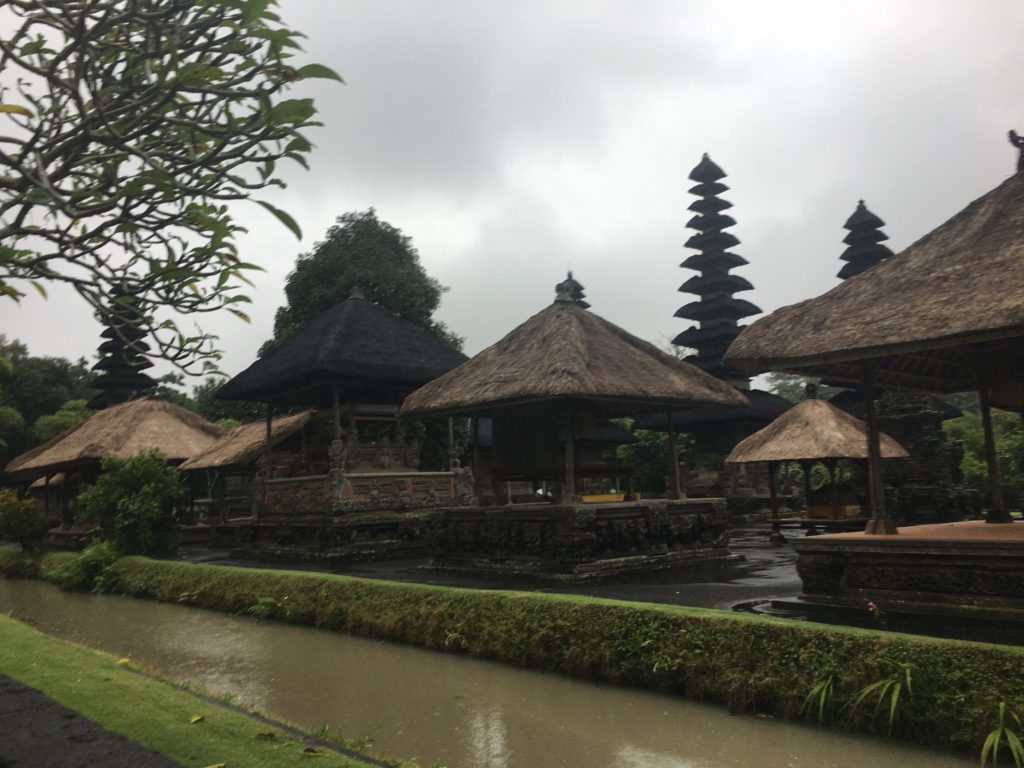 The Taman Ayun temple is situated in a beautiful park with trees and ponds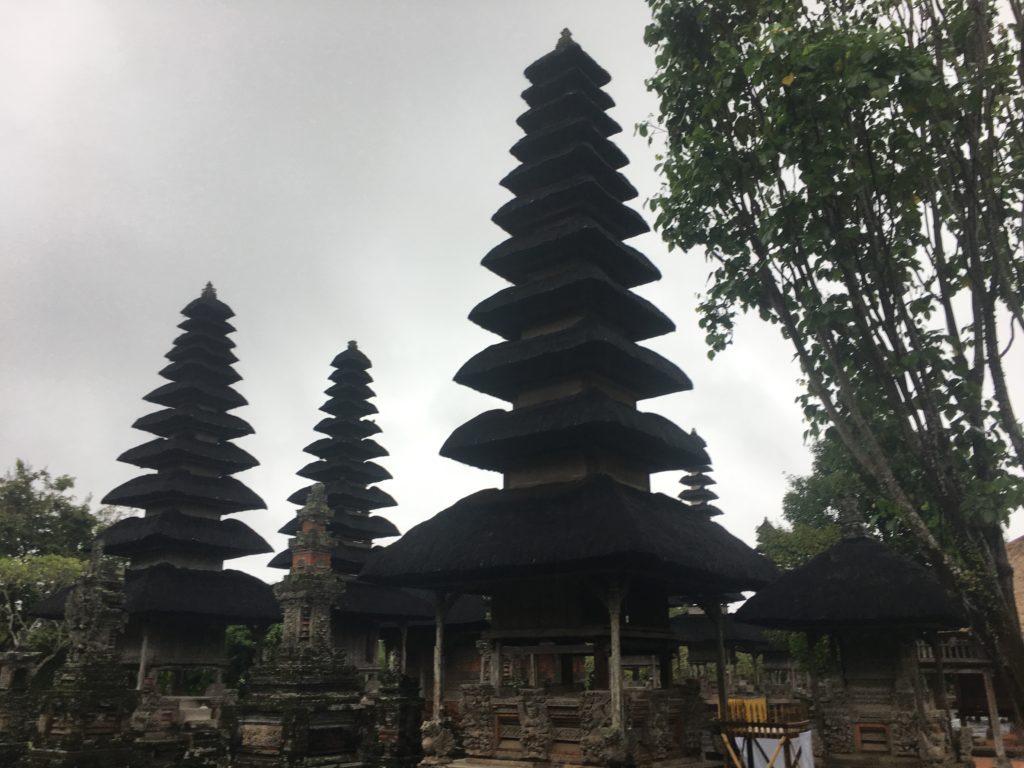 This is one of the most attractive temples of Bali. This temple was renovated in 1937.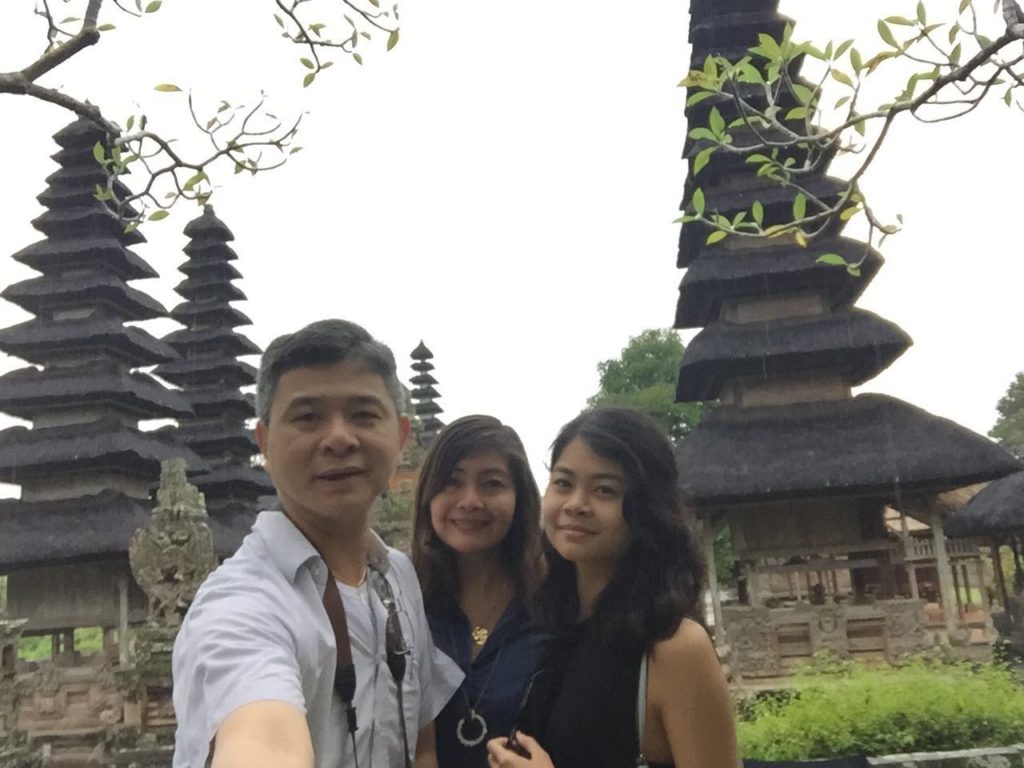 The Taman Ayun Temple is my favorite temple because of its multi-tiered shrines design with a small moat around it.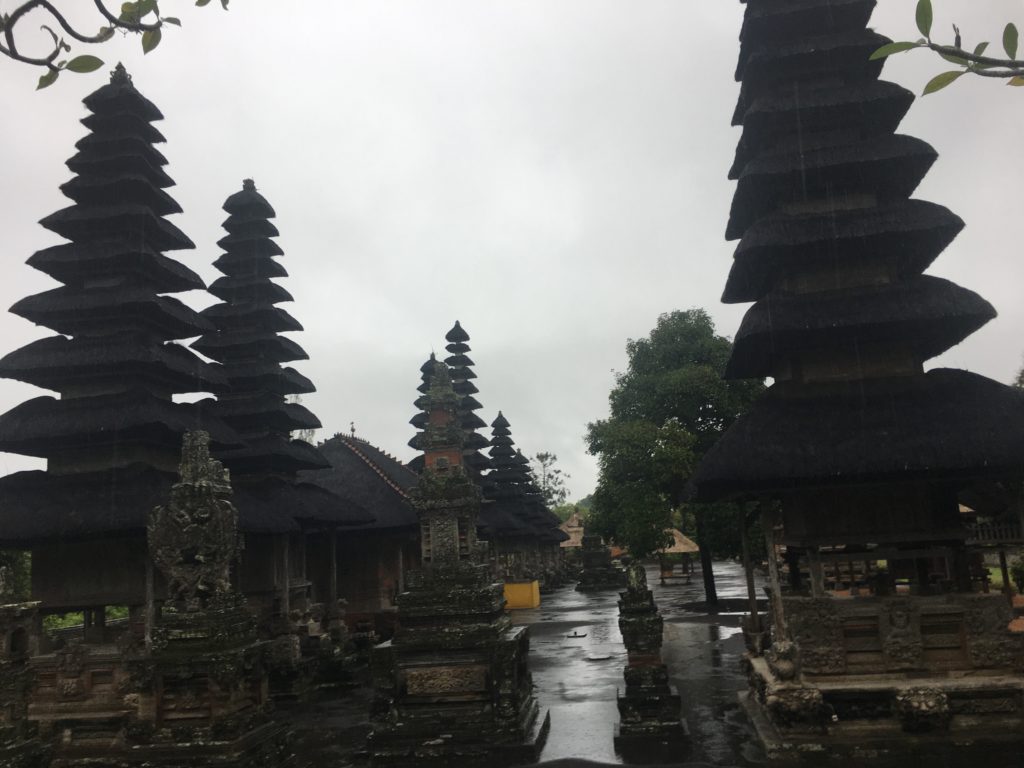 Next Stop is…The Ulun Danu Beratan Temple, Bali
The Ulun Danu Beratan Temple is famous picturesque landmark because of its iconic sanctuary scenic qualities with the seaside.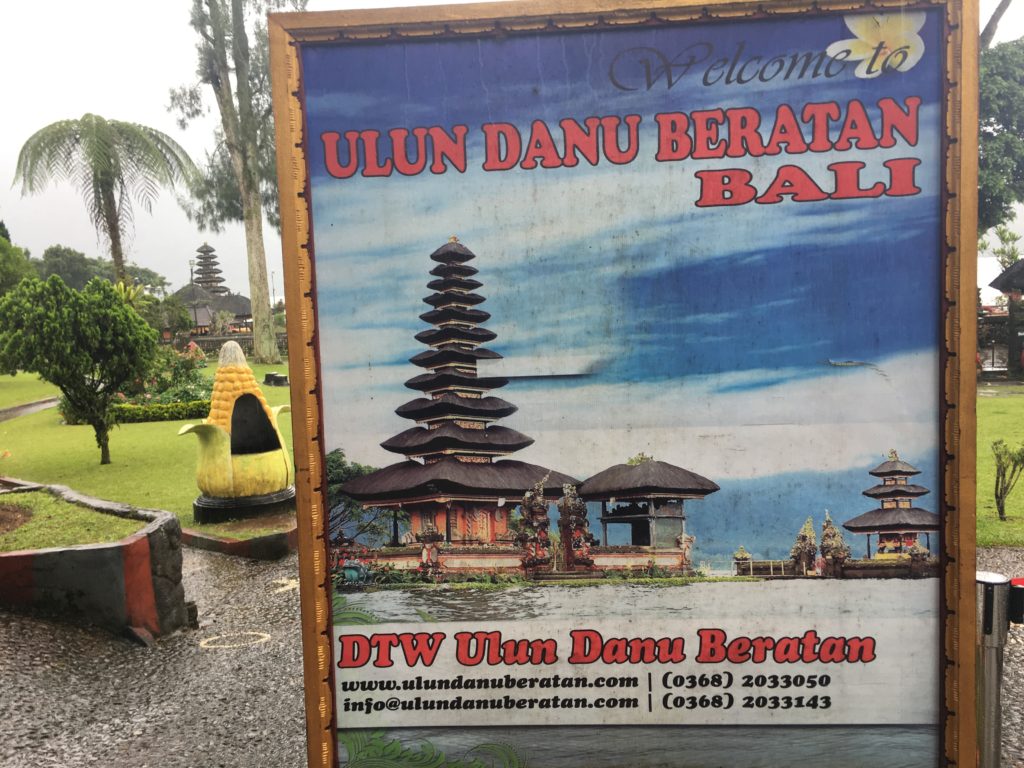 This temple is located on the western side of the Beratan Lake in Bedugul, central Bali.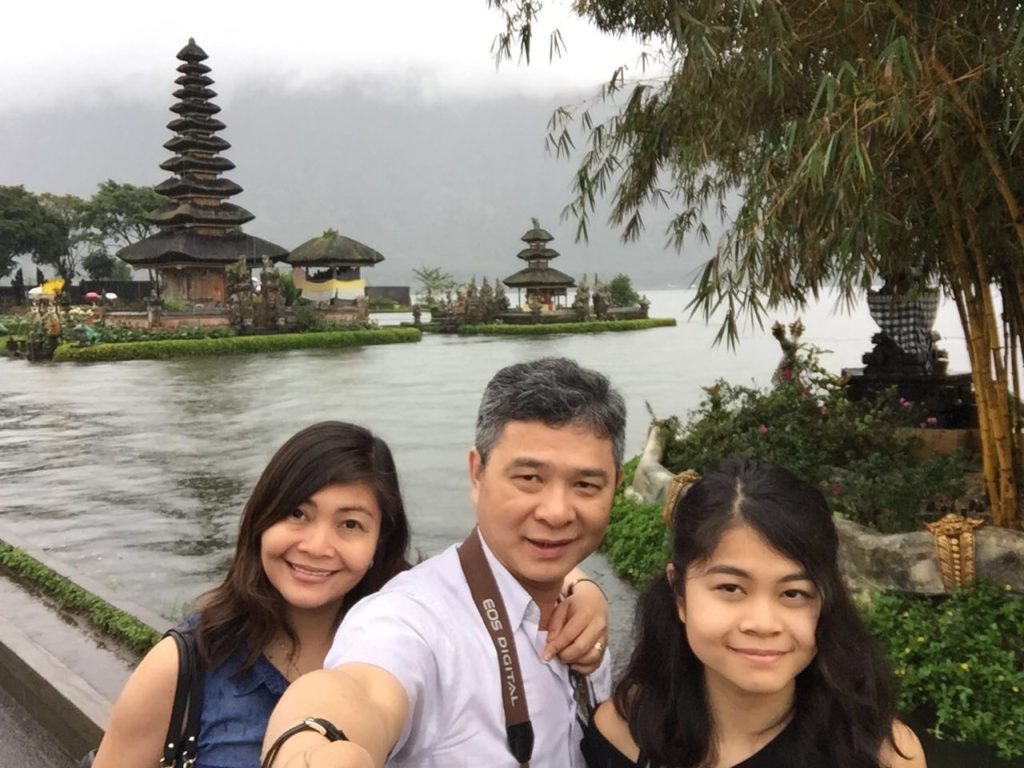 You'll see a reflective surface of the lake surrounding most of the temple's base creates a unique floating impression.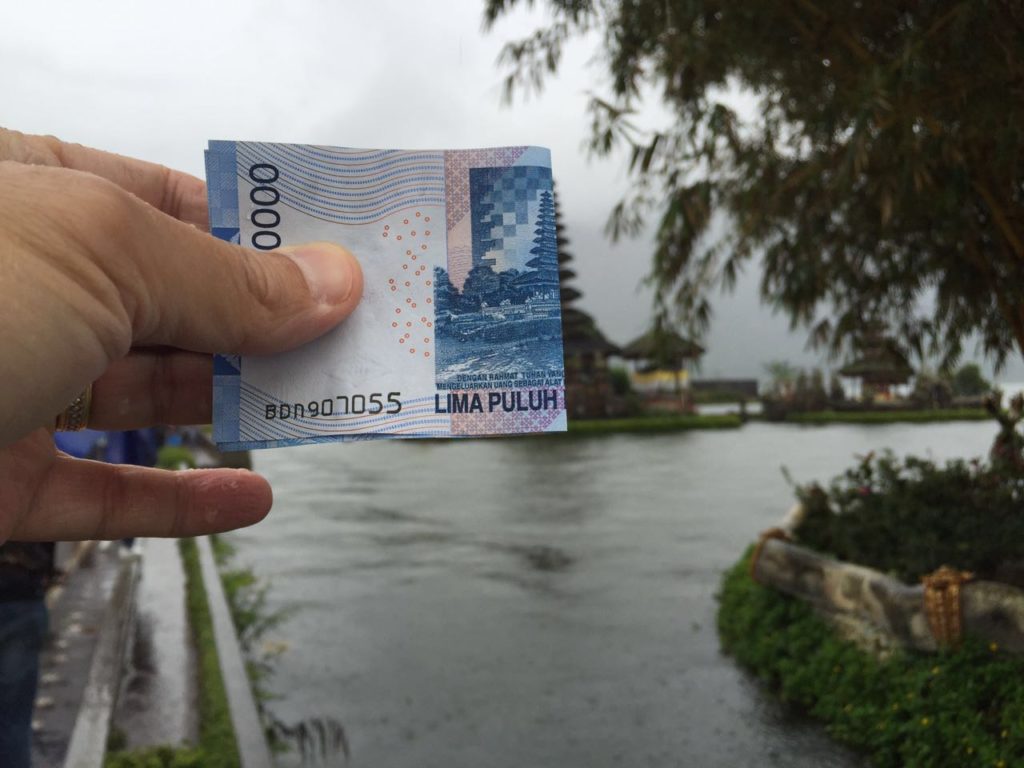 The Ulun Danu Beratan Temple was printed in the Indonesian Rupiah 50,000 notes. See how my husband tried to match the other half of the temple with the 50,000 Indonesian note.
Next Stop is…Pura Tanah Lot Temple
On the way to Pura Tanah Lot Temple, there are small stalls selling sweet corn and other stuffs. You must try the Indonesian Sweet Corn – it's crunchy and so sweet. They also have different flavor to add like spicy, butter or salt. I tried the spicy flavor and this is a "MUST" to try  while you are  in Bali.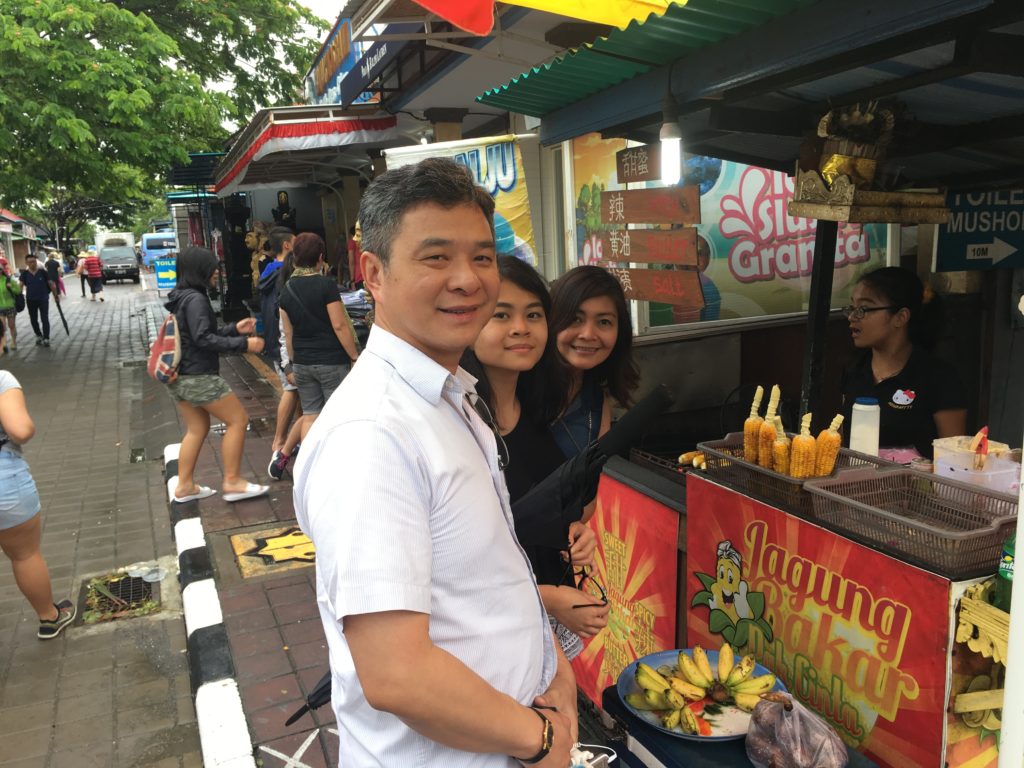 The Tanah Lot Temple is another "must" to visit in bali.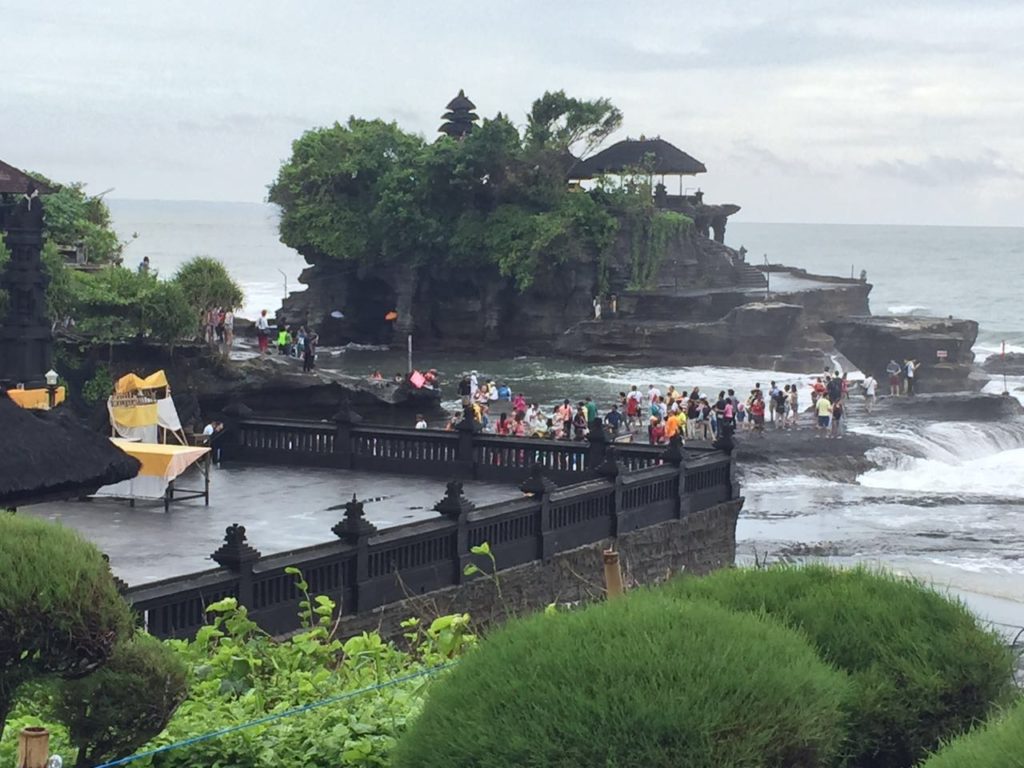 Tanah Lot is a nice breath taking temple experience with the waves.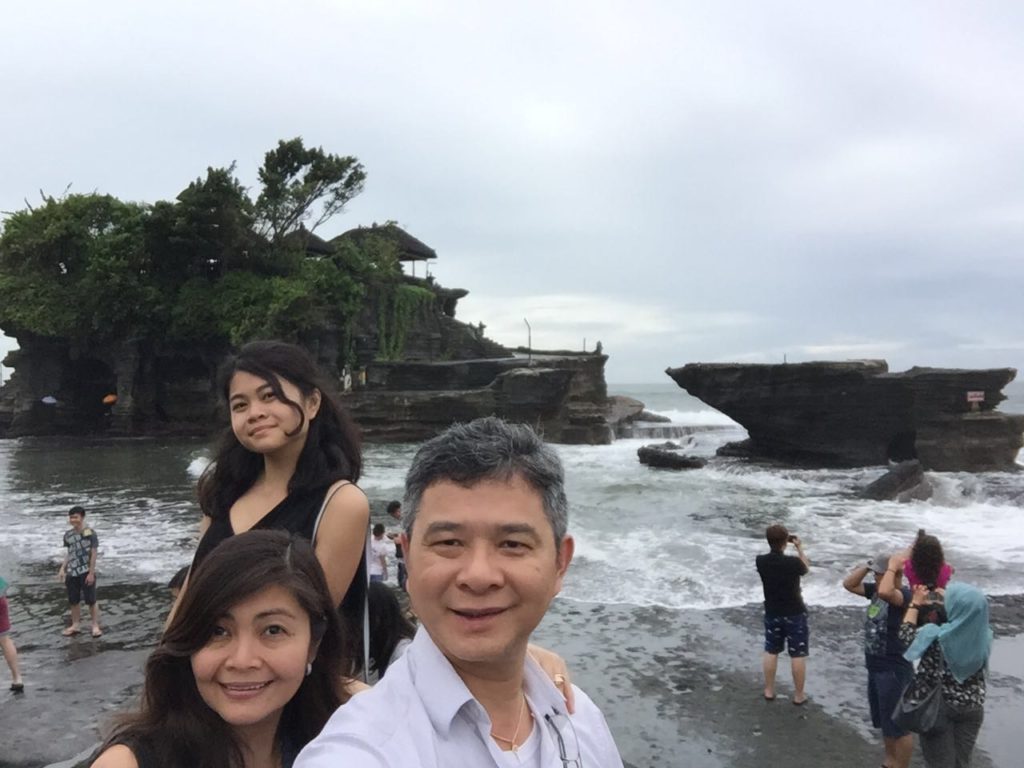 This is a beautiful experience in Bali walking down the shore during low tide.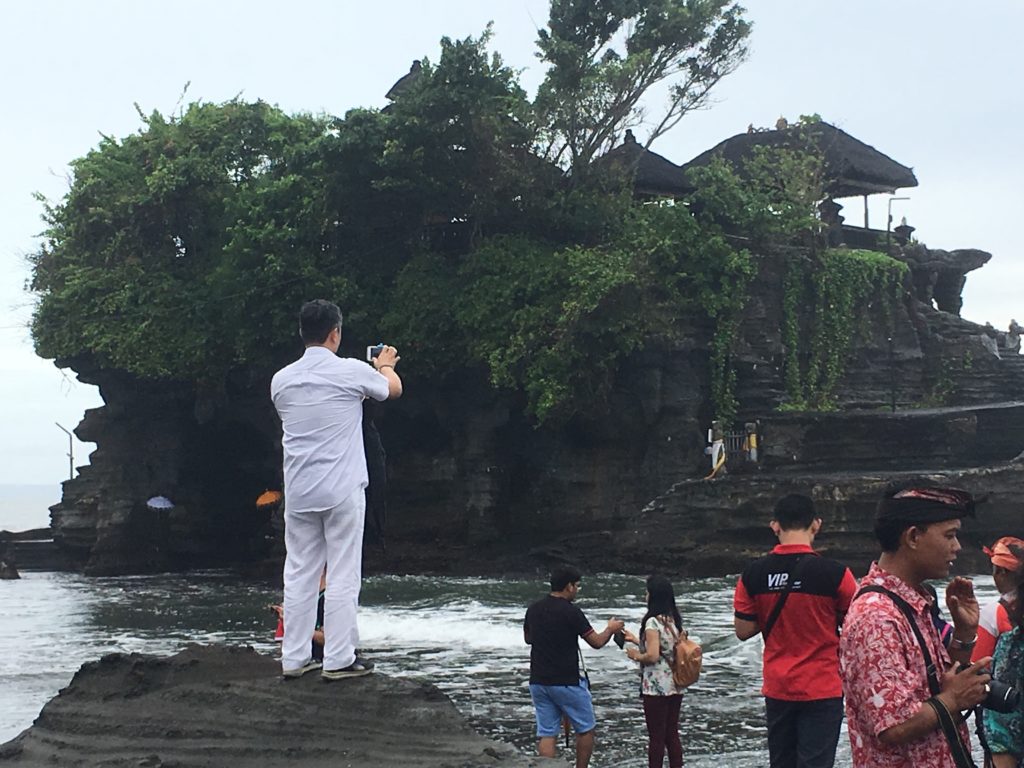 An ancient Hindu shrine seated on top of a huge beautiful rock constantly crashing waves; Tanah Lot Temple definitely is simply among Bali's not to be missed temple.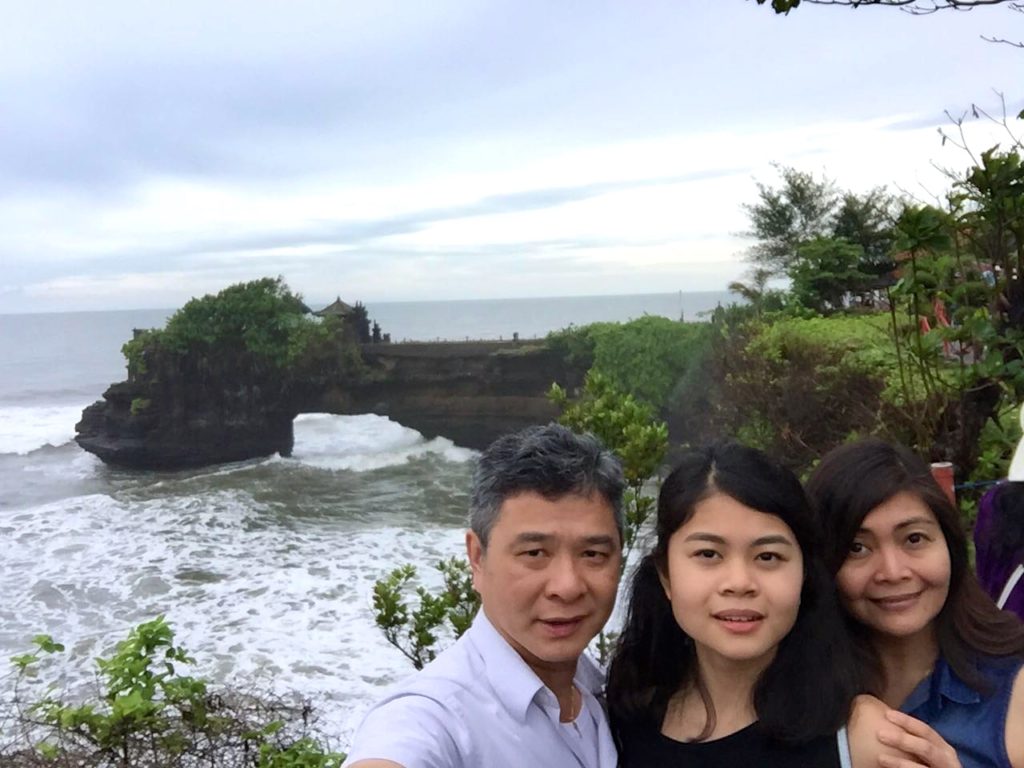 The Labbaga Pacung Restaurant, Bali
Along our way we just had our lunch at Labbaga Pacung Restaurant.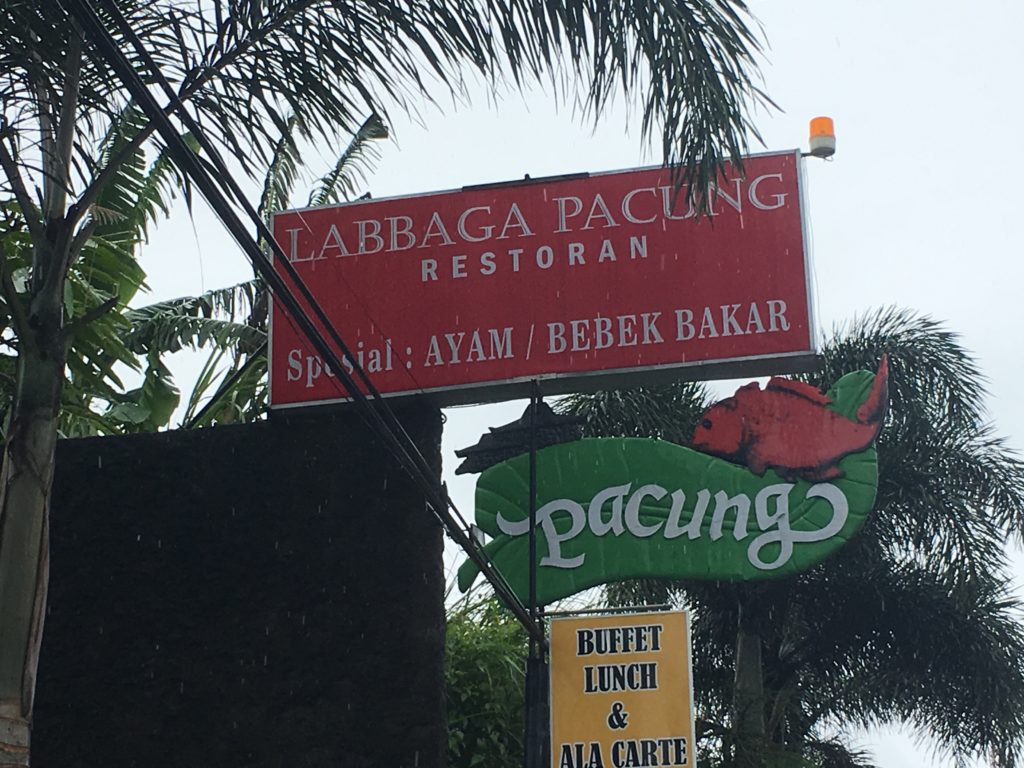 The food is just okay. They serve Indonesian buffet, but my husband found a restaurant towards the end that serves Ala Carte. If you want to try other food aside from what they offer in the buffet section, you can just order inside.
We ordered the Masak Ayam (grilled chicken with indonesian spices) and
Sweet and sour shrimp – it's yummy!
Buffet cost is 100,000 Rupiah per head (about US$7.50)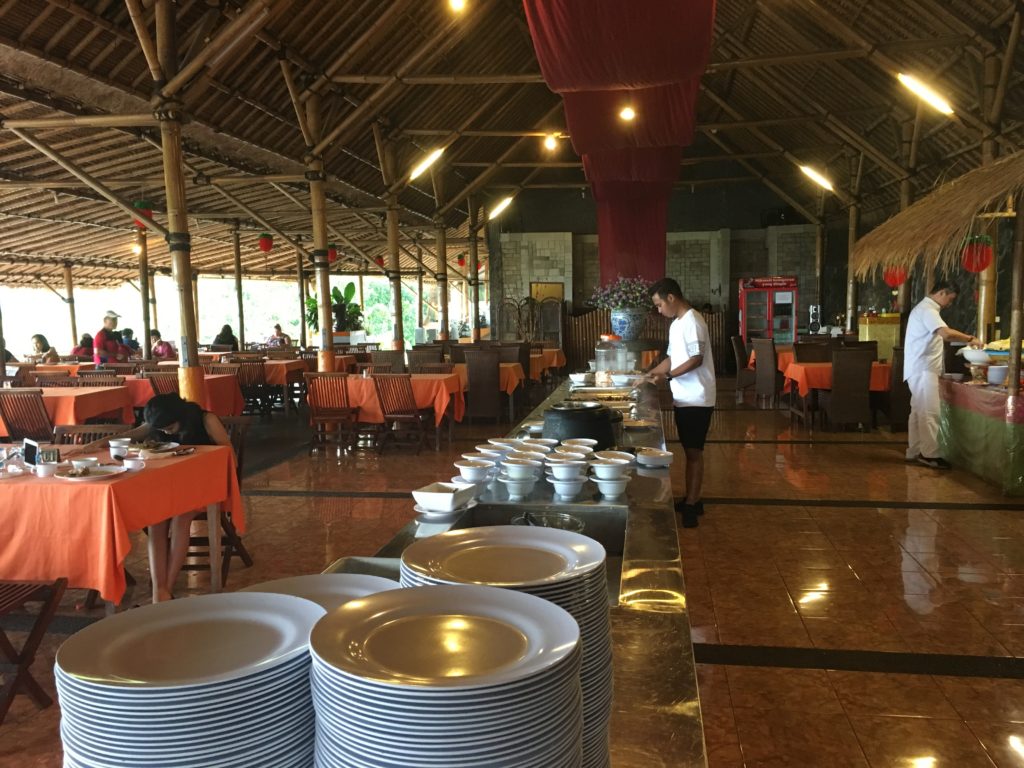 The buffet area of the Labbaga Pacung Restaurant, Bali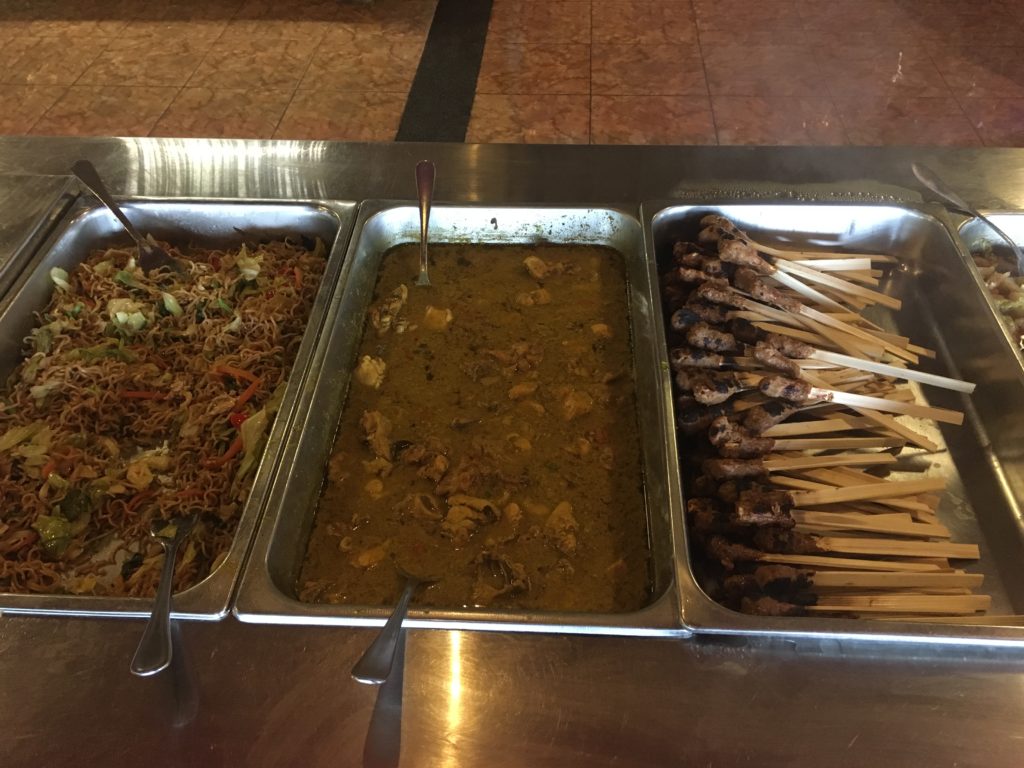 Here's the photo of some of the Indonesian buffet food they serve at the Labbaga Pacung Restaurant, Bali.
Next Stop…Exploring Kuta Area in Bali
Before going back to our hotel, we decided to go around the Kuta area in Bali
We just had a short walk in Kuta area.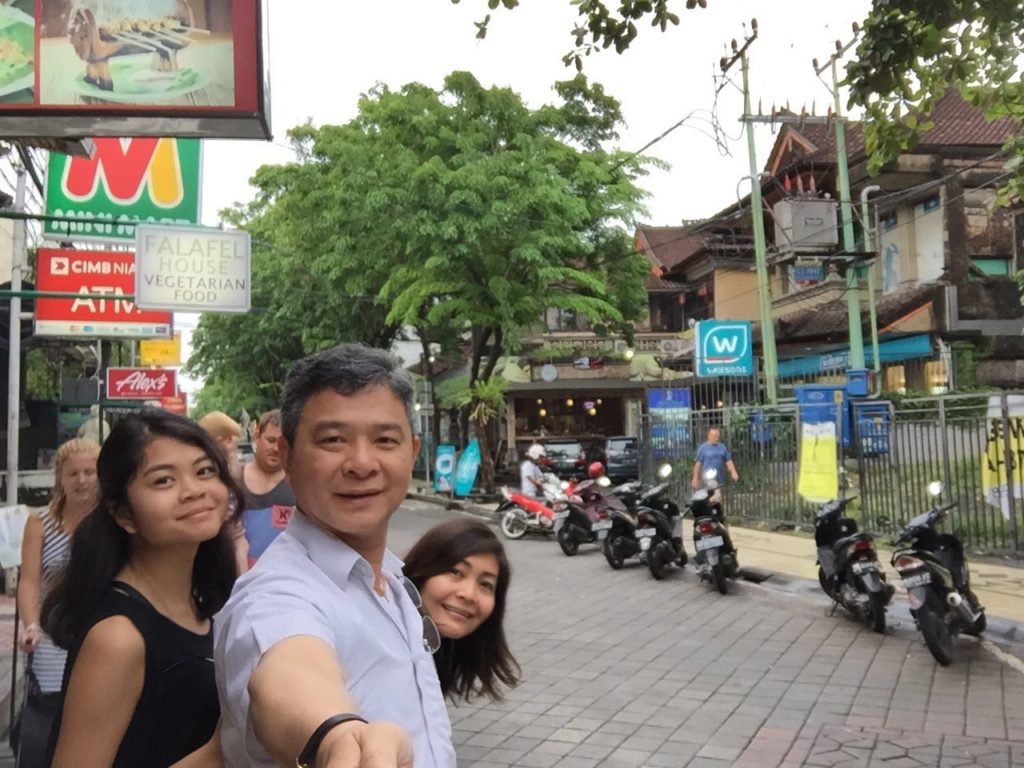 Photo taken along the road of Kuta area.
There are shops along the roads selling different things from clothings, shoes, souvinirs, coffee shops, bars, ice cream parlors, tatoo service, massage parlor and so much more.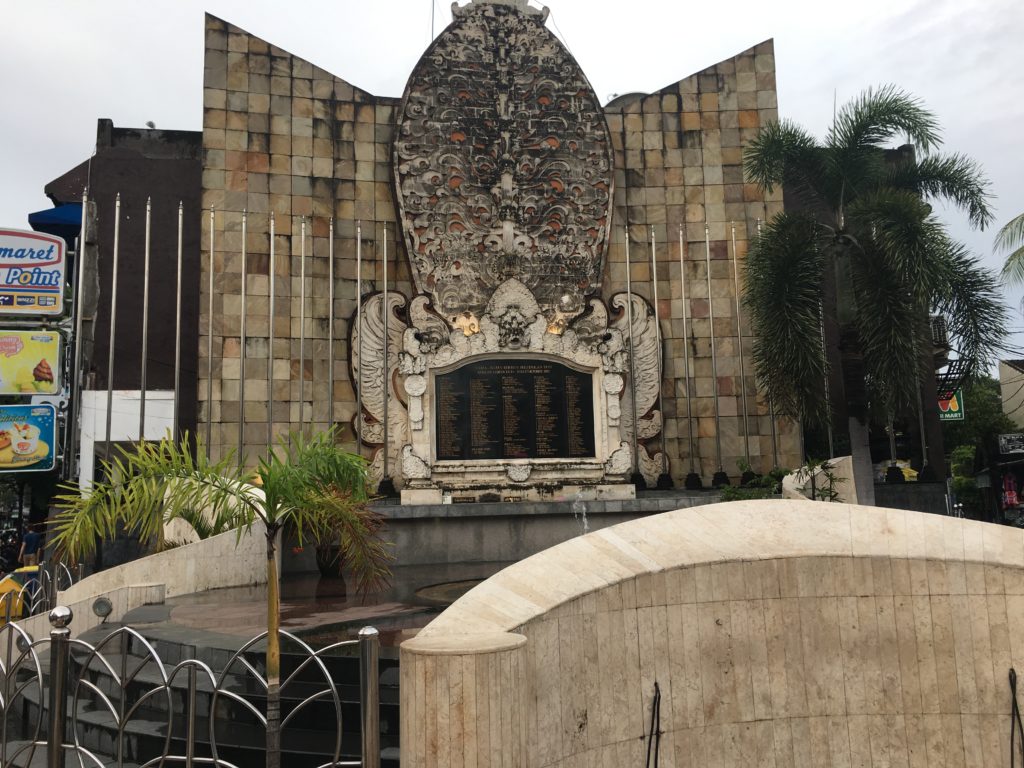 This is the Memorial place of Bali Bombing of 2012.  One of my son's Australian teacher was one of the victim of this bombing. You can see all the names of the victims written on the wall.
DAY 3 in Bali: Exploring The Beach Of Bali
Bali is known for beaches. During our last day in Bali my husband and I just decided to take some photos in the beach just right in front of our hotel.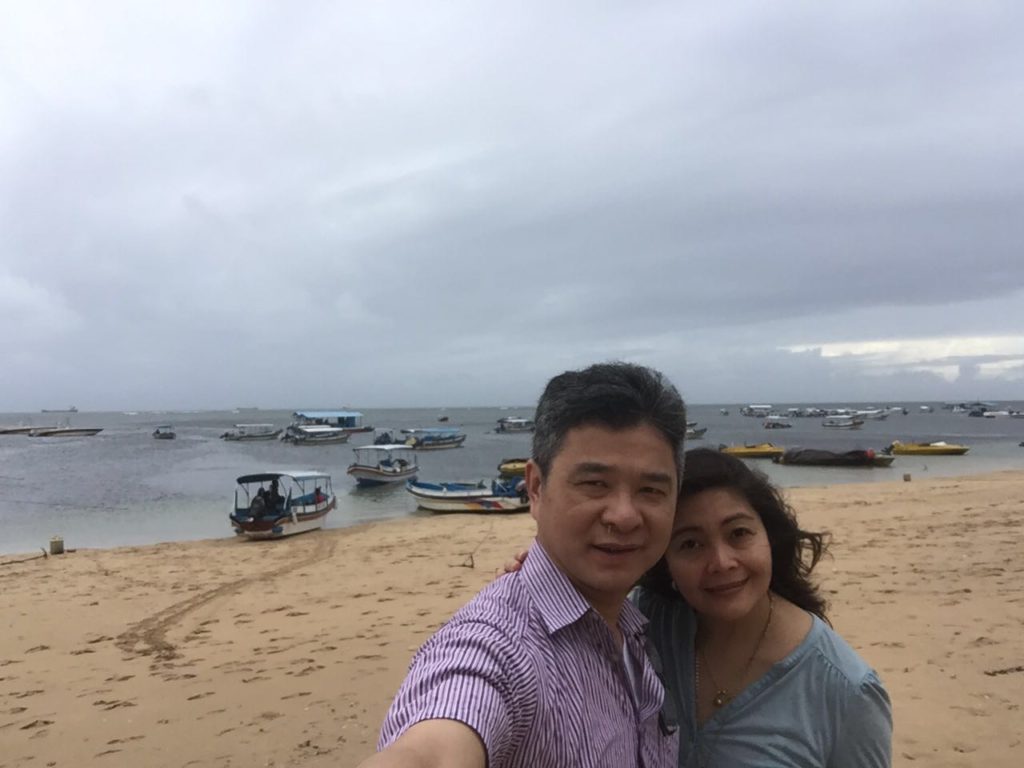 It was raining and there was no activity at all on the beach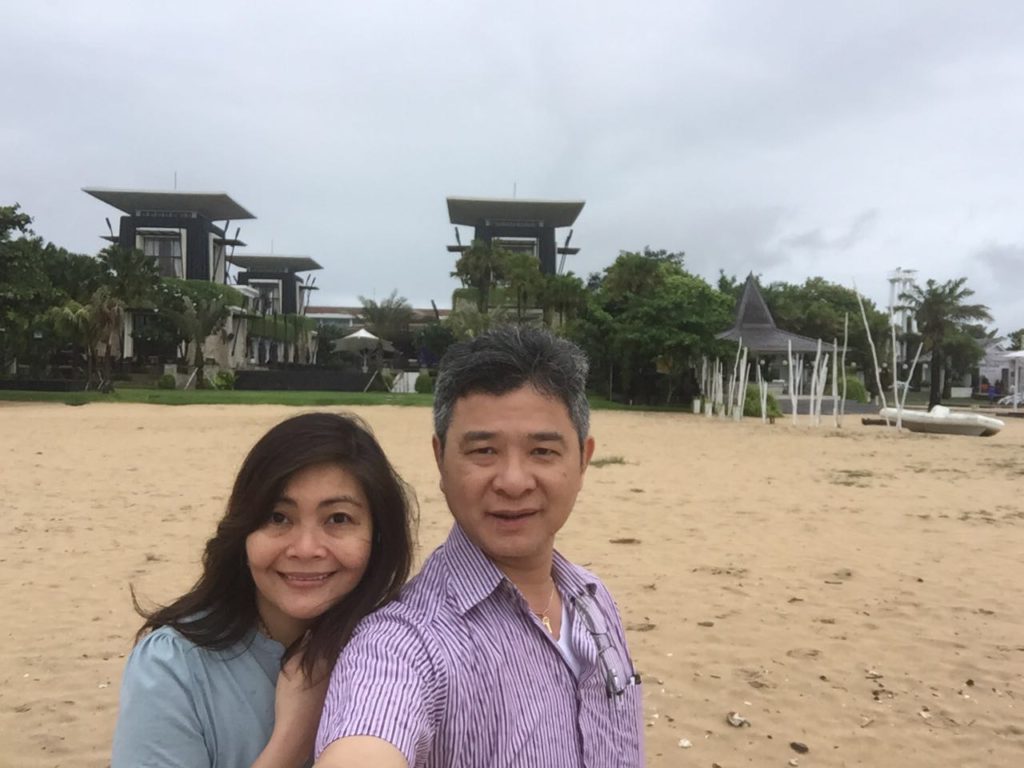 This photo was taken just right in front of the Sakala Resort (this is where we are staying).
CLICK HERE! To see my personal review about the Sakala Resort, Bali Indonesia.
To conclude, my family and I enjoyed our short getaway in Bali, Indonesia. People are friendly, we had great temple experiences, enjoyed Indonesian food and we had a pleasant stay at the Sakala Resort.
I hope this post helps you to make your Bali trip a memorable one. I'd love to hear your comments below.